The world of window treatments has grown, changed, and progressed tremendously throughout the past few years. With new styles and features, homes are seeing a huge difference with so many upgrades! Let us tell you about our top 10 window covering innovations.
#1 Window Covering Innovations: Motorized Shutters
Finally possible, and we're bringing it to you, if you haven't heard about it yet! Plantation shutters now have the capability of motorization with voice commands, a simple-to-use remote control, or scheduled on your iPhone. Tilting your shutters is as easy as calling out to Alexa. Find out more here.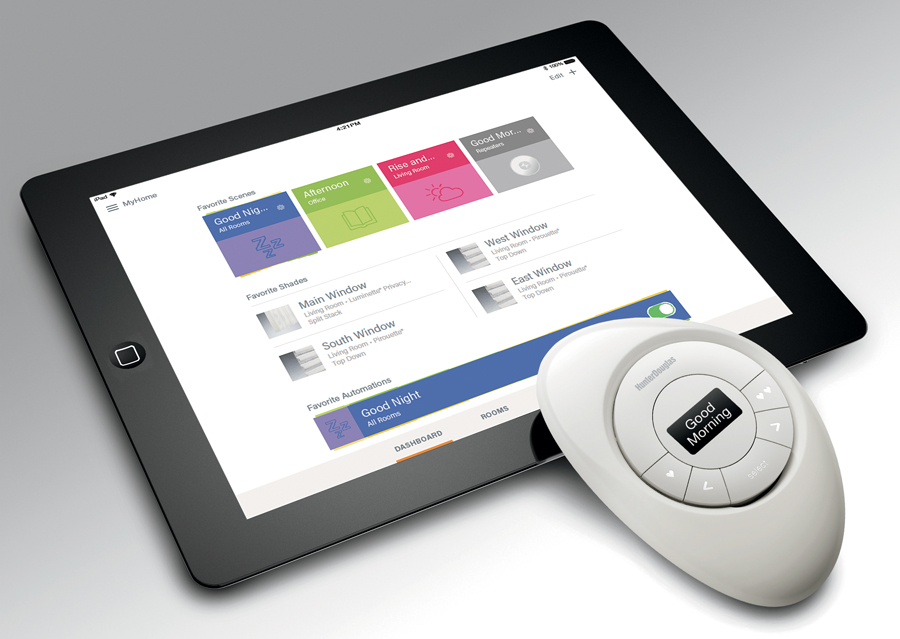 #2 Extra Shut Eye with Blackout Shades
Do you find yourself always wanting just a few more minutes of sleep on the weekends, but the sun is peeking through your windows a bit too early? By installing LightLock, you'll never face this problem again! Seal out the light with this new design. Find out more here.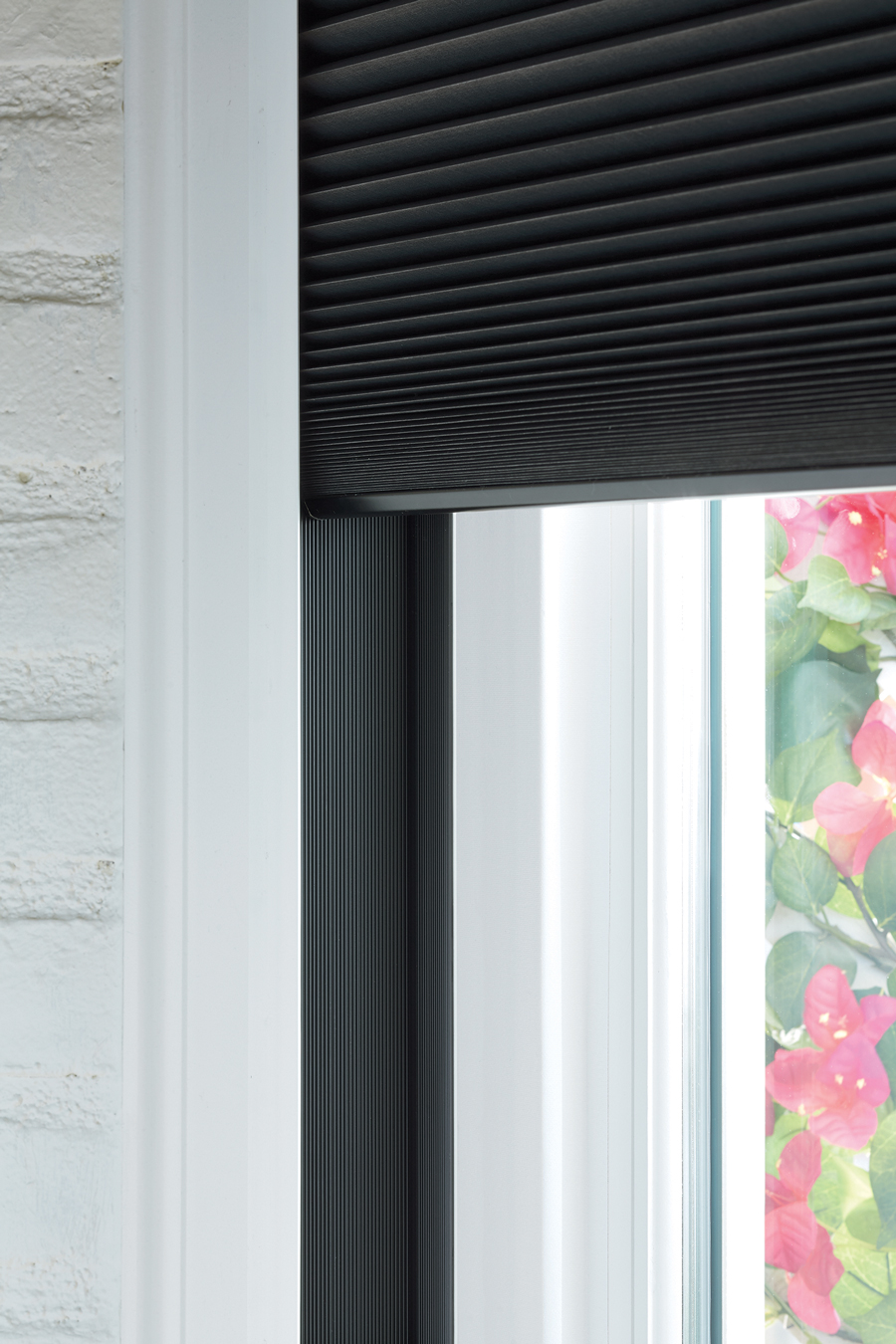 #3 Customize Your Look with the Design Studio
This year, 2019, was a year of the facelift for Hunter Douglas Design Studio. There are countless new products added, amongst new features for customizing shades, fabrics, and designs. From motorization, to draperies and side panels, rollers, romans & more, it's no wonder they're selling so quick! Additionally, Artist Rebecca Atwood has also collaborated with a brand new fabric collection, and it's simply stunning! Check out more details here.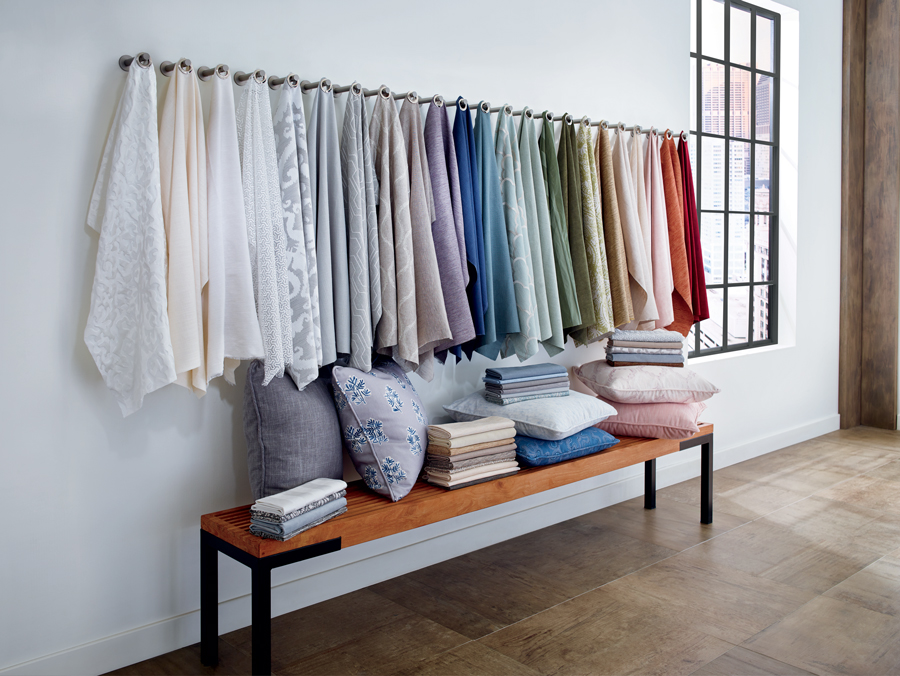 #4 Cover Those Tricky Windows with TrackGlide
Next, one of the best inventions to come to us this year is Hunter Douglas TrackGide. This system ensures that tricky windows, no matter where they're located, will be covered! They cover the windows that seemed impossible to add shades to before. See more here.
#5 Dual Shades: Have Your Cake and Eat it, Too
When it comes to window covering innovations, we call these shades the best of both worlds. That's because it's simply what they provide! Dual shades are so valuable and versatile. You are able to enjoy the beautiful sunlight through the light filtering front shade. Then when it comes time to sleep, you can block out any outside light with the blackout portion of the shade. They operate independently and are very simple to switch from using one to the other! Explore this option.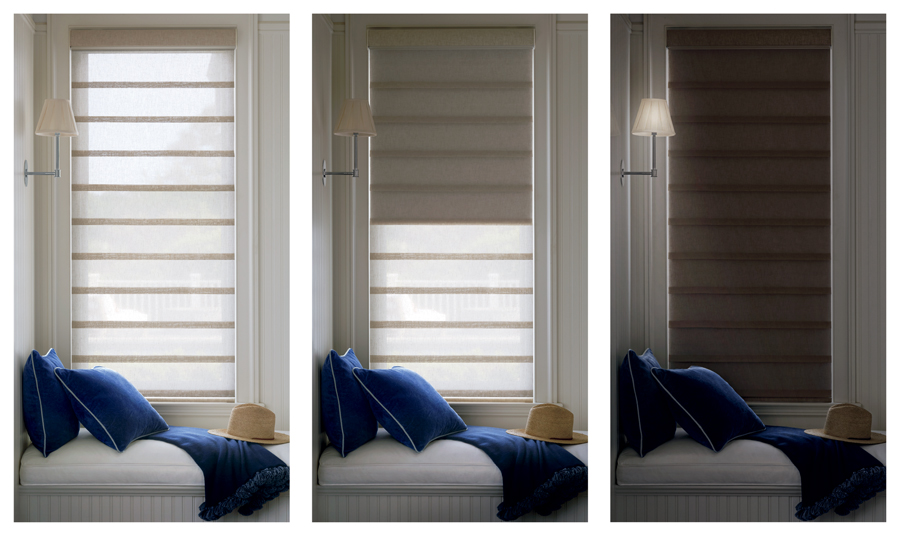 #6 Add a Backdrop: Designer Banded Shades
Designer Banded Shades have quickly become a new favorite. They may add a gorgeous backdrop to any space, but it's their function that really has people "wow-ed"! It has never been easier to switch between light filtering and room darkening, but now that quick option is here and only takes a simple twist of the wrist. See more about these revolutionary shades.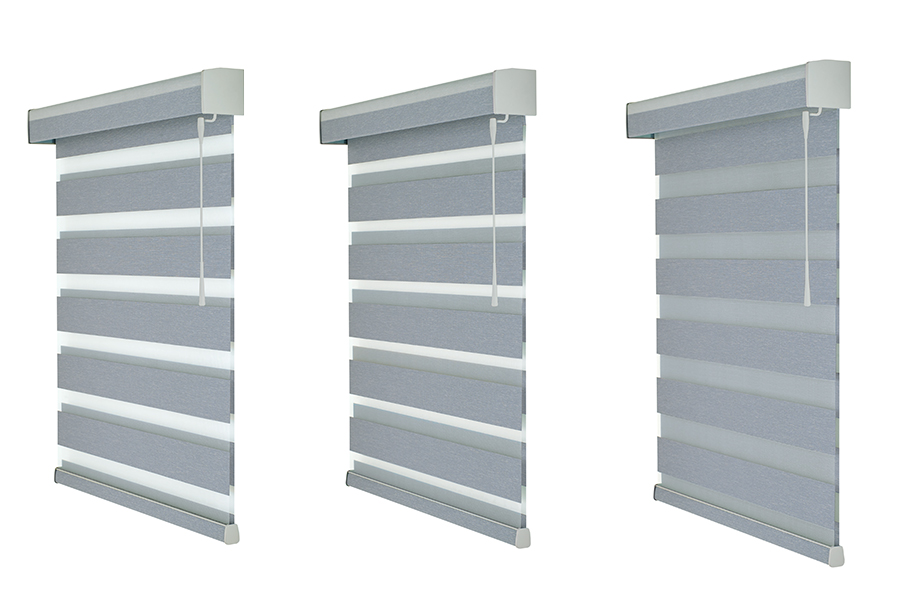 #7 Control Your Shades with a Voice Command
Now that voice command "everything" is on the rise, it's becoming the norm. Why? The convenience and simplicity it can bring to a home is invaluable! No worries if your hands are full, you can still draw your shades, tilt shutters, or adjust the tilt of your automated blinds with a few words to Alexa or Siri. See motorization details here.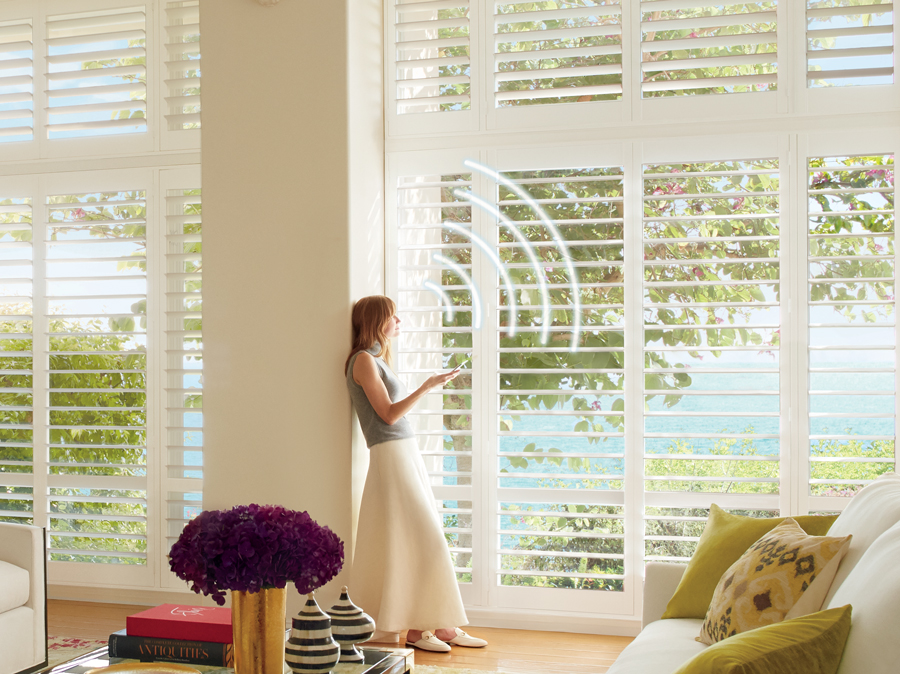 #8 Cellular Roller Shade is the New, Sleek Invention
No one has delivered this stunning combination, until now! We are able to offer you window shades that provide the insulation of cellular shades, but keep the sleek and streamlined design of roller shades. Click here to discover more.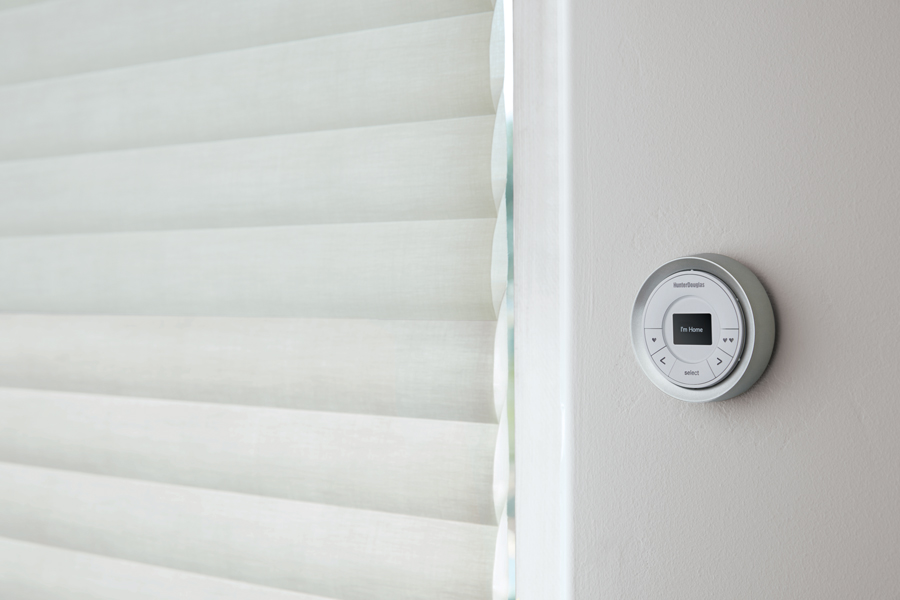 #9 Soft Touch
Next, we're showcasing the Soft Touch system. It's an easy way to just add one or two motorized window treatments to your home. Everything you need for it is contained right at the window, which means no remotes or wiring to worry about. Use the wand to dictate which direction you want your shades to go in, with a gentle nudge.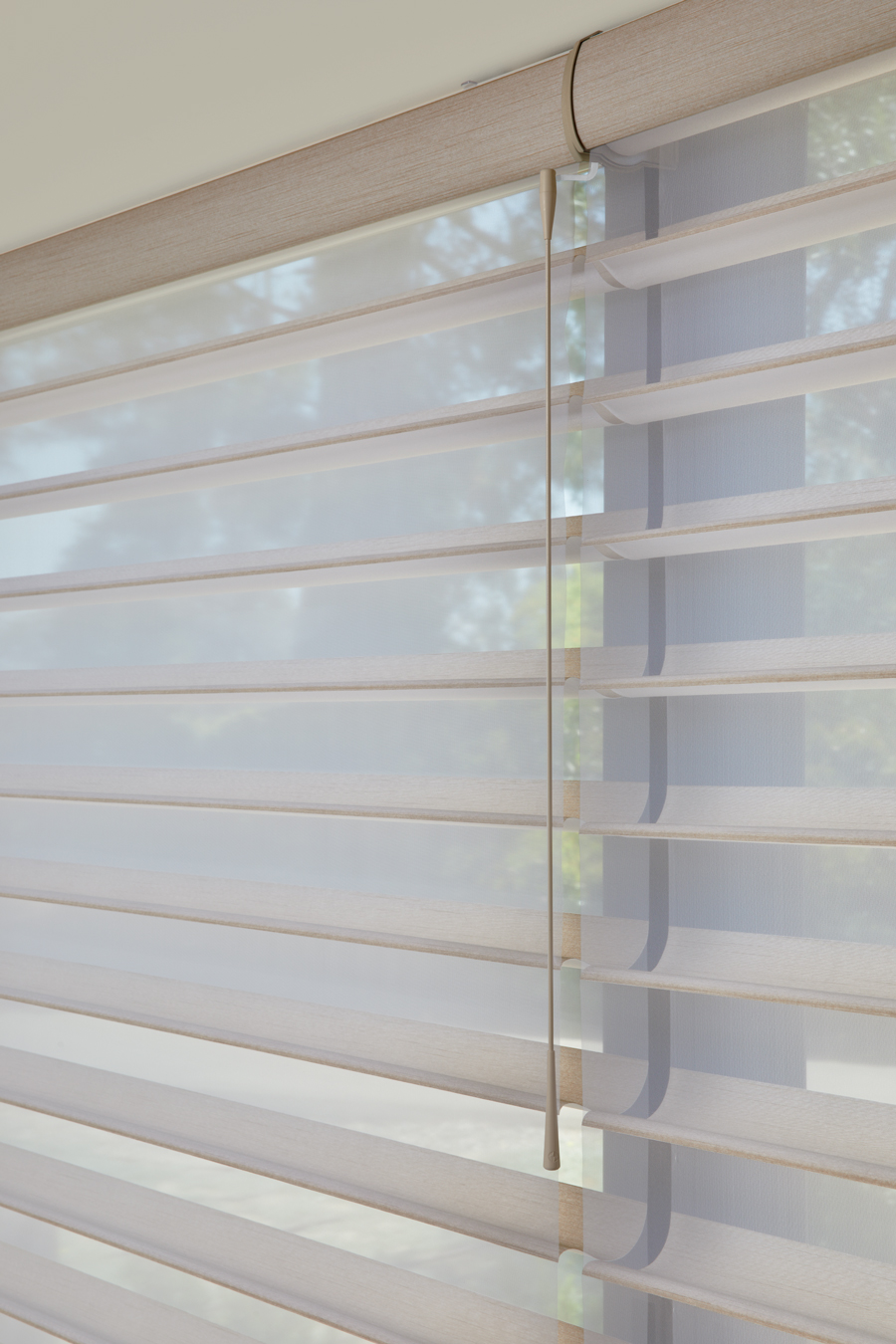 #10 Safety is Key
Lastly, we are working hard to keep only the most up-to-date information from the US government on important safety measures. There are certain regulations in place to make sure your children are as safe as possible in your home. Read more about child safe options here.
Add Window Covering Innovations Today
In conclusion, we would love to meet with you! Aero Drapery and Blind is eager and ready to help you add the perfect window treatments to your Minneapolis St Paul area home. If you're in the area, make sure to stop by one of our local showrooms. If you would rather we come to you, contact us today to schedule your FREE shop-at-home consultation.