Cover Glass Doors with Style
The best way to cover glass doors with window treatments? The options can seem endless. Find inspo with this recent blog post.  Which door covering products do you love?
Roman Shades, Rollers & Sheers
Drapery Panels
Sliding Vertical Blinds & Shades
Plantation Shutters to Slide Open or Fold
These high traffic areas of the home need solutions. From energy efficiency to low profile design, the results should be beautiful. Whether you need window treatments for sliding glass doors, or french door blinds, they should upgrade the use of your doors! Our team can help you figure out the look & function. It's important to fit your home–and your family–the best. See more projects on Pinterest.
More Questions about Glass Doors?
Since this high traffic area of your home can be tricky to cover, we thought you should know…you're not alone! Covering glass doors can be challenging for most homeowners, and we get a lot of questions. We also have questions to get you thinking about your own project…
How Do Your Doors Move?
One of the top considerations for covering glass doors is the way your doors function. This will have a huge impact on the type of window treatment that's possible. Doors that open and close into the home, like patio doors and french doors, tend to do best with horizontal blinds and shades. Sliding glass doors that move side-to-side function well with window coverings that match that movement, such as vertical blinds and shades. Although, it's not unheard of to pair the opposite, it really depends on the make of the door and the layout of your home. Then, there are interior shutters that have options for both sliding function or framed panels attached to glass sections.
Which Type of Door or Window Are You Covering?
While some "doors" are entirely glass, like sliding doors, others have glass panes, like a window nested inside of the door. Before you begin your search, you should know what type of glass–and what size you're covering. One of the reasons happens to be how the window covering would fit on the door, or whether it would have to be hung on a track from above.
What Are the Best Features for Door Coverings?
Many homeowners love the way smart shades can open and close instantly with a tap or voice command. It makes life so much easier. Cordless is another favorite, removing additional clutter and obstacles. But, think about the reasons you want coverings, and you'll discover the features you like best. Chances are, you love the entering light, but you want UV protection and softer light. Sheer and translucent fabrics are a great option that can deliver that. You might love the daytime light and views, but feel a need for privacy as the sun goes down. There are light filtering, view-through options that offer a blocked-off setting as well. And then, there's the discomfort of bare glass–it can make your home feel cold in the winter and exhausting in the heat of summer. If that's the case, energy efficient window treatments will rescue you!
More questions? Reach out to our team. As with any home improvement project, it's always a good idea to get in touch with the experts. Window treatments are an investment, and the last thing you'll want to do is spend money on something that you're left unhappy with. Our team of experts can visit your home, check the layout, take professional measurements and listen to your concerns and frustrations about your doors. We'll guide you to the window treatments that will solve your issues while providing incredible benefits!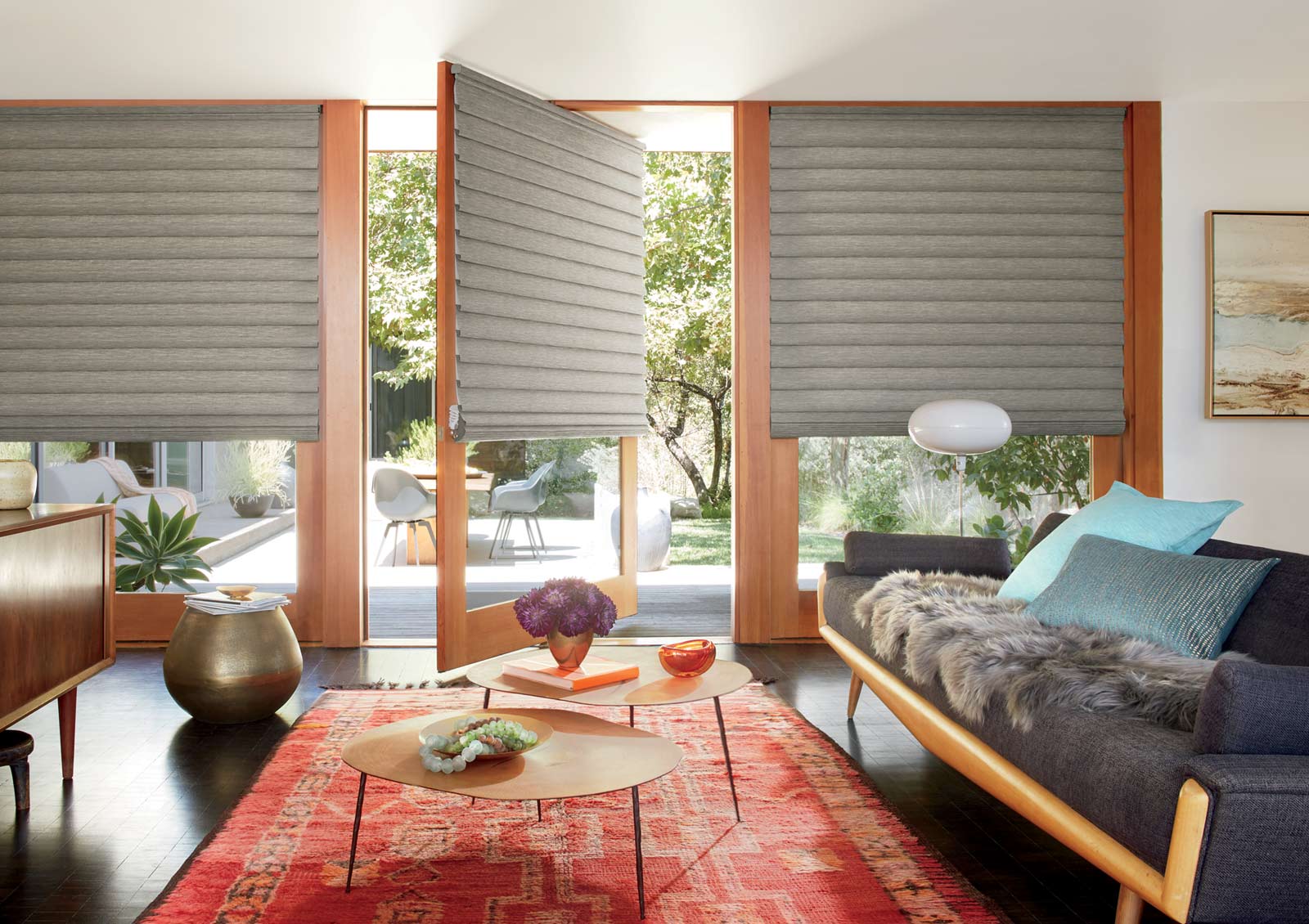 Vignette® Modern Roman Shades & Design Studio™ Drapery