Covering doors is a tough subject. But with the support of Aero Drapery & Blind, we can answer all of your questions. There are so many variables to consider when choosing the correct product for your home. Are you concerned about privacy? Need insulation from the sun? Can't figure out a way to attach a shade to a slider? We understand your dilemma and there is no obstacle too large for us. Here are some frequently asked questions about covering doors, see if you can relate…
What should I use to cover my interior french doors?
Covering interior doors is a good idea when privacy is an issue or you need to create a flexible space for a home office. Adding shades to french doors opens the possibility for privacy and productivity in your home without a huge remodeling project.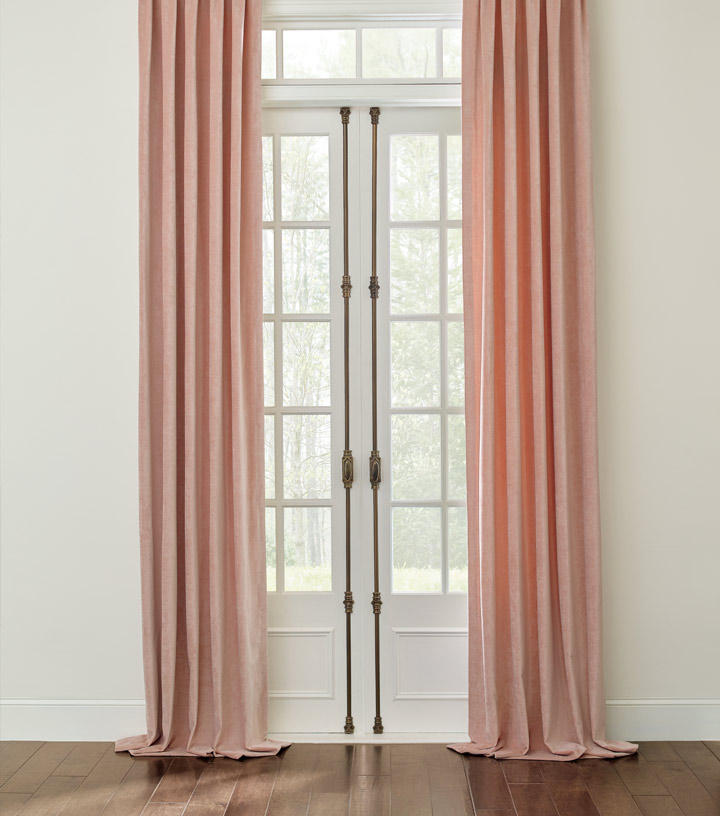 Surely you can choose any shade that fits the style of your home, the majority of our clients use roman shades, followed by roller shades, next plantation shutters. Our designers can help you  find what you are looking for.
Is there a way to make my front door private?
There sure is! The entry to your home is a top concern of our clients. Our front doors are often designed with lots of windows, which is a beautiful feature, but can make us feel uneasy. Covering those windows will give your family a sense of security. If your door is adorned with narrow windows on either side, called sidelights, there are ways to add privacy here too without taking away from the beauty of your entranceway.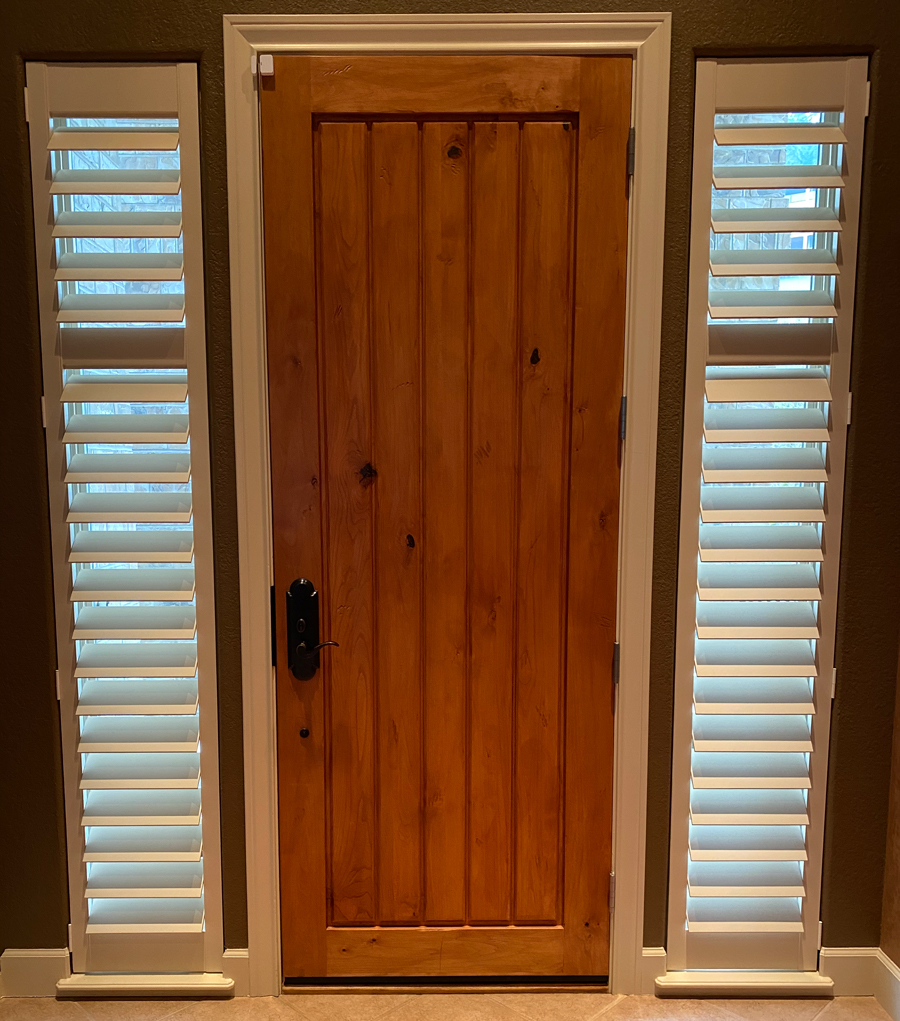 What's the best way to cover a glass pane door?
If you've been struggling with covering a glass pane door, we understand. The space to attach window coverings is limited. Luckily, Hunter Douglas has developed a solution.The TrackGlide System is just the product you need to cover any glass door. TrackGlide offers a narrow track that attaches to the door frame without compromising the integrity of your glass door-no drilling required.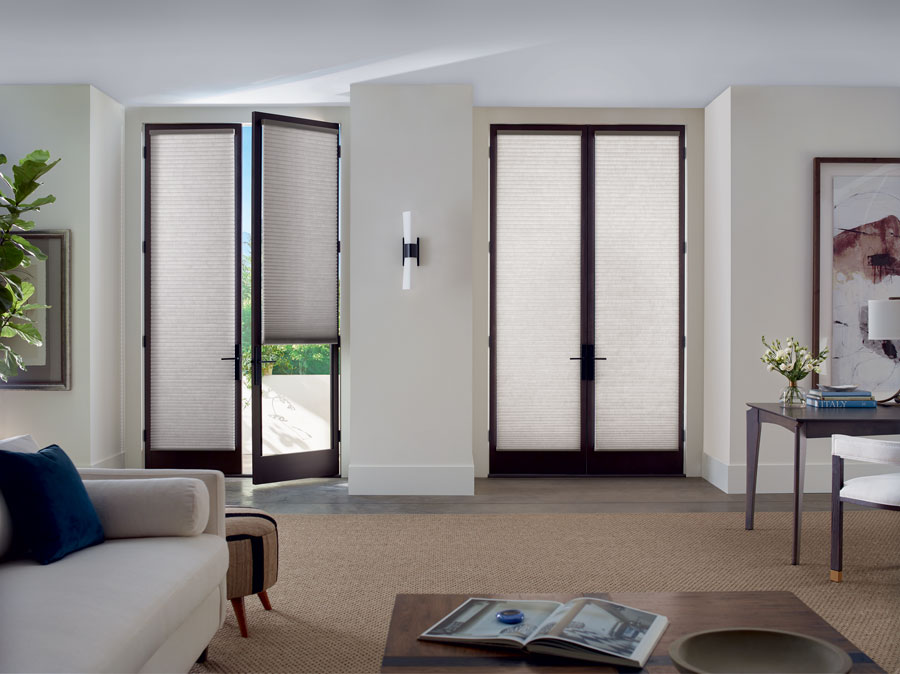 A honeycomb shade will glide up and down the track adjusting to your liking. It has been an exciting addition to the Hunter Douglas portfolio and our clients are loving it. Add the top-down-bottom-up function too!
Which kind of shades can you put on doors?
At the end of the day, it's really up to you. Here are a few variables you may want to consider when you have questions about covering doors. Think about this before making a selection.
Can the door fully open?
How much traffic does the door see?
Do you want them to match or just coordinate with other shades?
Do they allow door knob or handle usage?
Every home is different and what may be the right choice for your neighbor may not work for your family. This is why it's a good idea to speak with an expert in the field. Our job is to make you aware of issues you may encounter when covering certain doors, and find the right solution.
How do I cover my sliding glass doors?
This is a popular question about covering doors. Here's an example of finding the best product for your home. There are two ways to cover your sliding doors- vertical blinds or horizontal. With vertical blinds the goal is to match the movement of the mechanism-a sliding door moves side-to-side. If you choose a vertical operating system-it's simple and easy- it moves just like your doors.Our products include vertical blinds, vertical shades and custom window treatments. It's a personal preference.
Otherwise, if you prefer a horizontal product to cover doors, that's ok too! A benefit to horizontal blinds would be the ability to treat the doors as separate entities. You can keep the shades drawn all day on half of your slider to protect your furniture from UV damage for example, while the other door is free to open and close for frequent trips to the patio.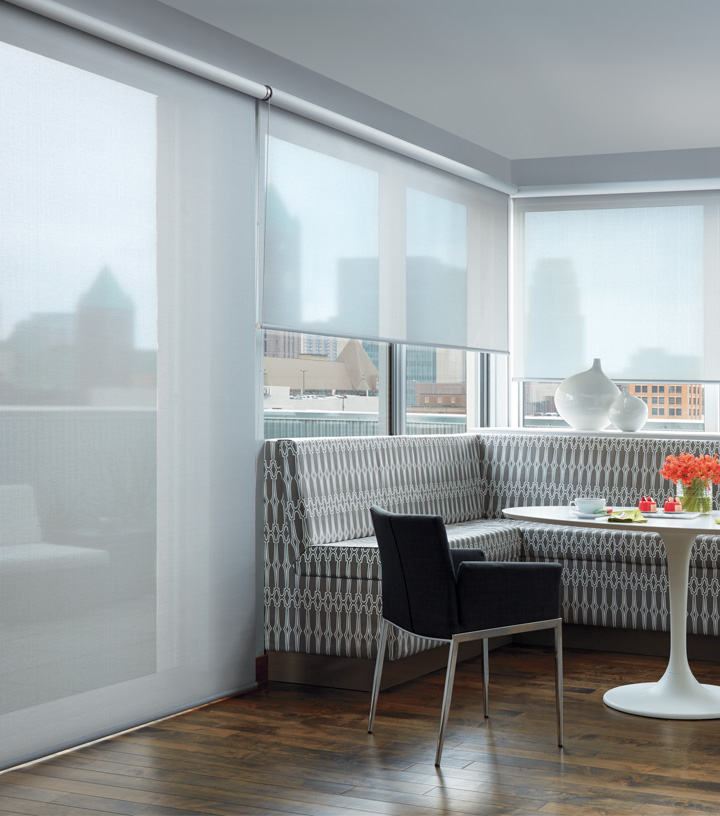 In addition, another concept to consider is the gliding panels shown below. This popular choice allows you to cover a large window opening in sections, only adjusting a section at a time when you feel it's necessary. Gliding window panels pair nicely with our smart shade system, allow them to adjust automatically,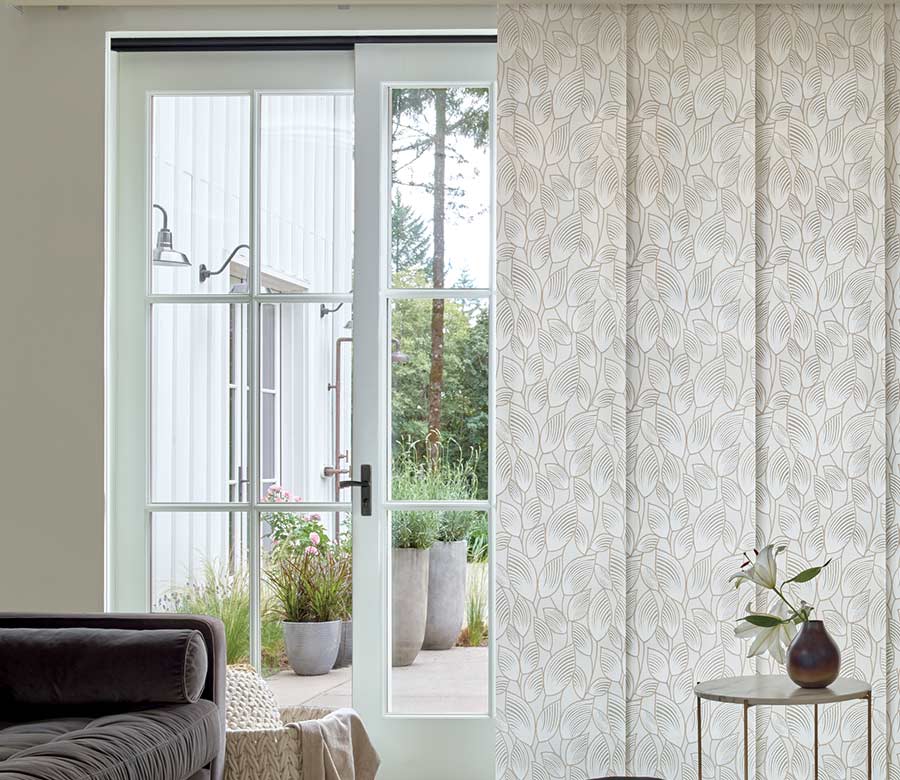 Cover Doors with Confidence
Hopefully by now you have answers to your questions about covering doors. Spring is the ideal time to tackle this project and add beauty and functionality to the doors of your home. If you still have questions about covering doors in your home, we are happy to help. Our window treatment professionals have worked with unique situations in the past and can suggest the best product to add value to your home. Our goal is to make your home more beautiful while adding the newest innovations that can make your home function seamlessly. Reach out to us today for your FREE Consultation or better yet, come visit our showrooms!