We know what it's like to search endlessly through the web. The perfect "this," the ideal "that." It can start to feel overwhelming. And, if you're already feeling sleep deprived, you might find yourself nodding off as you scroll for answers. If you've found your way here, you must be looking for the best bedroom window treatments. And, guess what? We can help!
#1 Darkness
Topping our list of the best bedroom window treatments? It's darkness, of course. No more waking up too early on the ONE day you get to sleep in. The full moon won't stir you in the middle of the night. And, the glow of the street lamps, or flash of passing headlights? You can say goodnight to those, too.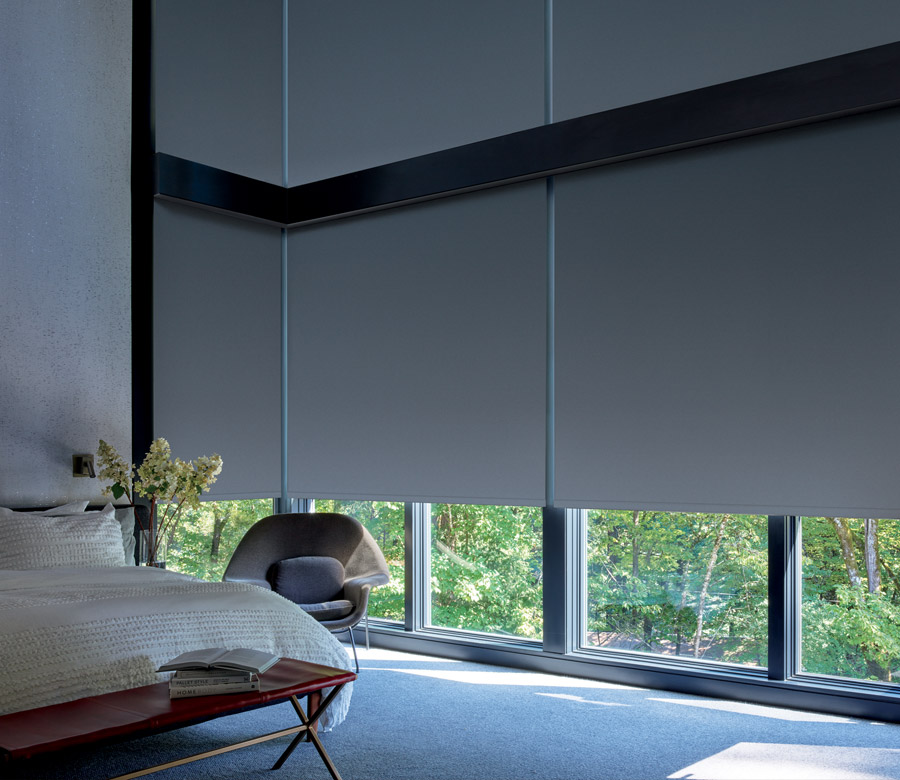 The right window coverings will help you fall asleep and stay asleep longer. Who doesn't want that?
What's the difference between room darkening and blackout?
It's a good question to ask–you need to know which setting will be right for you. First of all, the terms can apply to both the fabrics and the experience. When focusing on fabrics, room darkening refers to fabrics that keep most of the light out, while blackout fabrics are opaque.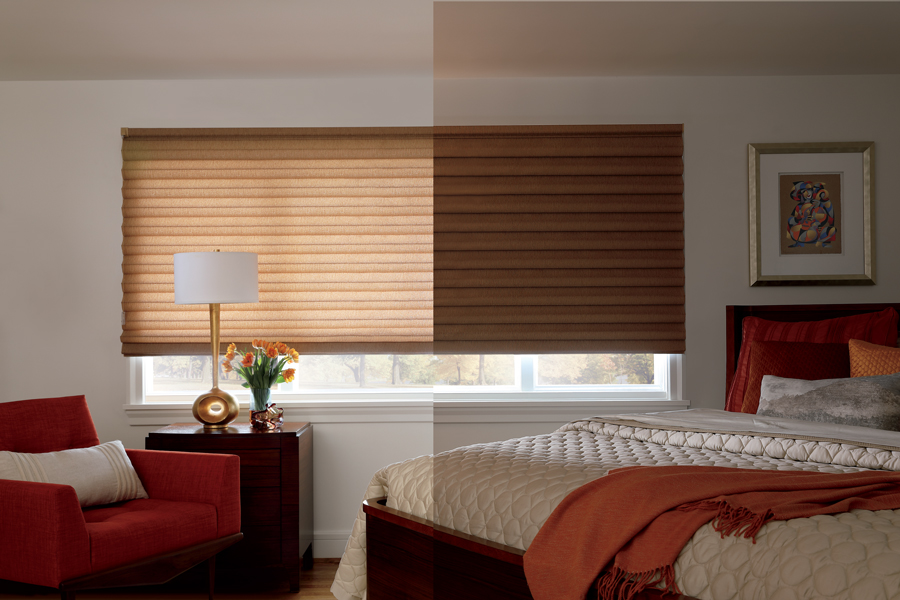 Many of our light-filtering fabrics also come in room darkening, but not necessarily opaque. It's true that room darkening fabrics may be exactly what you need. But, let's talk about the experience.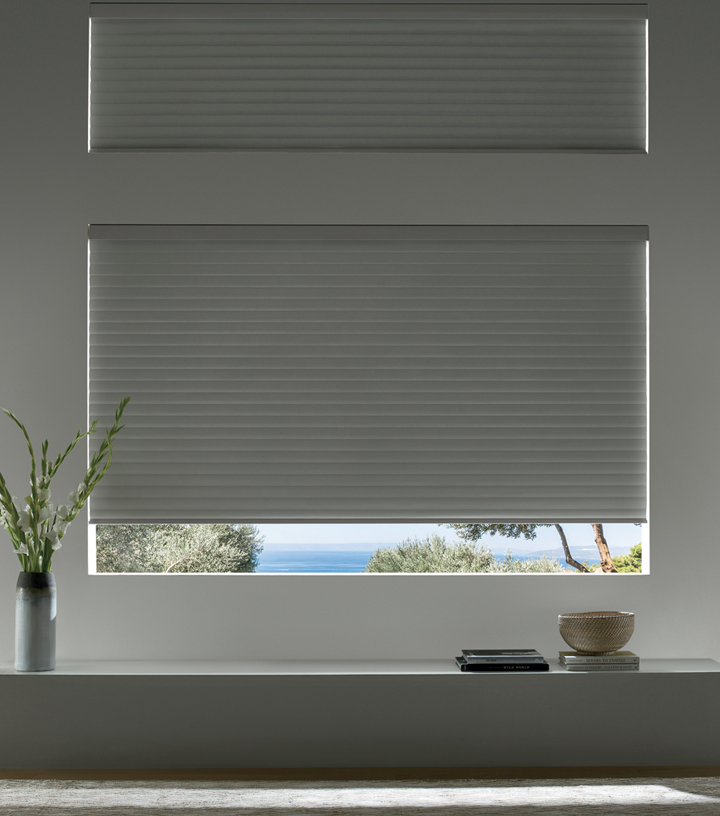 The room darkening experience will offer a "mostly darkened" space, but due to the type of window coverings you choose and how they fit into your home's windows, you may end up with some sneaky light around the edges. If it's a blackout experience you're looking for, one of the newest innovations seals out the light.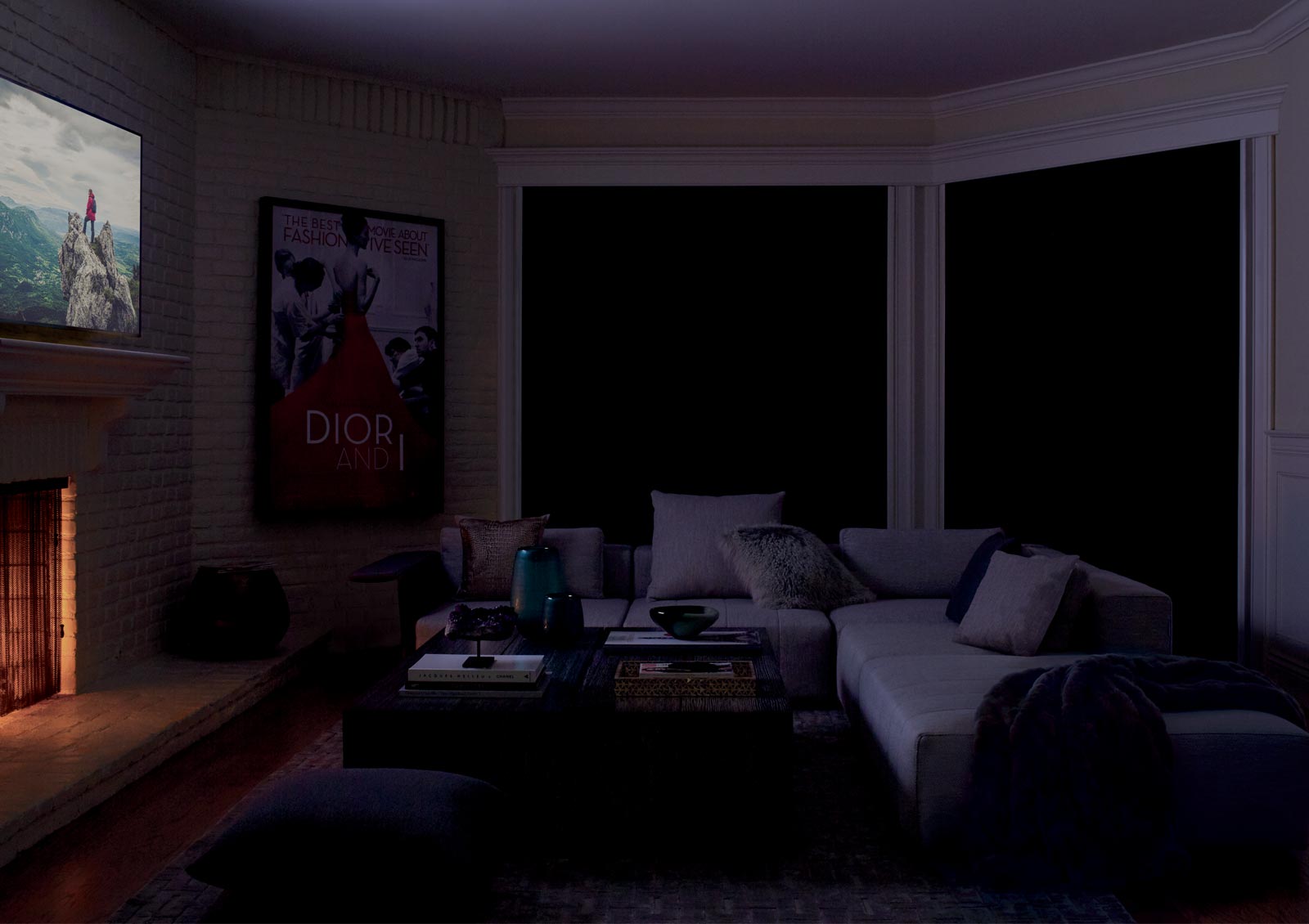 The LightLock™ system features side channels that form a U-shape along the edges of the window frame, where the shades glide up and down. The light stays out–ideal for bedrooms and media spaces.
#2 Making Adjustments
When you consider adding window coverings, easy adjustments will allow you to transform the space. You may want darkness for sleeping, but spending time in your bedroom during the day is almost as important. Especially in today's changing world, more people are working from home, learning remotely and creating versatile spaces for the family.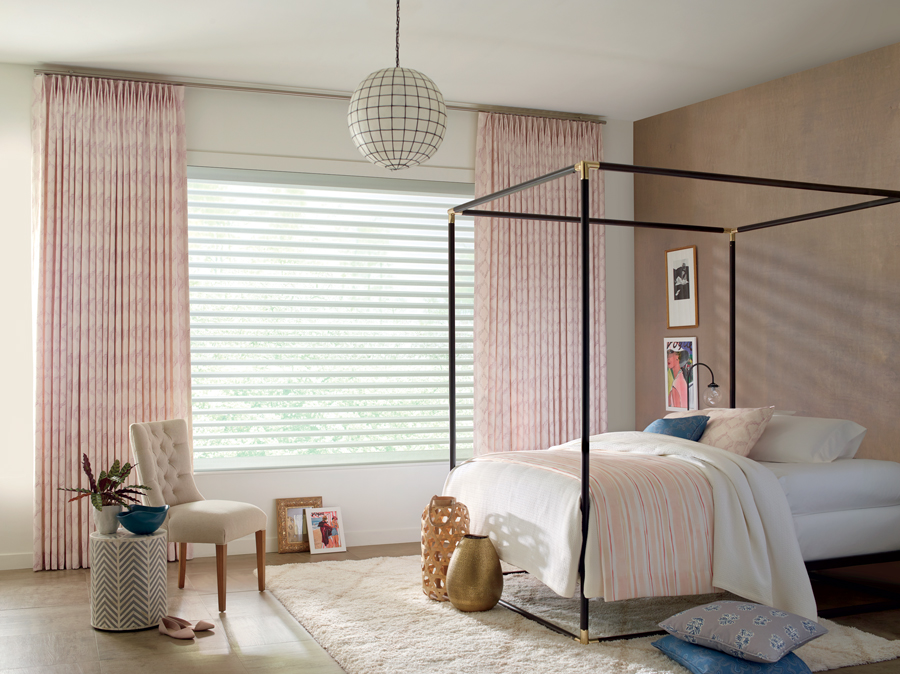 Smart shades fit beautifully into this equation–instantly shifting the environment from function use to another.
One tap or voice command provides instant adjustments
Scheduled adjustments offer effortless transformation
Integrate seamlessly with your smart home system
#3 Choose Your Favorite Features
When planning to invest in the best bedroom window treatments, you can choose from a selection of features to create the perfect atmosphere. Start by thinking about what's most important to you–in your space. Think about how you use your rooms, what the lighting is now–and what you'd like it to be.
Privacy
Comfort
Light Control
Temperature
Do you need privacy & natural light?
Consider top down. The shades lower from the top, inviting in bright, natural lighting–across the ceiling. The bottom portion of your window remains closed off from view and direct light and heat.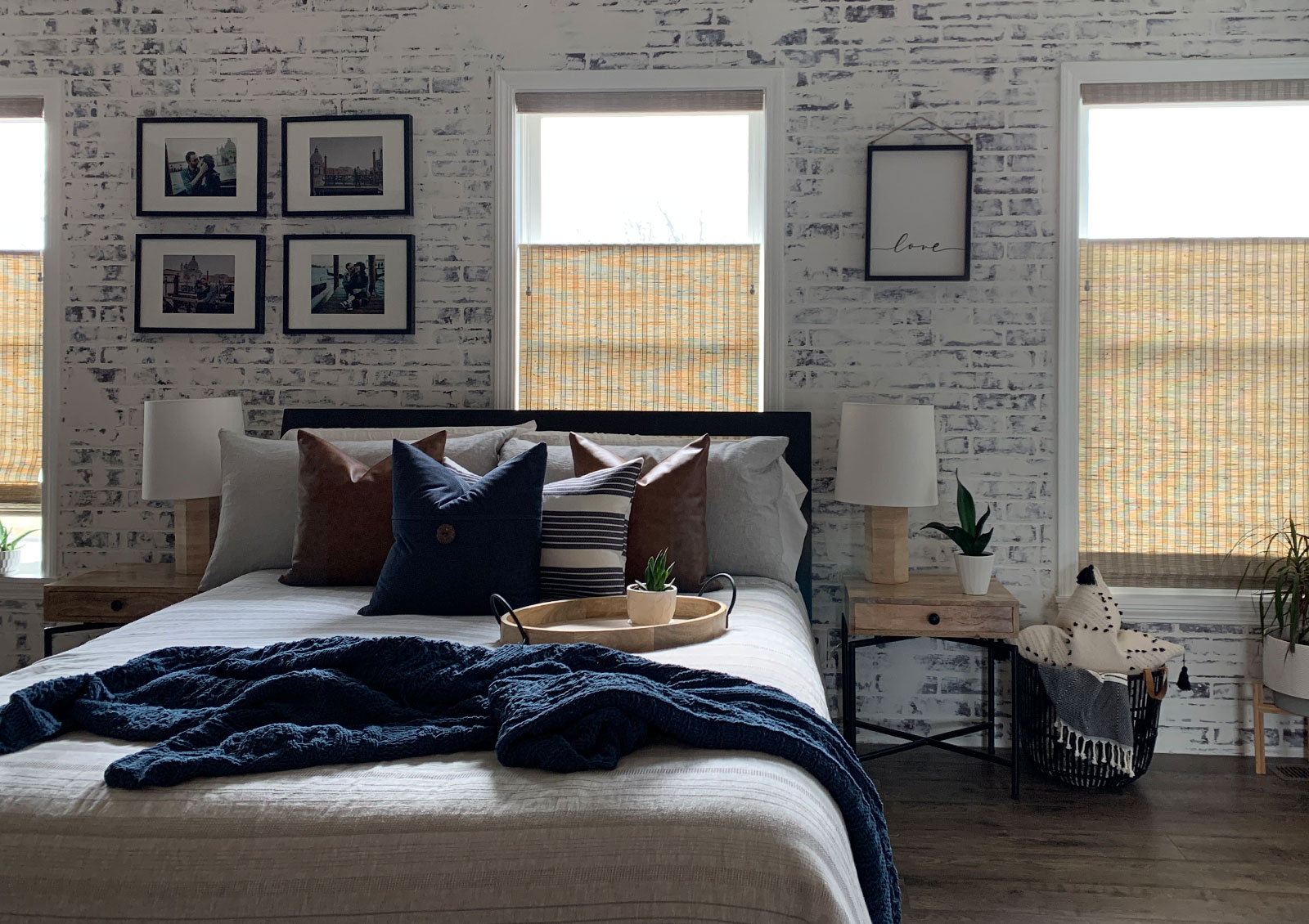 Would you like access to the view, but you're worried about glare? What about nighttime?
Check out dual shades. One of the newest favorite features in the window covering industry, two-in-one shades can be described as the "best of both worlds."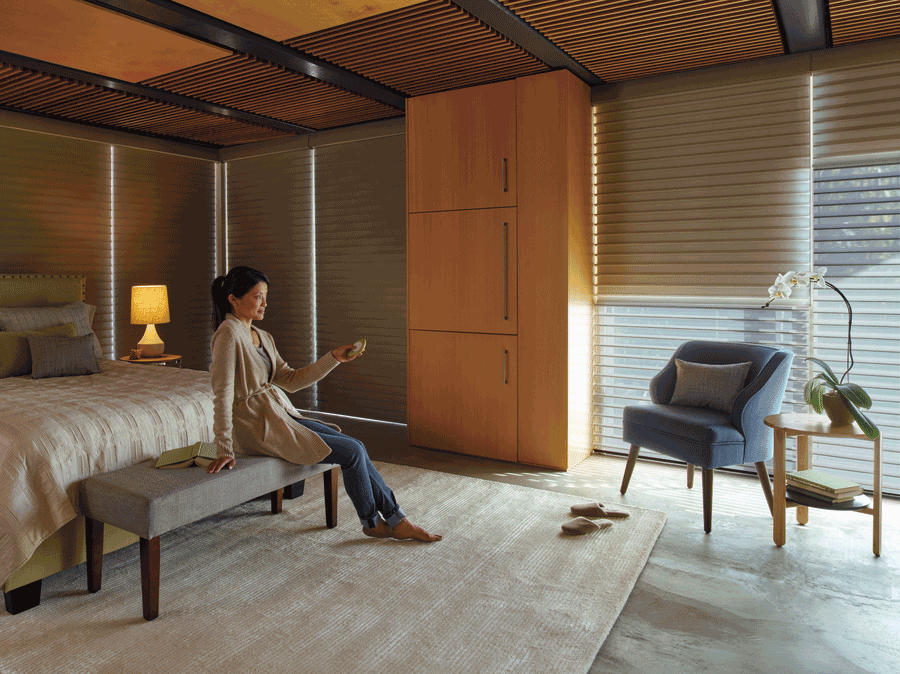 Does the temperature in your bedrooms affect your lifestyle?
Discover what energy efficiency can do. From the intense sunshine of summers here in Minnesota, to the frigid drafts of winter, you probably need solutions to increase comfort.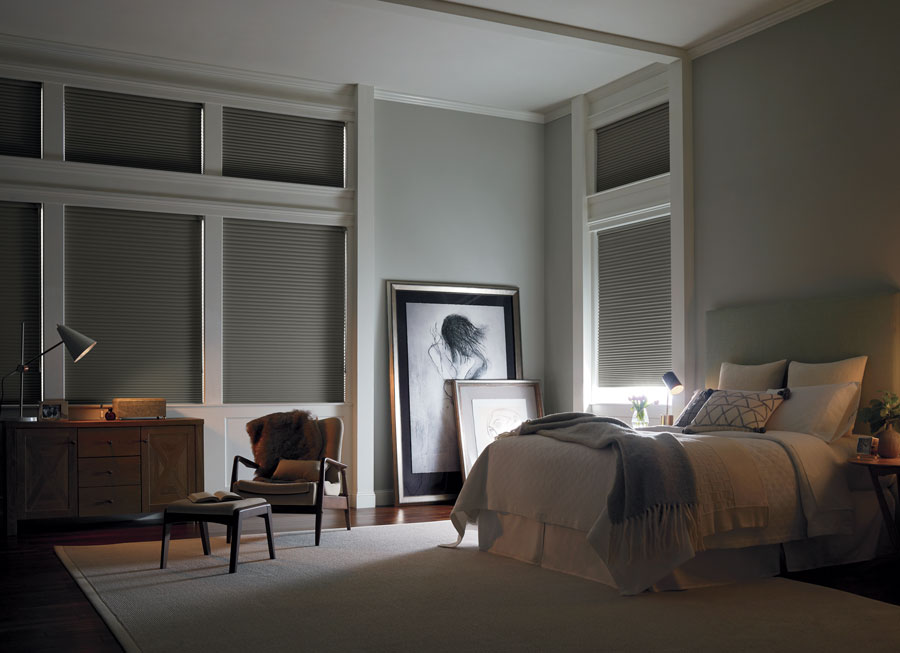 What is recommended for children's bedrooms?
Most parents love the idea of darkening the spaces for better sleep. But, what some forget about is the cords. If you have outdated window coverings in your home, dangling cords can be a danger to children. Imaginary play can result in injuries–even in the safest places. By choosing cordless or cord-safe coverings, you'll have peace of mind, and they'll stay safe.
Have you discovered the best bedroom window treatments?
Which of these features is speaking to you? Have you discovered the best bedroom window treatments for your home? Stop on by one of our showrooms to explore your options, see everything in person and even make adjustments with varying operating systems to find out what will work. Then, schedule a time for one of our window covering specialists to visit your home to help guide you through the process with a FREE design consultation. Get in touch with us today!