When you're faced with a bathroom remodel, you may have mixed feelings. On the one hand, updating with new bathroom features can seem exciting. But on the other hand, all the important choices you're considering may feel overwhelming. Bathrooms are a unique space in need of thoughtful planning and consideration. Privacy is a top priority, but so is light and humidity. And, don't forget about style! Let's work together to plan the ideal bathroom space for your home.
Winning Combination
To reach your ideal design goals, your bathroom should offer beauty, comfort and relaxation. Consider privacy + light as a great first step when evaluating your new bathroom features. Avoid making the space too dark and closed up–it may feel claustrophobic.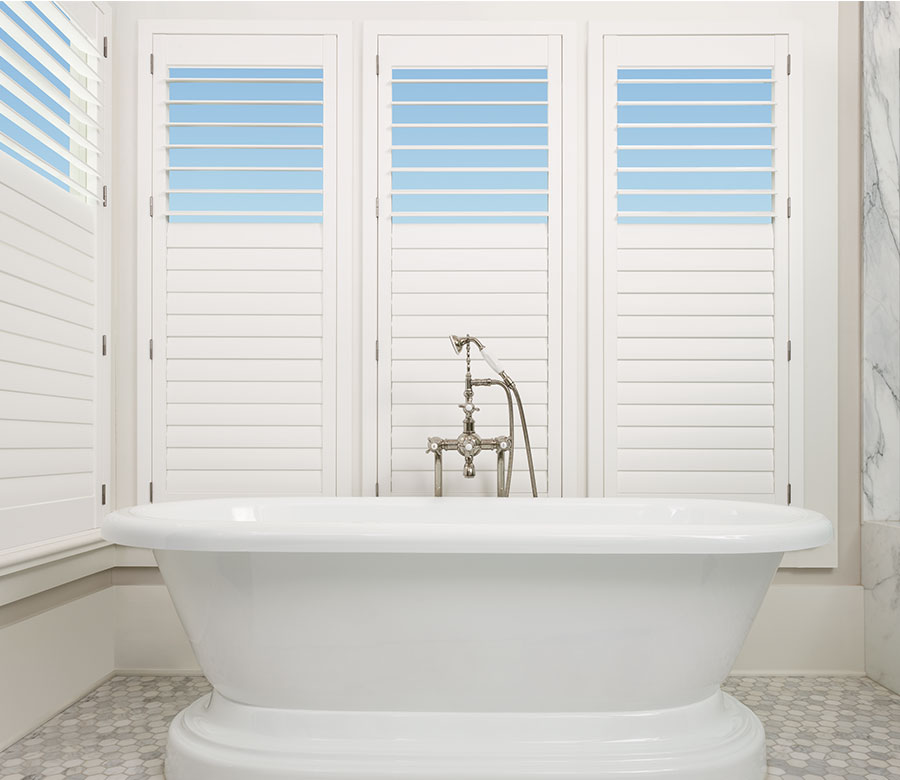 Try adding window solutions that provide privacy at the bottom, and allow the comfort of natural light in through the top. Our plantation shutters (above) offer light + privacy in one, their split tilt mechanism can adjust as the day turns into night. You can also accomplish a similar look and function with top down bottom up shades. Our options are endless.
Consider Window Direction 
But, before you make any final decisions in choosing bathroom features, remember the importance of window direction. The direction of your windows can determine your bathroom's needs–from privacy to lighting and beyond. Because there are so many variables to consider, it's best to call in a professional who can help you create the ideal atmosphere.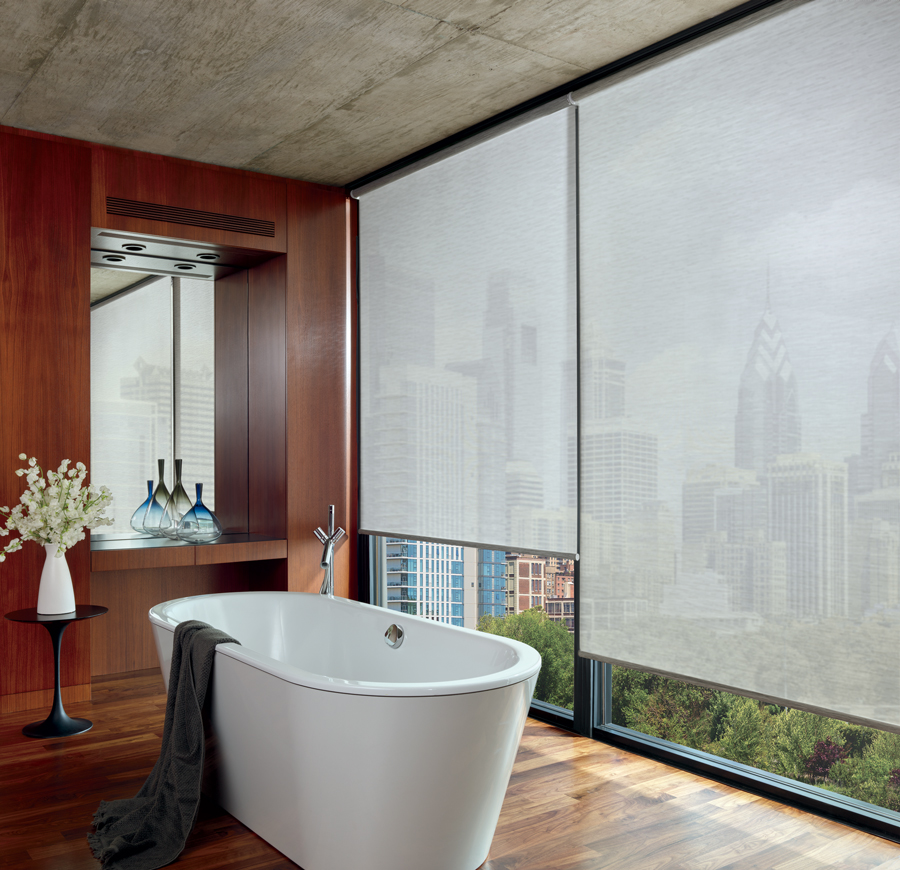 It may look easy to design an "Instagram worthy" bathroom, but making it functional is important as well. Consider window coverings with UV protection to extend the life of expensive wood finishings and add bathroom features that will reduce glare for your daily personal comfort. It can't just look good, it has to feel good too!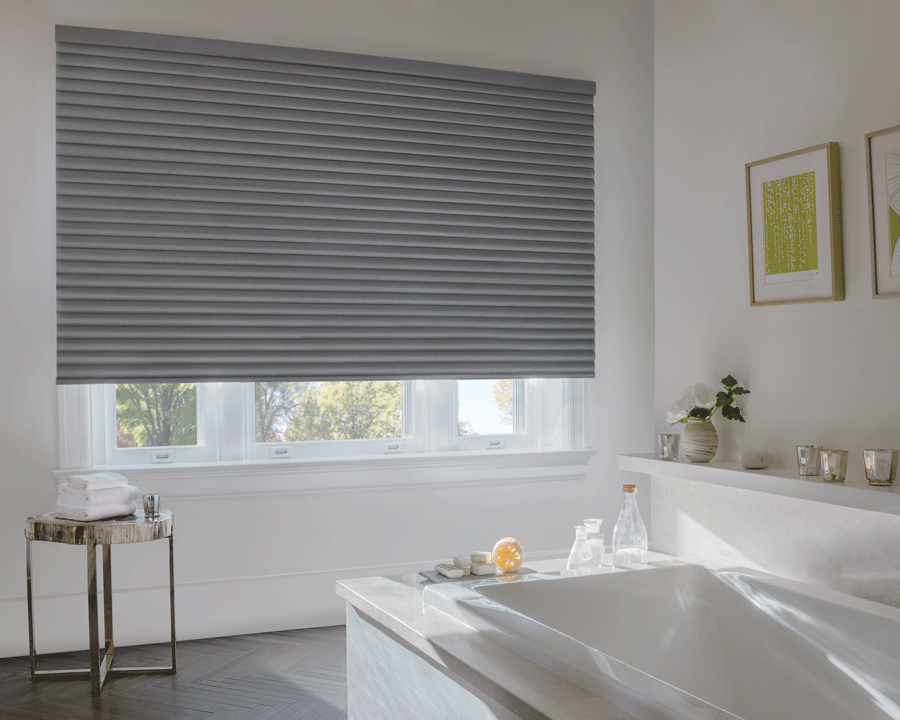 The correct choice in window treatments will add energy efficiency too! Avoid oppressive heat in the summer and freezing cold in the winter from entering your bathroom and enjoy moderate temps all year long. Installing fabric window shades with insulating properties is a great bathroom feature to explore and you'll save on energy bills as well. 
Large Window Attire
It's hard to consider covering up breathtaking large windows, but privacy is a must in the bathroom. Window coverings that allow you both options are available and will add style and elegance. Why not design a feature wall that keeps your space intimate and private when it's necessary? Create something stunning like this…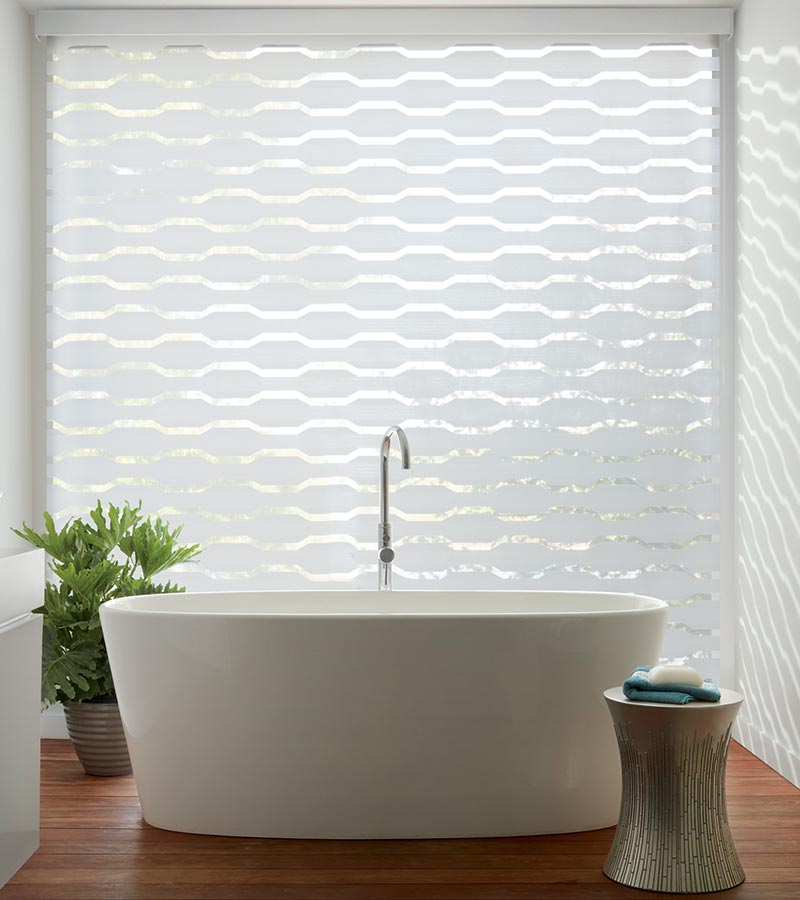 Large window attire can be an opportunity to show off your design IQ. Be brave. Consider designer shades that act as art when closed, but when open, allow for your amazing outdoor views. Don't forget smart shades to make the transition from open to close fast and seamless. One of our favorite bathroom features!
Small Space?
In contrast, you may need window coverings that work well in smaller spaces. Our professionals suggest a uniform look or neutral toned treatments. This will open up your space and make it look large and inviting. There are bathroom features available that are perfect for each unique circumstance, just ask.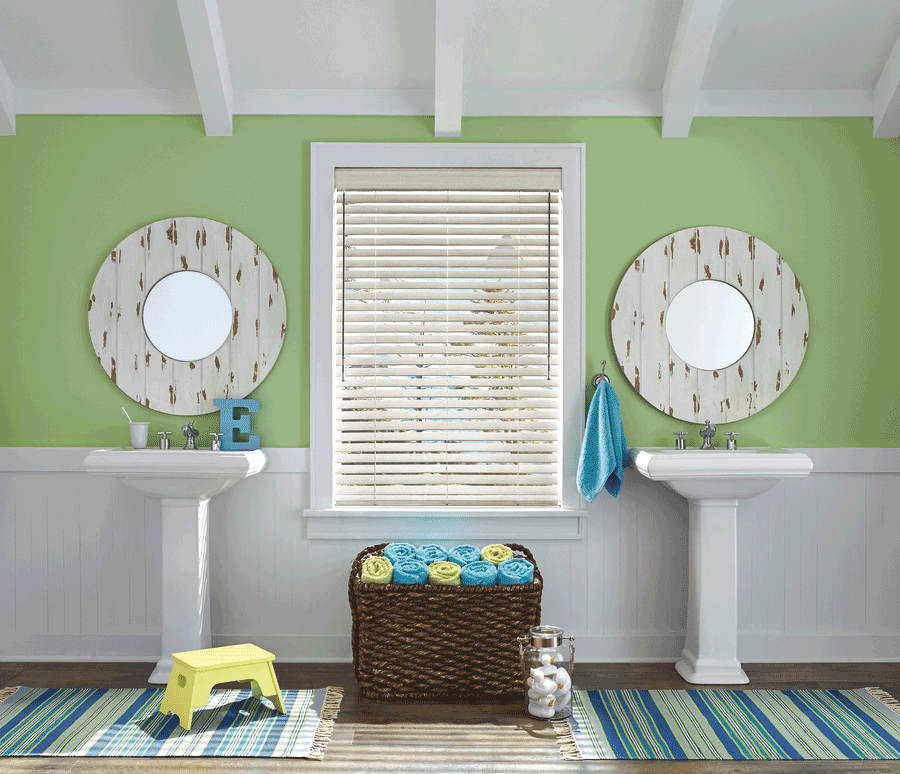 One more thing to consider in small spaces is adjusting the shades. You'll want simplicity and ease when opening and closing them in a powder room or guest room. Think about simple adjustments with "on/off" control. With a simple touch, open the blinds to view or close them for privacy. Learn more here.
Bathroom Features You Deserve
Have you decided which bathroom features you need the most? Wait no longer, the choice is yours. Our team at Aero Drapery & Blind can work alongside you to create the right atmosphere in your bathroom. We will consider any obstacles and help you make informed decisions about window covering solutions that will best fit your needs. Create an oasis. Get in touch with us for your FREE Consultation today!