We will all be celebrating the holidays a bit different this year. Whether your family is hosting a traditional celebration or keeping the festivities more intimate, you want your family and guests to be comfortable in your dining area. However, harsh sunlight, less than scenic views and foot traffic outside a window will distract your guests during their meal. For these reasons, selecting the right dining room window treatments for your space can be the difference between a comfortable private setting and an uncomfortable fishbowl feeling.
Choosing Dining Room Window Treatments
Consider all existing elements in your dining room when selecting your window treatments. For instance, how much natural light does the room receive? Are there any privacy concerns? What time of day is the room most often used?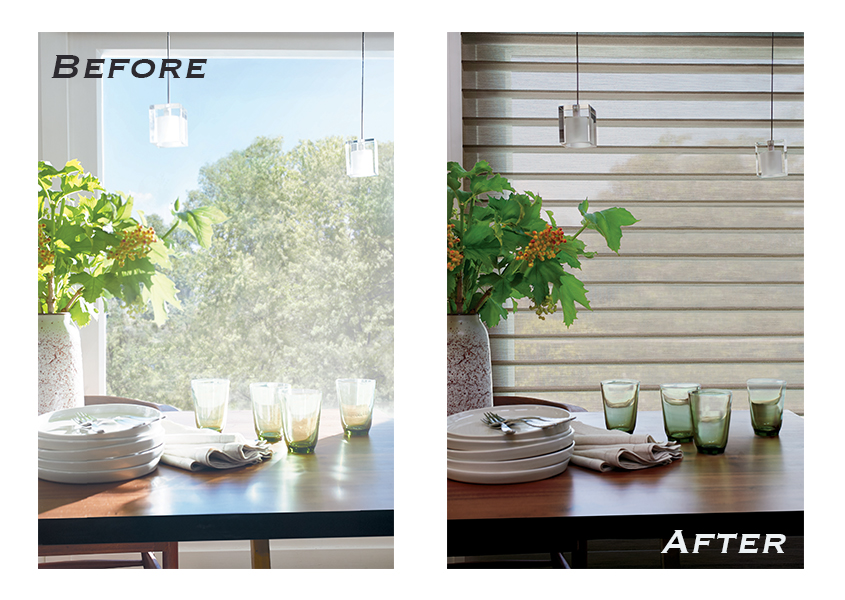 As you can see, the dining room above is filled with incredible natural light. However, with window coverings, this room was filled with harsh light and glare over the course of the day. Once these sheer shades were installed, this dining space showcased a glowing atmosphere. Looking for solutions for your own home? With a number of choices to consider, our team can guide you to the ideal selections. Let's look at what's possible…
Layering with Fabrics
Fabrics bring softness, style and color into your space. Add draperies for a simple yet elegant choice while achieving some light and privacy control. If more light control or privacy is desired, consider layering your window treatments.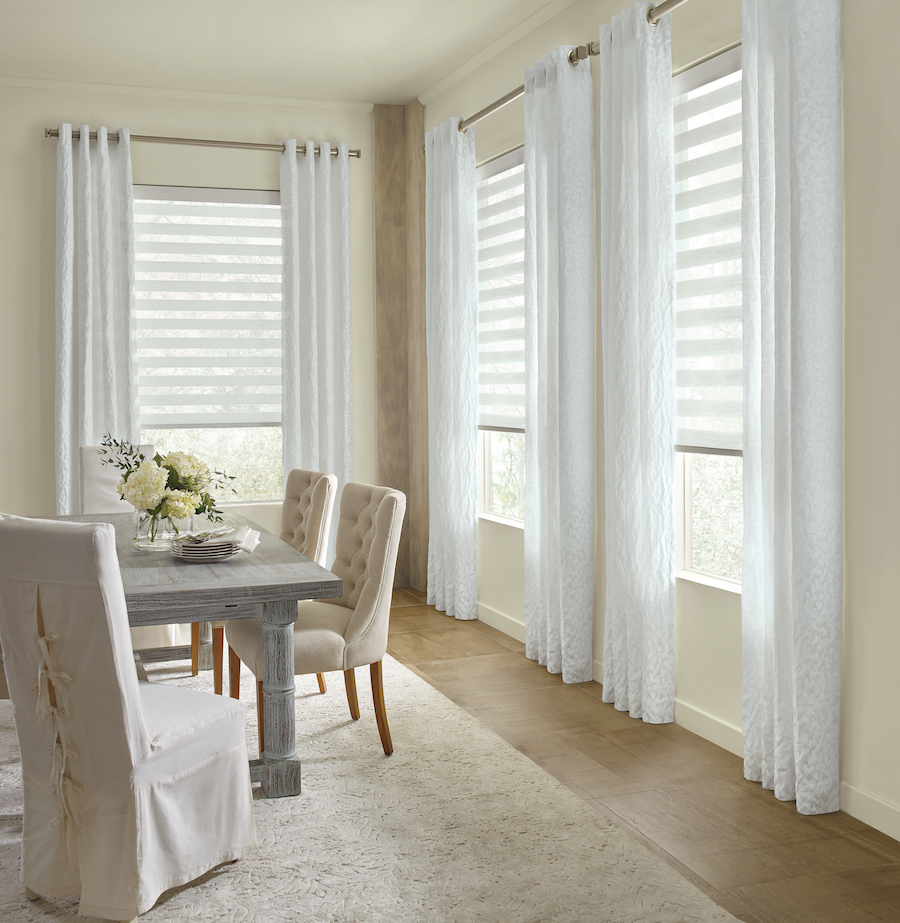 This dining room uses Designer Banded Shades as a base layer to provide light control and privacy. This option offers diffused view-through when shifted open and light control & privacy when closed off.
Optimizing the Light and Gaining Privacy

When gathering with friends and family, a well-lit dining space coupled with privacy are often top priorities. If there are foot traffic distractions outside your dining room windows, a top down bottom up system may be your solution. While top down bottom up refers to shades, shutters are available with a similar feature to bring incredible benefits.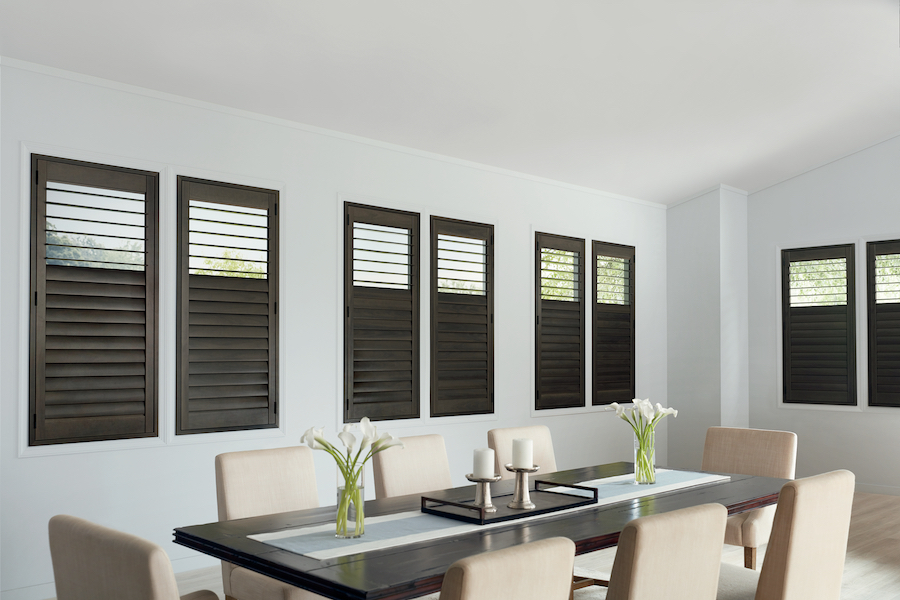 This dining room uses NewStyle Hybrid Shutters which offers a "split tilt" system. In this system, the top of the shutters remains open, allowing light into the space, while the bottom of the shutters can be closed for complete privacy and light control at eye-level.
Tempering the Natural Light 
Who doesn't enjoy a light filled dining room? Unfortunately, it is hard to break bread while squinting from glare or heating-up under direct light. If your dining room is filled with generous windows, sunlight may be causing discomfort to your family and guests. The ideal window treatments will give you control over these elements.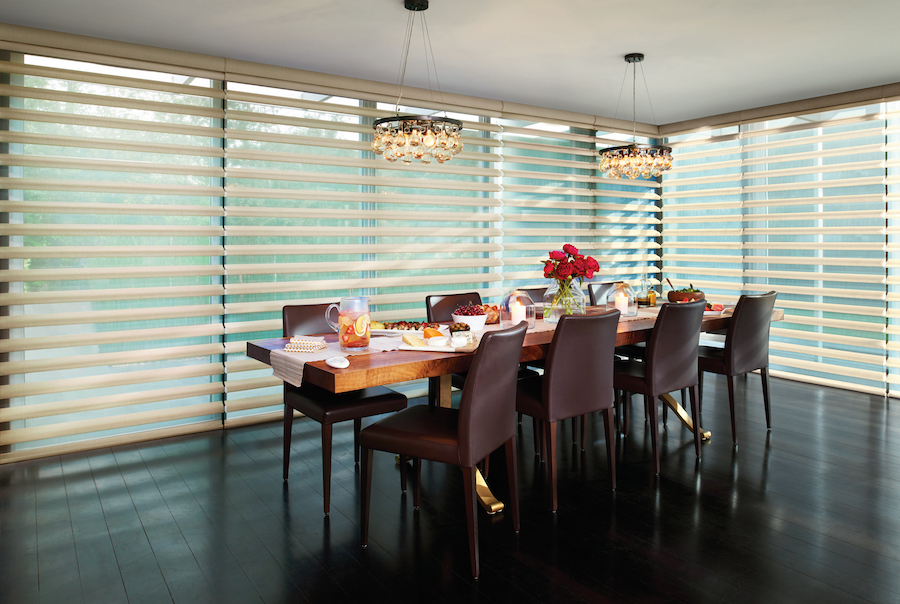 Pirouette shades are used in this dining room to provide a range of light control. When these shades are opened, they reveal light diffusing sheer fabrics. However, when closed, they offer complete privacy, light blocking and protection from harsh UV rays.
Narrowing the Window Covering Choices!
Ready to explore dining room window covering options that are custom to your home?  Our team at Aero Drapery & Blind can help you choose the best solutions. Please contact us for a  FREE design consultation.