Tricky windows are hiding in your home, and they'll go unnoticed until an issue arises. Most people refer to these windows as specialty windows,  but we like to call them tricky, here's why. Specialty windows come in all shapes and sizes and may be set in an obscure location, placed too close together or just difficult to manage—they become tricky to cover! Let's find solutions…
The Specialty Window
The majority of specialty windows are shaped with angles or arches. Specialty designs such as these can be considered tricky windows because it may take extra effort to find window coverings to fit. But, it's worth it. Angles and arches can upgrade the look of your home and provide a unique style that sets it apart. Isn't that what we are looking for? 
The Angle 
Angled windows are an extraordinary way to heighten the look of your home- they add a contemporary feel by exposing the outdoors. So why cover them up?  You may need to. In order to protect your furnishings from UV light or for privacy, sometimes treatments are necessary. It's simple to cover these windows, matching the angle, with choices such as plantation shutters, blinds and window shades designed with tricky windows in mind. 
The Arch
Custom window treatments also provide easy solutions for arched windows. But, how you cover the arch is your decision. Here are a couple examples.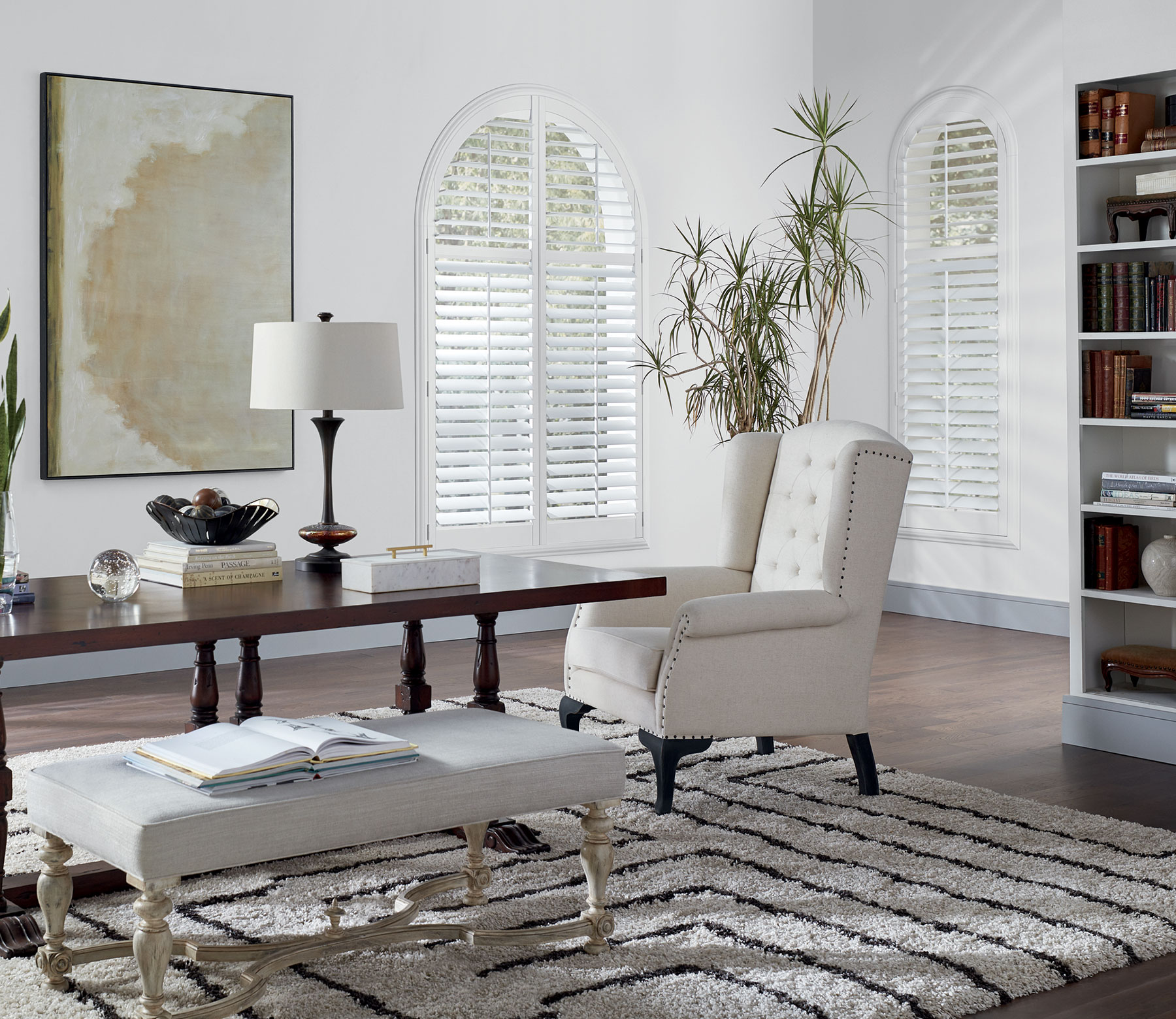 You may choose to cover the entire window for a sophisticated and timeless look. Or, by leaving the arch exposed at the top, allow for regulated light control throughout the day. It's your home, it's your choice. But, remember to consider privacy, exposure and insulation before you complete your project.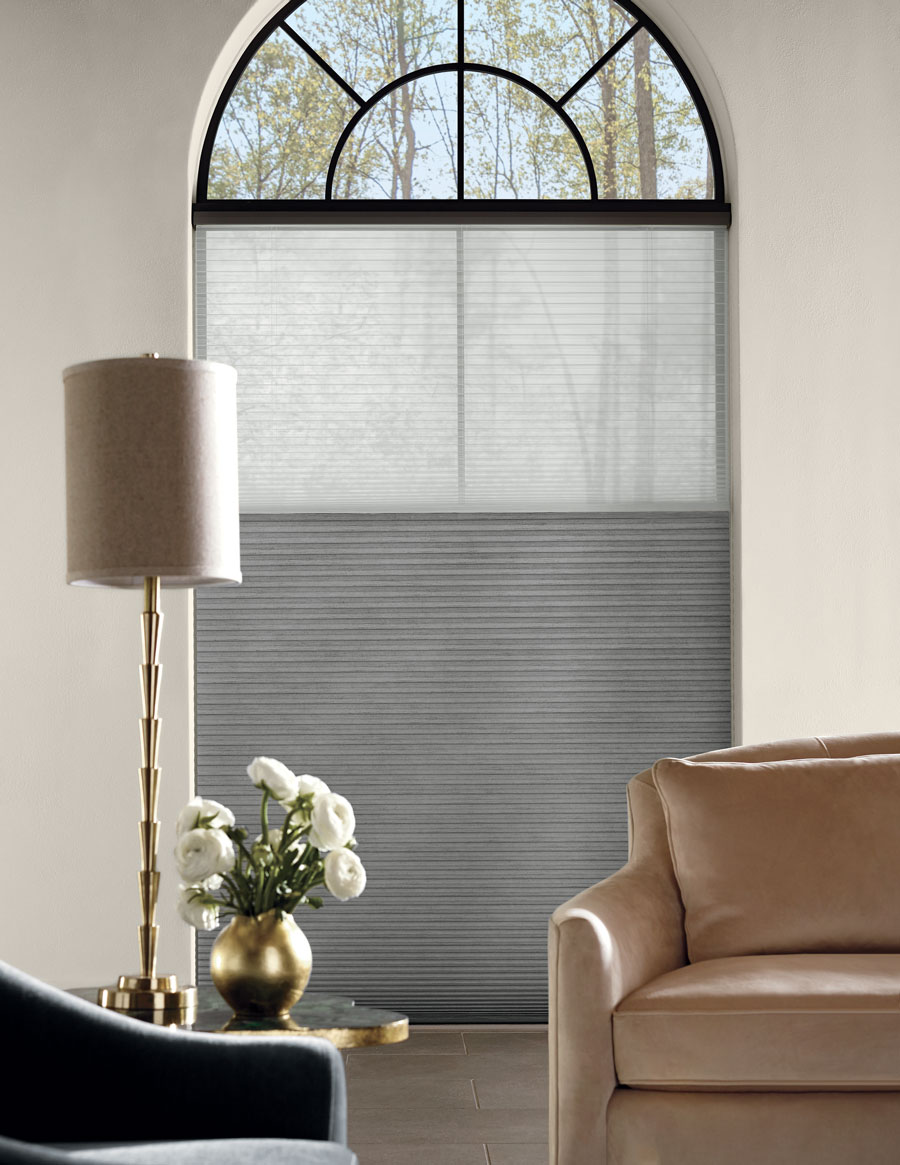 Tilt Turn Windows: European Style
It's the tilt turn window. This welcomed addition to the tricky window collection was influenced by European style. This window design offers the option of opening up like a door or tilting in at an angle, both adjustments give an airy feel to the space! They are lovely–and can be covered!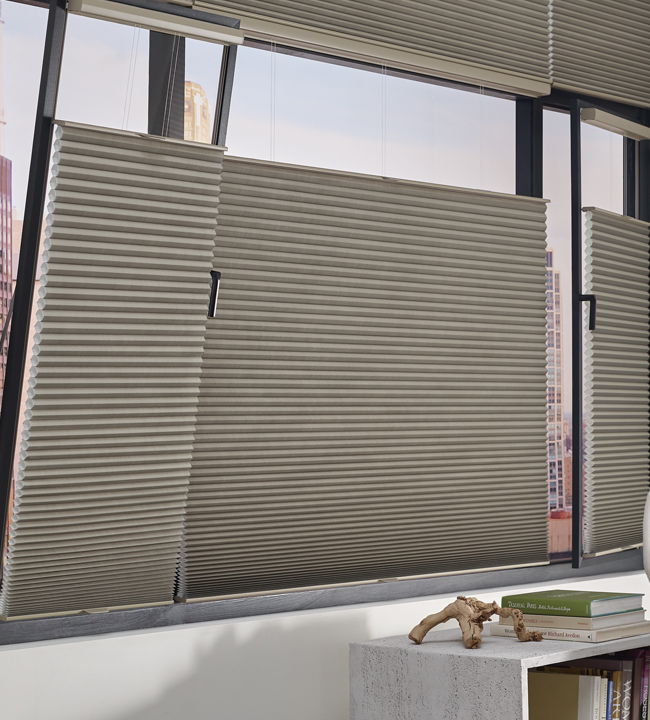 The TrackGlide™ System was created with these specialty windows in mind and provide coverage solutions. The track runs along the edge of the window frame allowing window shades to slide up and down to adjust. Room darkening, light control and even the top down feature is offered with this operating system. Is TrackGlide™ right for windows in your home? 
When Window Placement Makes for Tricky Windows
It's not just tricky windows that need special attention. Standard windows can become problematic as well. Sometimes they are placed in a hard to reach space, and other times. they're arranged way too close together. Are there solutions for standard windows that decide to be difficult? Our specialists at Aero Drapery & Blind will help you decide which window solutions will work best. 
Bay Windows
Every house has a special spot that makes it feel like "home". Maybe it's a sunny space off the living room or the breakfast nook you fell in love with! Oftentimes, the location of the bay window is where you get this cozy feeling. Tricky windows shouldn't interrupt the overall design of your home. It's simple to incorporate a bay window by adding a treatment that provides protection from the elements and matches the style of your home. An inside mount treatment would work beautifully in this situation and it's a great way to avoid a cumbersome look in a tight spot.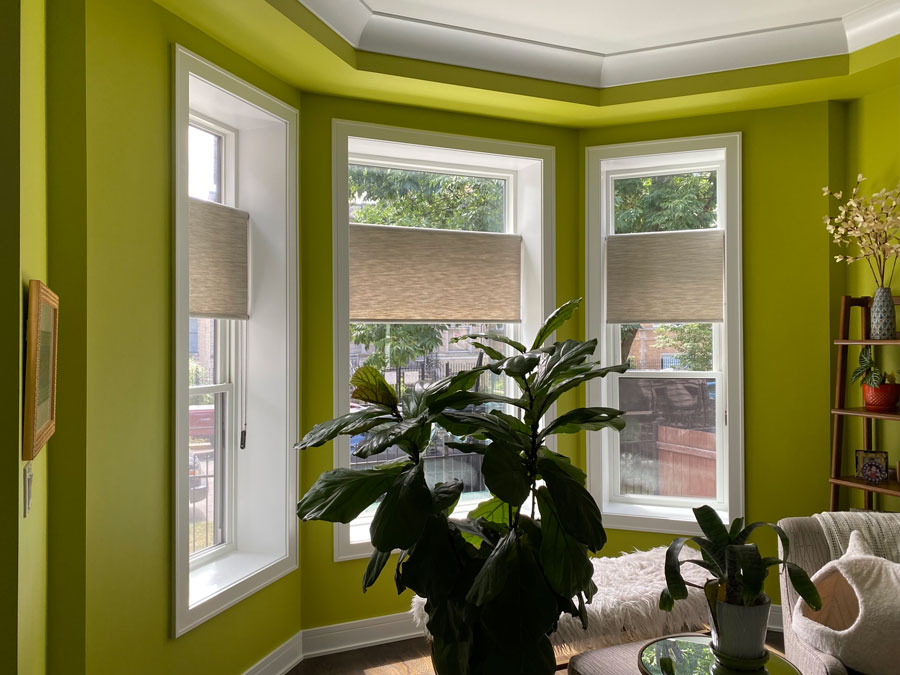 What's most important to you? Coordinating the style of your home or achieving a certain level of comfort? You can have both, with the many options in treating tricky windows today, you have choices. Allow a window covering specialist to evaluate how you live in your home and suggest solutions that will improve the style, feel & functionality of each room.
Corners
A corner window can make a huge impact in the home, it's a gorgeous designer look. It provides an open feel and landscape views. But, there will be times that you want privacy and protection from the sun. Don't worry, we can cover corner windows, too. Custom solutions allow you to enjoy your home to the fullest without compromise.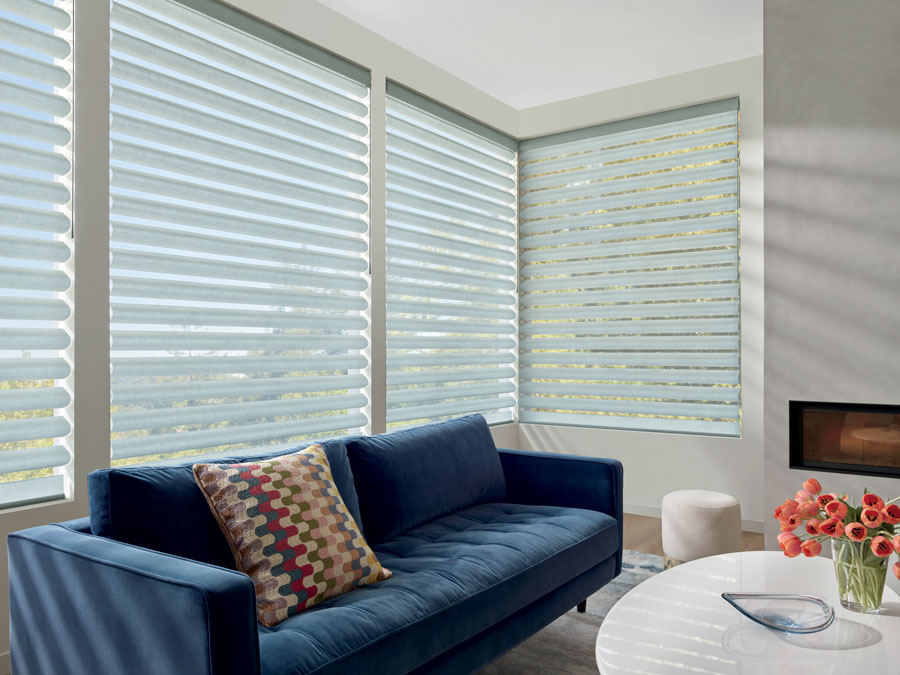 Transoms
Transom windows are separate from your other windows. They act like top down shades-–providing daylighting. By allowing natural light in, near the ceiling, daylight spreads across the room delivering soft filtered light throughout. Sometimes clients cover transoms with window coverings and sometimes they leave them bare. It all depends upon the look you'd like to achieve and other environmental factors like heat, UV rays and privacy.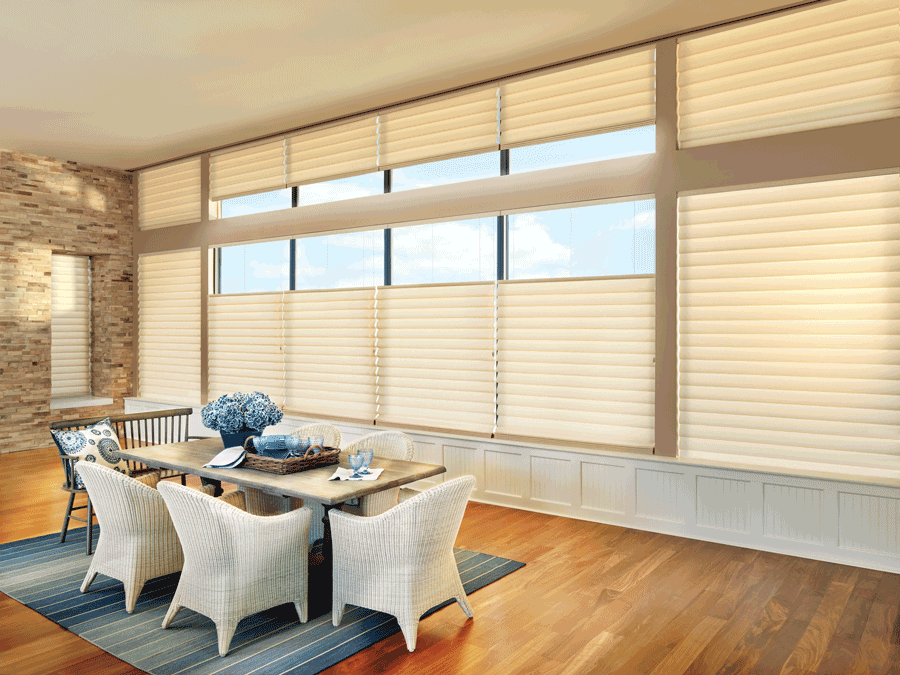 Let's take a closer look, the home below has their transoms left bare as they take advantage of the dark ceiling paint and the shade tree for light control. A customized choice for this home due to their individual style and preference. Each situation is different, we can help you decide.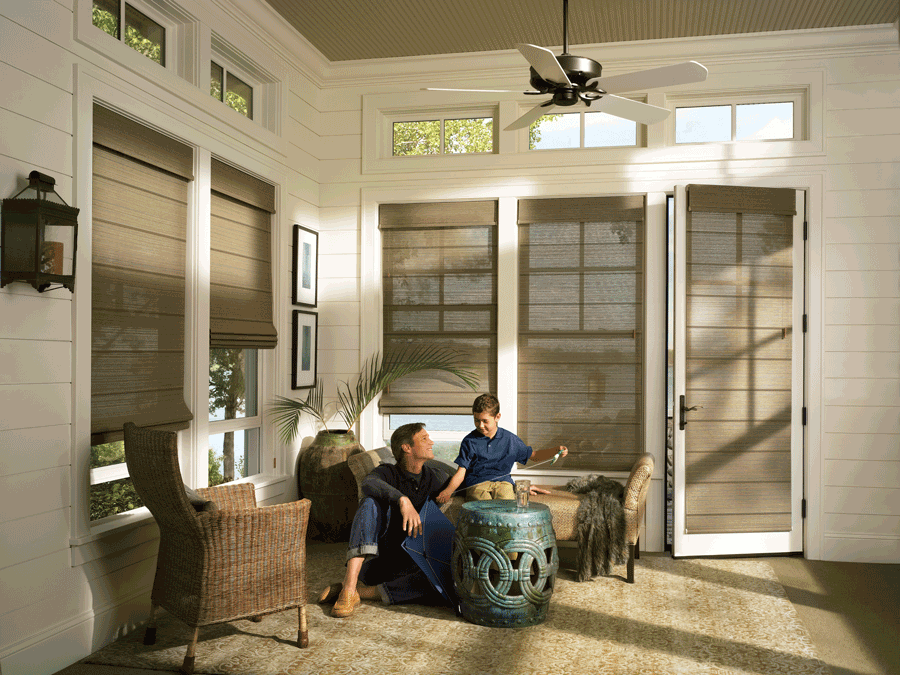 Skylights
Need a vacation? Skylights give us that vacation feel at home. They will illuminate a space beautifully–day and night. But, continued sun can be damaging. Our homes need sunscreen too! By adding a window treatment to the skylight you can limit exposure. Tricky windows are no match for us.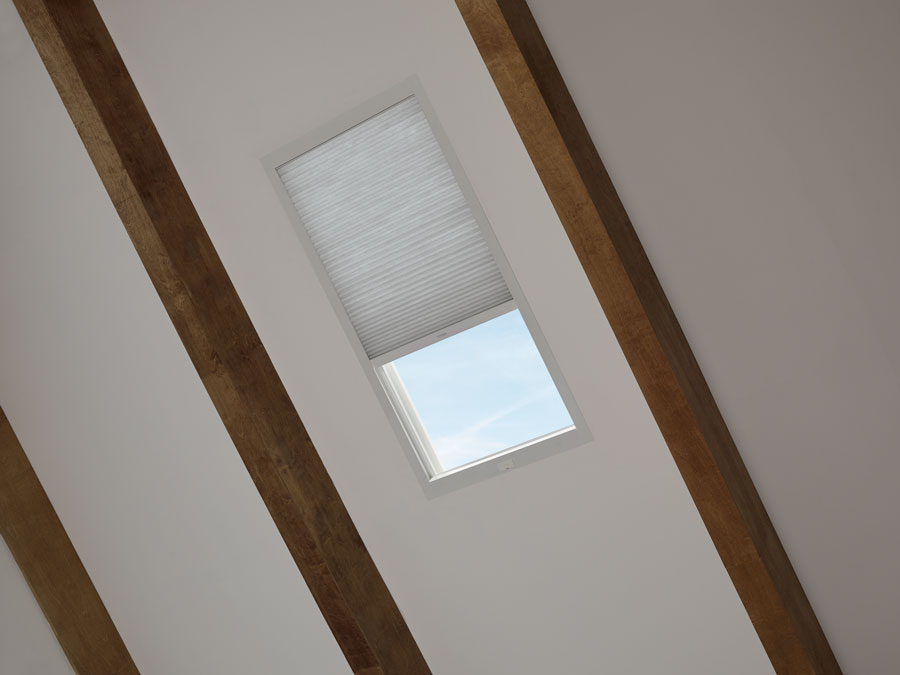 It's Time to Begin..
Now that we have solutions, covering tricky windows doesn't seem as difficult. At Aero Drapery & Blind, we can help determine which windows in your Minneapolis area home would benefit most from window coverings. Together we can address the issues you may be having and discover ways to improve the look and feel of your home. With your vision and our knowledge we will create a custom look that is right for your family.  Contact us today for your FREE consultation.