Do you have something in your house that makes people say, "Wow!" simply because it's so beautiful? If not, look no further than the Pirouette shade. This window treatment will take your entire design to the next level with its dimension, gorgeous view-through, and incredible light control. Learn all about this stunning shade… 
Crisp or Soft View? You Decide.
The Pirouette collection is available with two different types of sheer back fabrics. The latest innovation in Pirouettes allows you to have Clearview®, which gives you a crisp, clear view, with reduced glare. The original sheer fabric diffuses the light, creating a soft glow. Both offer benefits and look beautiful.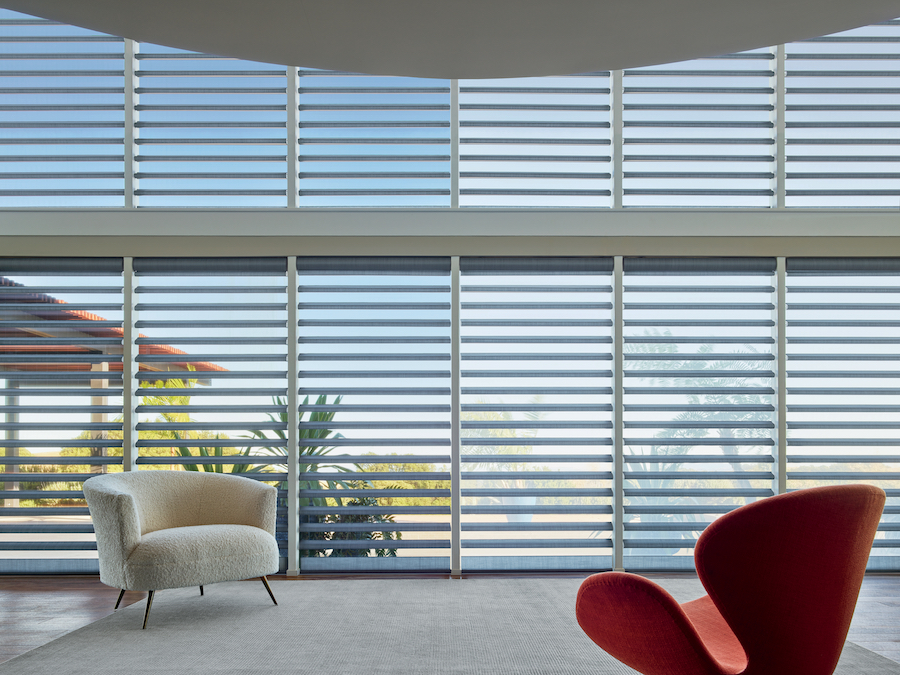 You can see the difference here: Clearview is on the left side and the original sheer fabric is on the right. You can enjoy the view and light control with both options, so there's no going wrong with either. It's all up to your personal preference. 
Coordination Made Easy.
Many of our clients with open floor plans find it difficult to choose window treatments. Each window has its own specific function, and there's always a desire to keep a consistent look throughout the entire space. This is no challenge for our professional designers!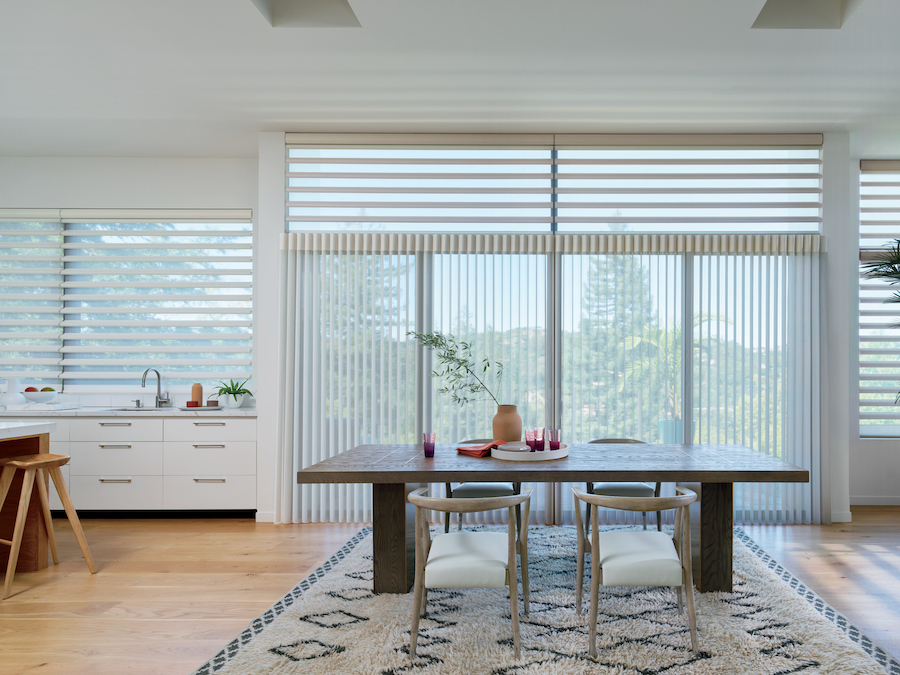 You don't have to choose one style of treatment for the entire room. We can customize each treatment to fit the function of each window–and door! We have treatments that will coordinate with each other flawlessly, plus they will protect your furniture and decor from harmful UV rays. Want to see the data? Look at it this way: Your home could be up to 81% protected with the sheers in place, and 99% protected with vanes shut.
Cover Large Windows in Style.
We love to see Pirouette shades on large windows. Why? Well, they create a stunning backdrop. They're also easy to control. You don't have to close or open the entire shade to adjust the lighting. Instead, simply open or shut the vanes, or raise the shade to your liking.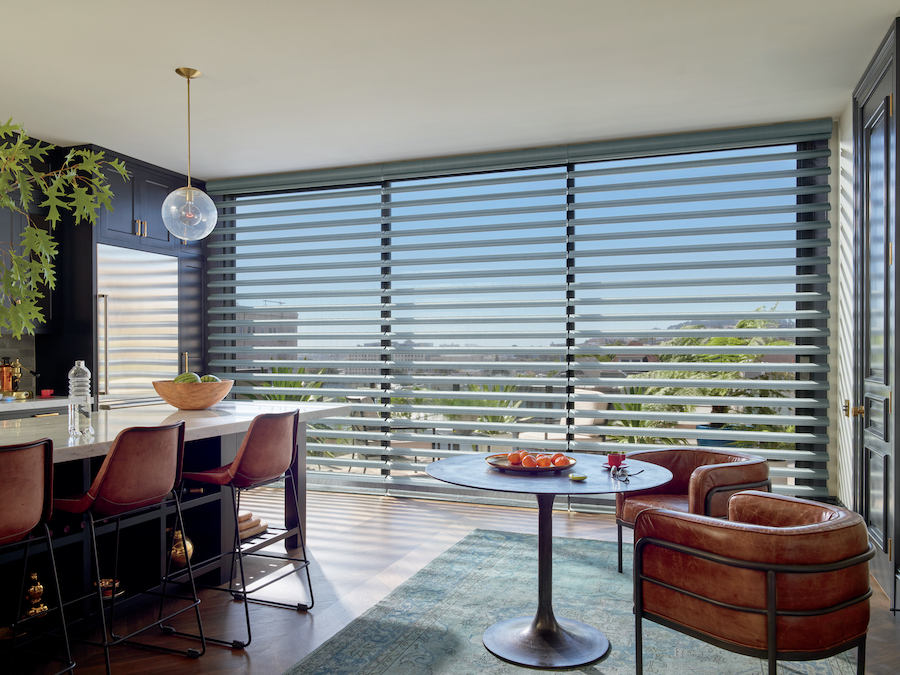 Another reason why clients commonly choose Pirouettes for their large windows is the size. These shades can reach 144 inches in both width and height, making it really easy to cover floor to ceiling windows. If you have a window wider than 12 feet wide, multiple sets work wonderfully, with a minimal gap.
Choose Your Operating System.
"Operating system" may not sound too exciting, but imagine being able to adjust the atmosphere of your entire room simply by tapping a button. The Pirouette shade can be paired with automation, so you can adjust the lighting and privacy by using your smart device or remote. Another automatic option is the SoftTouch™ system, which features a motorized wand on your window.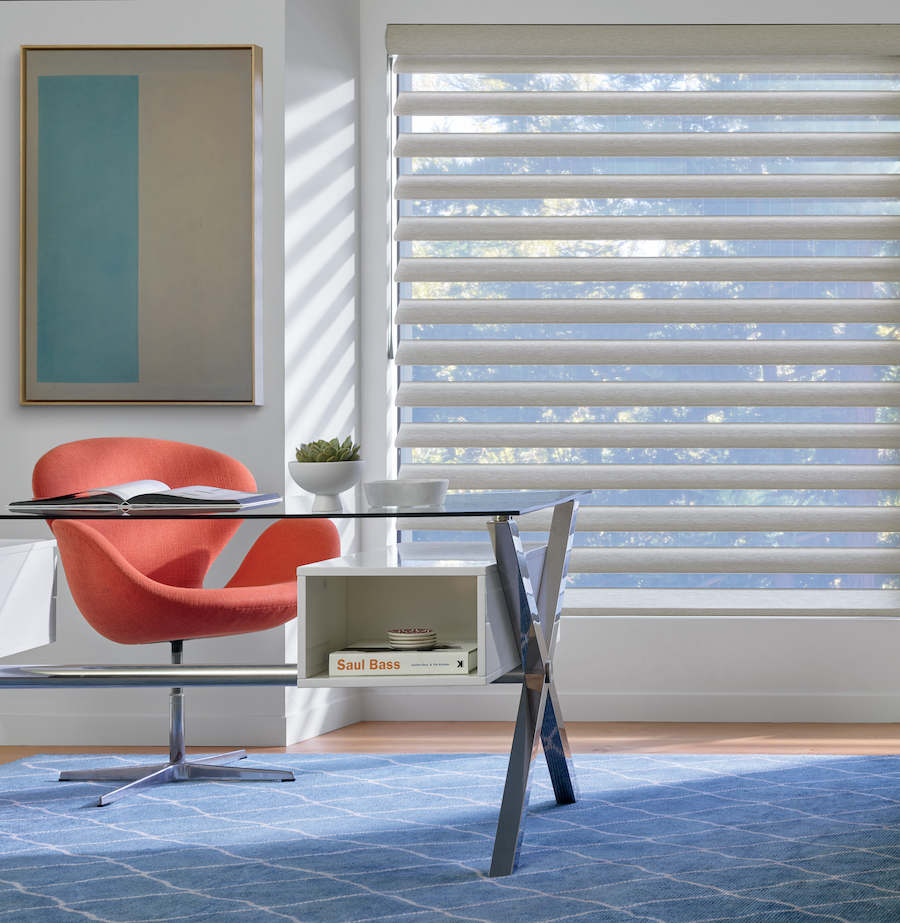 For those who would still prefer a cord, that's always an option! Both Pirouette cord systems are child safe. The first, Ultraglide, has a shorter cord, which retracts. EasyRise features a continuous loop that is securely fastened to the window frame. 
Now that you know all about what the Pirouette shade can bring to your home, are you eager to see it on your own windows? We're telling you, it will completely change your design! Contact our team today at Aero Drapery & Blind for your FREE design consultation.