As a homeowner, your work is never done, and your decisions can seem unending. Making your house a home is really about discovering what makes you happy. Part of that process is identifying what really affects your life. We like to believe the key to happiness starts at the window. The problem is, disaster can also live there as well. Helping you discover and create the perfect atmosphere is your home is easy with the versatility of sheer shades. Without the correct window coverings? Well, just take a look…
Drapery Debacle.
Let me tell you how much I love the look of billowy linen drapery panels. They remind me of a warm, breezy spring day. But, in this space? The function is one big flop. Do you have any of these issues in your home?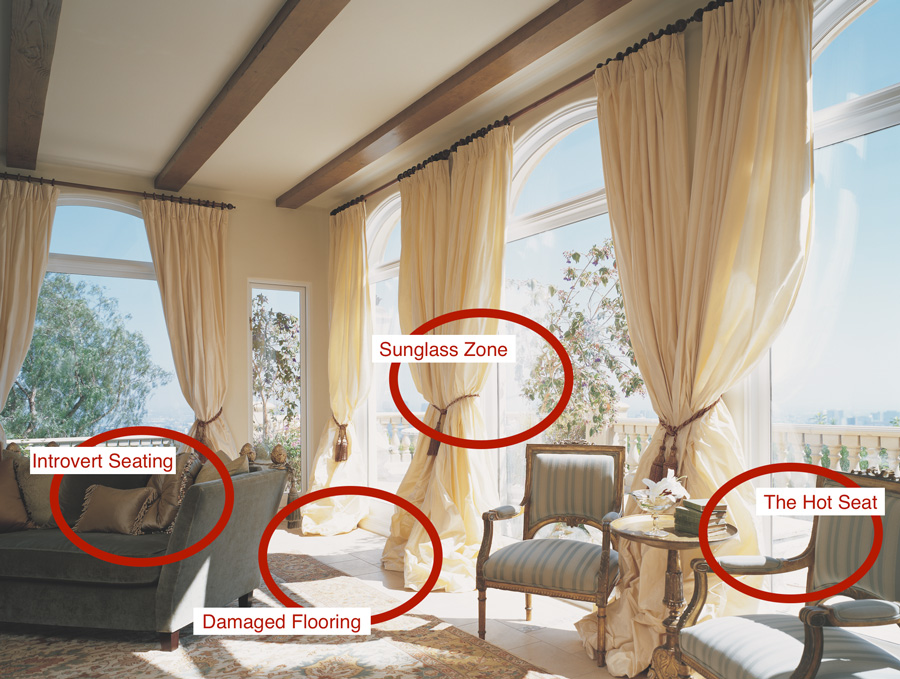 This room would be perfect for entertaining guests or relaxing on your own. But, the natural light is flooding the space so much that it renders much of the room unusable.
Instead of taking in the beautiful landscape, your guests will either be applying another layer of sunscreen or locating their favorite shades to protect their eyes.
How about that lovely conversation seating arranged by the window? The two people sitting there can't look at each other due to the intense rays of sunshine, but they can't scroll on their phones either. The glare is just too much. And, the temperature? "The Hot Seat" would make even Queen Elsa sweat.
Then, we have the couch. Talk about unbalanced lighting. If you're enjoying the space alone, you'd probably feel like you need a lamp to make up the difference. With others around, you wouldn't be able to take part in conversation without squinting from the glare at the windows.
Let's not even get started on the UV rays. The damage is real.
Enter Sheer Shades…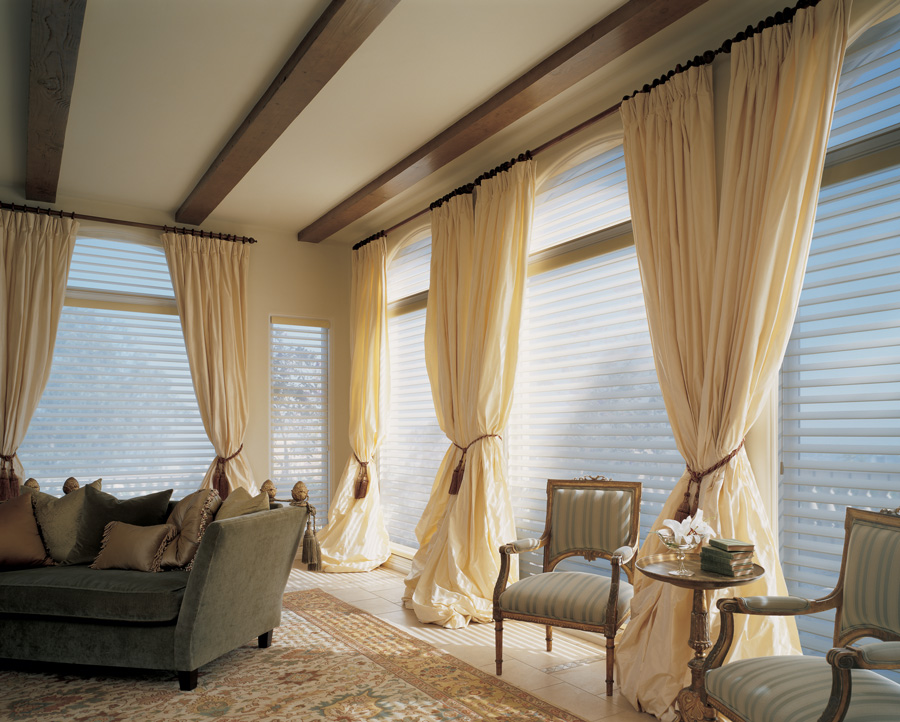 Soft. Welcoming. Refreshing.
Now, this is the ideal setting for this room. Entertain guests. Relax with a book. Enjoy conversation or quiet. Take in the view. This space is just right. How? The right window coverings can solve all of the most common homeowner issues with these benefits:
Softened Lighting

Landscape Views

Reduced Glare

Privacy

Temperature Control

UV Protection

Daylighting (& Energy Savings)
Open Floor Plan? No Problem.
Many of today's homes feature an open floor plan for the most used rooms. That means, there's a strong chance that more than one person will be using the same shared space at the same time. Sheer shades to the rescue. The versatility of these window coverings allow you to create just the right conditions for whatever circumstances may come.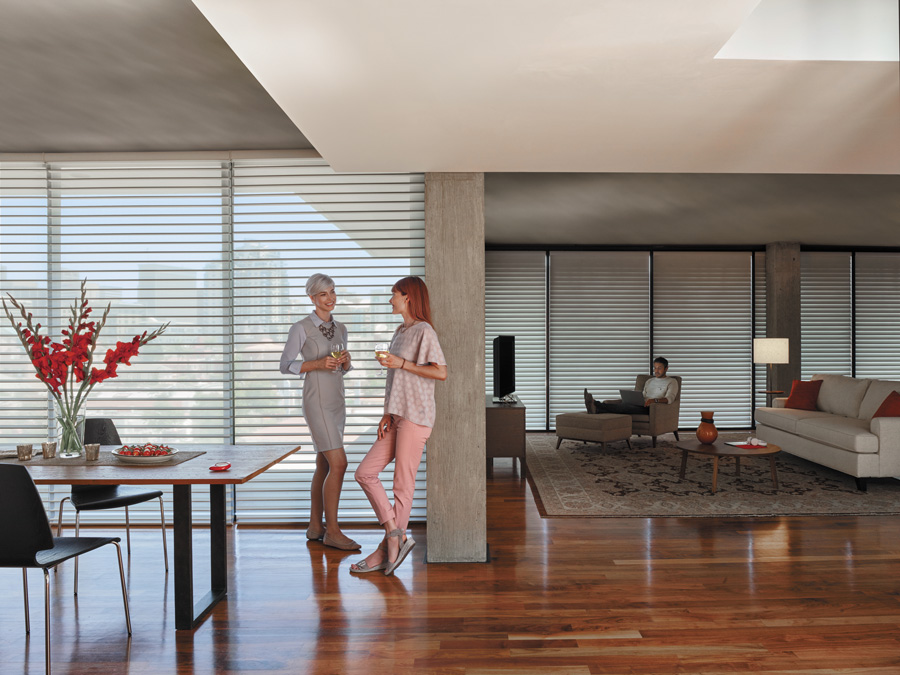 One part of the space is easily used for entertaining with the floating vanes adjusted open. Another section features more light control for media use or quiet relaxing with privacy. The vanes are closed. This can happen at the SAME time. Better yet, with smart shades, you can choose your favorite settings and make adjustments based on you and your family's needs.
Meet Blackout Sheer Shades.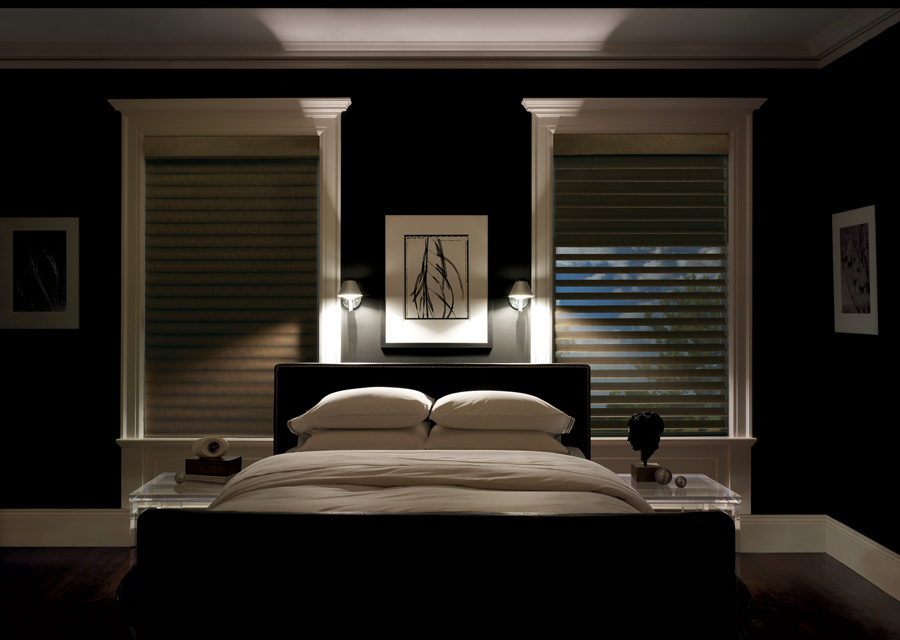 Oftentimes, it's easy to think that sheer shades won't solve all of your problems. There may have been a time when that was true. Meet the blackout solutions you need for improved sleep. Sheer shades offer both blackout and room darkening. Dual systems involve a secondary roller shade that operates independently of the sheers, slipping into place when you need it and disappearing when you don't. For large windows and doors, Luminette Privacy Sheers offer rotating sheer vanes that are soft, filtered view-through in one position and blackout when rotated 180º.
Let's Get Started!
It's easy to put off getting the right window coverings. But, your happiness depends on it. Don't suffer with bare windows, the wrong window coverings, or ugly ones! As you can see, sheer shades can upgrade your home and your life! If you're in the Minneapolis St Paul area, come see us at one of our showrooms in Burnsville, Maple Grove or Little Canada. We'd love to hear from you to schedule a FREE in-home consultation–contact our team at Aero Drapery & Blind today!