French doors are a beautiful asset in your home. Leading to the outside or other rooms in your home, they're full of function and character. You might love their stunning style, but, more than once, you've probably wondered about ways to cover them. French door shades, shutters, and blinds are all amazing options. Which one will work best to cover your glass doors? Take a look at the defining features of each type to help you outfit your home with the ideal window treatments.
French Door Shades
Doors are all about function. This can make it seems harder to dress them with window coverings. You have to consider the type of door handle you have along with the size of the glass, your privacy preferences, and how you want to operate your coverings.
Thinking french door shades will work best for you? These Duettes are perfect for showcasing the features that'll enhance your home and life!
Low-profile design promotes ease of function

Fabric and structure choices make indoor temps easy to maintain

Motorized operation offers the ultimate in convenience, safety, and control

Selected opacity allows for soft light while blocking UV rays and direct sun

Day or night, full coverage enables complete privacy
French Door Shutters
When it comes to dressing french doors, shutters are an incredibly popular choice. French door shutters are known for their timeless style, classic beauty, and superior function. And recent innovations have made them better than ever at improving the safety and design of your doors.
Could french door shutters be right for you? These NewStyle hybrid shutters highlight the sought-after features you won't want to live without!
Door handle cutouts create a custom look and phenomenal function

Hidden tilt provides an open view to the outdoors & complete privacy when closed

Direction light control lets you savor daylighting without glare

UV protection prevents damage to walls, furnishings, and flooring

Blackout is available for glorious darkness when you want it
French Door Blinds
As you go about selecting coverings for your glass doors, the tradition of blinds can be quite appealing. Whether horizontal or vertical, french door blinds complement the design of your space while adding clean styling and simplistic function.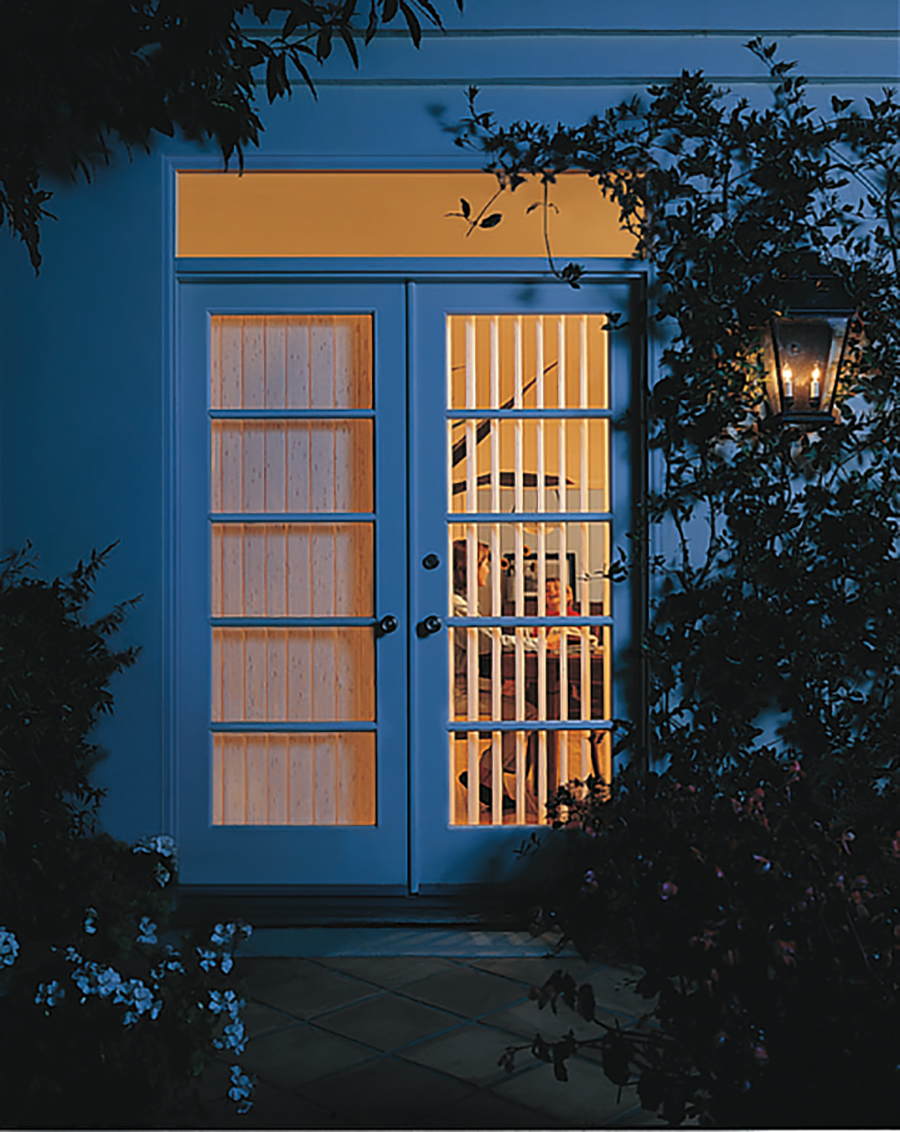 Do french door blinds strike your fancy? These vertical blinds reveal benefits that'll work for you all day, every day!
Adjustments are quick and easy

Enjoy view-through, complete privacy, and everything in between

Slats move to block UV rays and offer directional light control

A host of paints, stains, and fabrics offer beautiful, customized design options

Operate with a cord, wand, or motorization —  you choose
Have a favorite?
Did the look of one of the products captivate you? Are you smitten with certain features? What's most important to you? As you decide whether to outfit your home with french door shades, shutters, or blinds, it's important to first determine your priorities and preferences. Once you have, you can make selections that fit what you want for your home and your life. At Aero Drapery & Blind, we'd love to visit your home for a free design consultation. We can show you options that'll meet your needs and desires–guiding you toward the perfect french door shades, shutters, or blinds to complete your home. Get in touch with us today!