If you have a furry friend in your family, this guide is for you! We are talking about pet friendly window coverings. When you outfit your home with window treatments, you're making an investment, and you'll want them to last for years to come. We've got answers to the top questions and concerns when it comes to keeping pets–and the rest of you family–happy.
The Cleanliness Factor
One thing is for sure: Pets can make a mess. From shedding fur to muddy paws, they can drive you crazy. It's a good thing they're so cute. When it comes to choosing coverings, it's a good idea to keep cleanliness factors in mind. We have pet friendly window coverings that you can wipe. There are coverings that are better at repelling hair than others.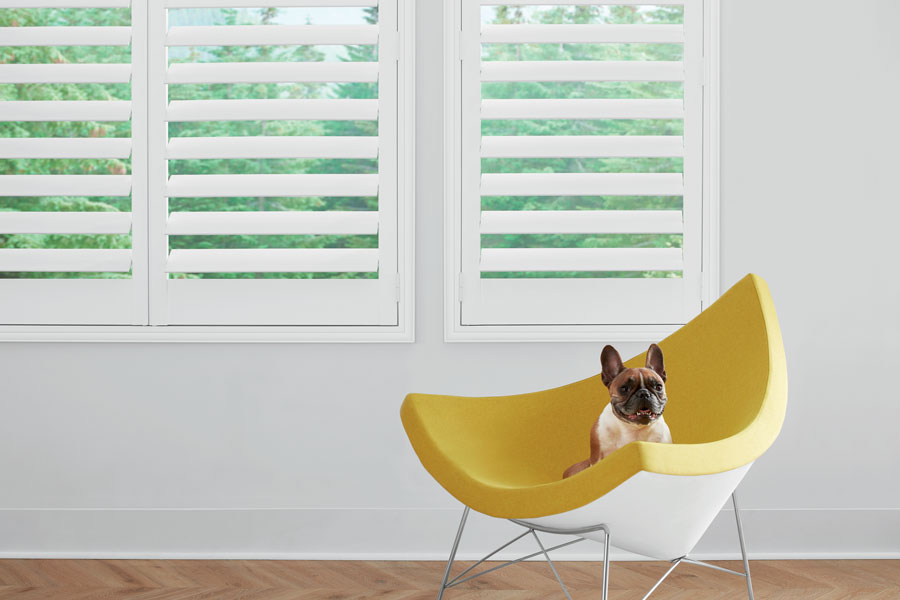 Plantation shutters have a reputation for being an easy to clean, durable option for spaces in your home that are frequented by pets and children.
Location, Location, Location
Location is an important consideration. Pets are creatures of habit. Is there a favorite window to watch the street? Do they sleep in the same spot? What are the high-traffic areas? All of these questions will be helpful in choosing the right coverings for your home. The windows and doors your pet frequents the most may need a different window treatment than the rest of your home. We can help you determine what's best.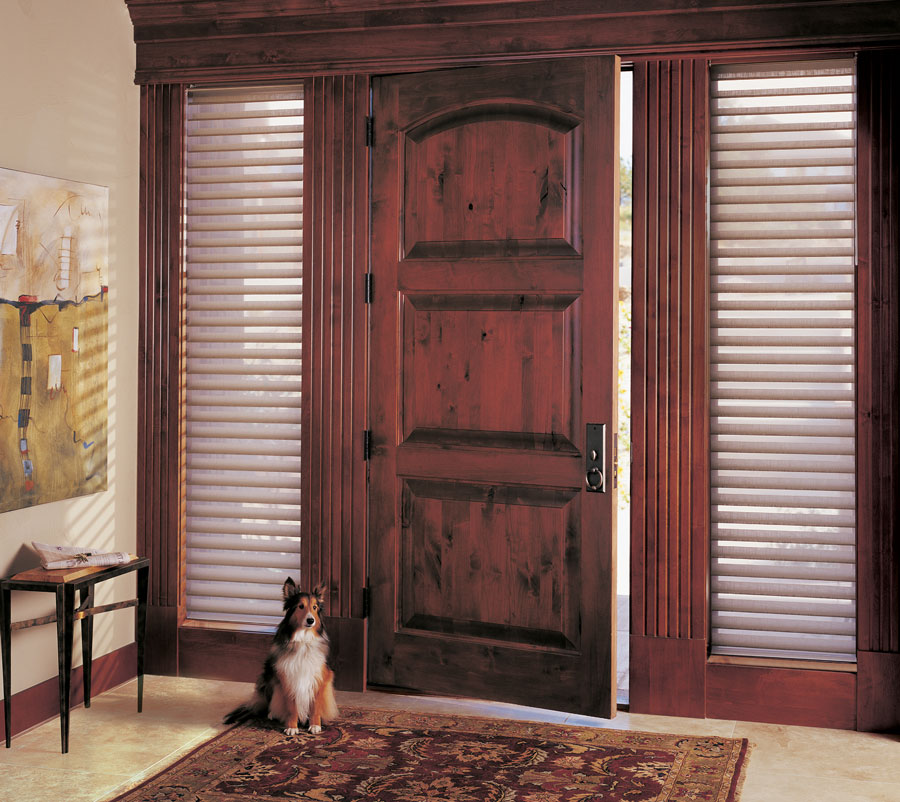 Sheer shades can be a great way for pets to catch a glimpse of what's happening outside, while the atmosphere of the home is protected from UV rays and glare.
Keep Them Safe
The dangling of blind cords is not only tempting to children, but also pets. Dogs and cats can cause mischief, but the cords from window treatments can also get them tangled when they're innocent. Cordless blinds and shades are an ideal way to ensure that your home is a safe place for all members of your family.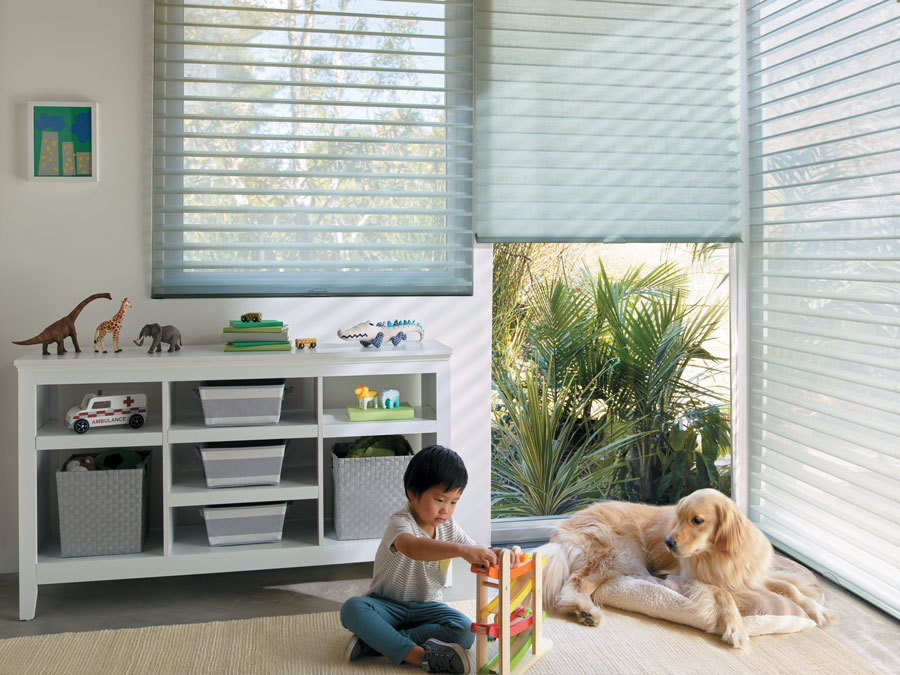 The latest options in pet friendly window coverings are cordless lift systems–both manual and motorized. Other innovations include cord-safe choices that secure the cord against the window frame or offer a short, retractable cord that stays up out of the way of little paws.
Protect Your Investment
Speaking of safety, you'll also want to keep your shades safe! Window treatments are an investment for your home, and they need to stay out of reach at times. Does that mean bare windows? Of course not. Easy to adjust, most window treatments can help you find a balance between providing solutions and keeping them out of harm's way!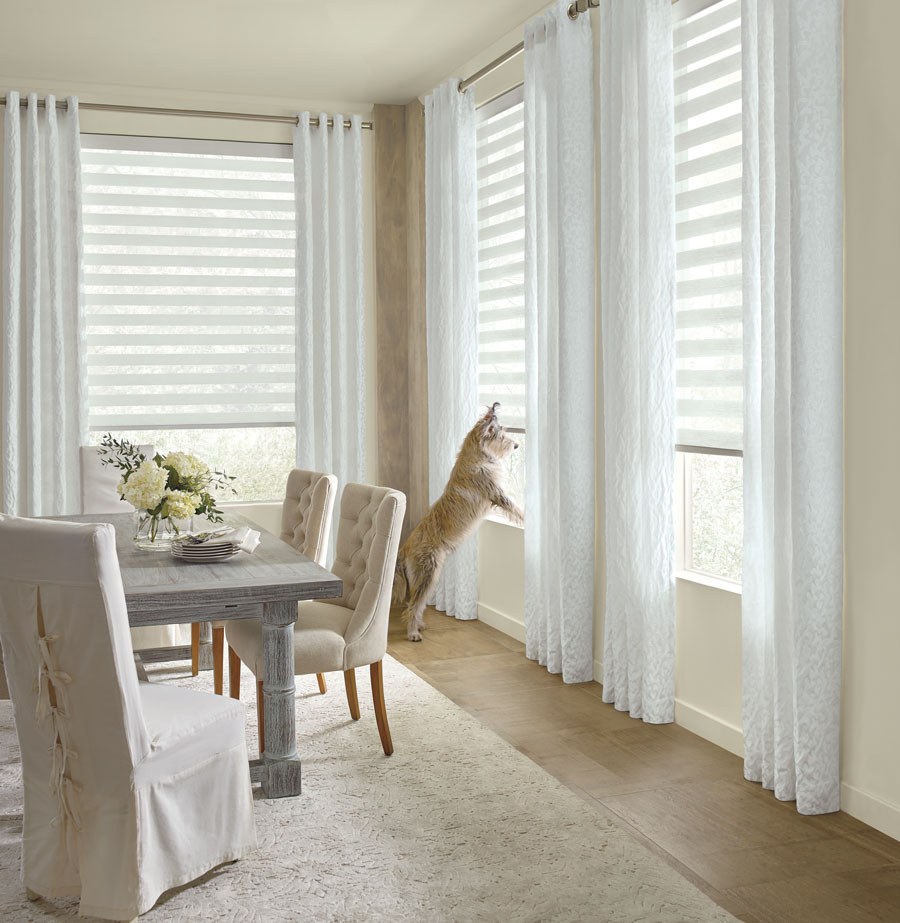 With one setting on your smart shades, you can activate "pet mode" to move the shades out of the way of those paws. With the help of Alexa, or your favorite smart home device, keeping your shades safe is just one voice command away!
Make Everyone Happy
Sometimes, it's hard to make everyone in your home happy. But, with the right window treatments, the right atmosphere can be customized to fit the needs of the entire family. Does your pet have a favorite napping spot? Is it a hot spot? When the sun's rays enter your home, chances are your furry family member finds it, cuddling up for a mid-afternoon nap.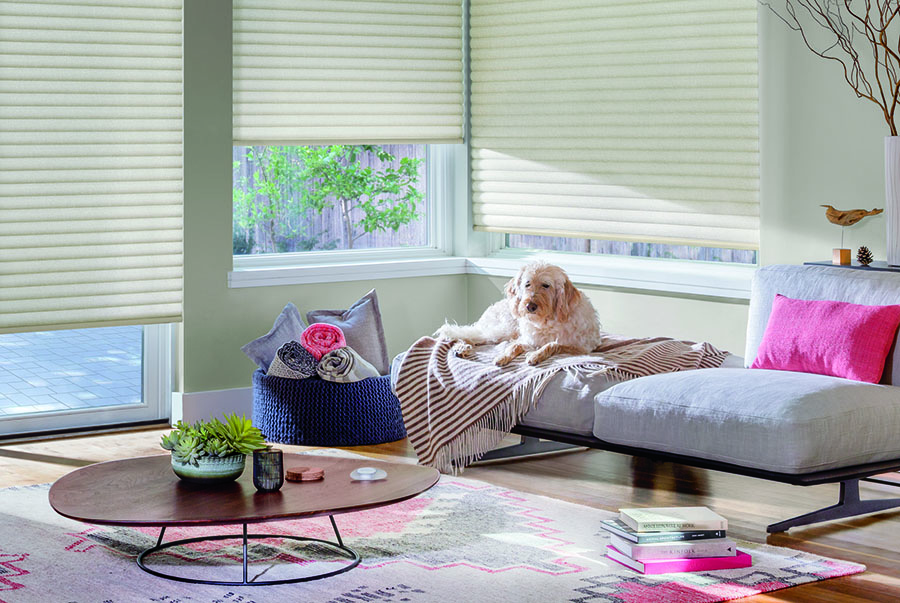 That doesn't mean you have to let the whole house heat up. With custom settings, your shades can close up to keep the house cool, while your pet still has their cozy comfort delivered.
Find Your Favorite Pet Friendly Window Coverings…
Our team is here for you. We'd love to sit down with you to chat about the best options for your whole family. We have three showrooms in the Minneapolis-St Paul area to serve you–come on in to see what's new! And, we'll be happy to come to you for a FREE consultation. Contact our team today.