As trending colors evolve, it's fun to see how they can influence home decor. Each year the fashion industry waits for the release of the newest color collection. The Pantone Palette 2023 was more than we could ask for. The Color Institute got serious with color this year with vibrant, bold hues filled with zest. To all you fellow risk takers out there, this is our year!
Be Brave with Color
If you're already skeptical about the Pantone Palette 2023, we understand. The use of color–as bold and bright as this year's recommendations–will take a leap of faith. To settle your nerves, not all colors are meant to be used in the same frame. Think of the palette as a variety of flavors and pick your favorite. The Top 10 swatches below are so incredible, it may be difficult to choose just one.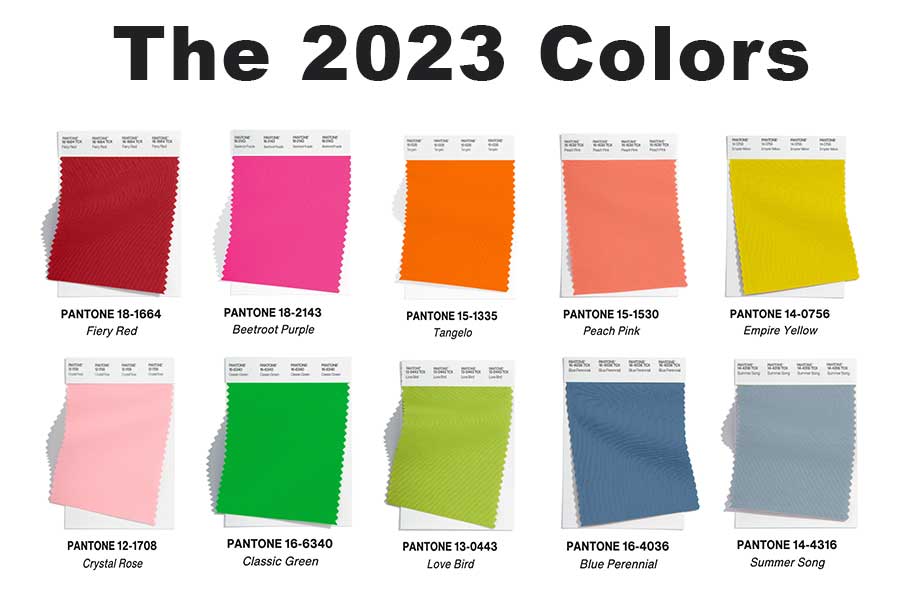 Not ready to commit to a Top 10 color? The Color Institute has it covered with their 5 "Core Classics". Here, you can lean on a more subtle shade of soft color to replace your usual choice. Everyone can participate in the color trends this year because even neutrals feel new.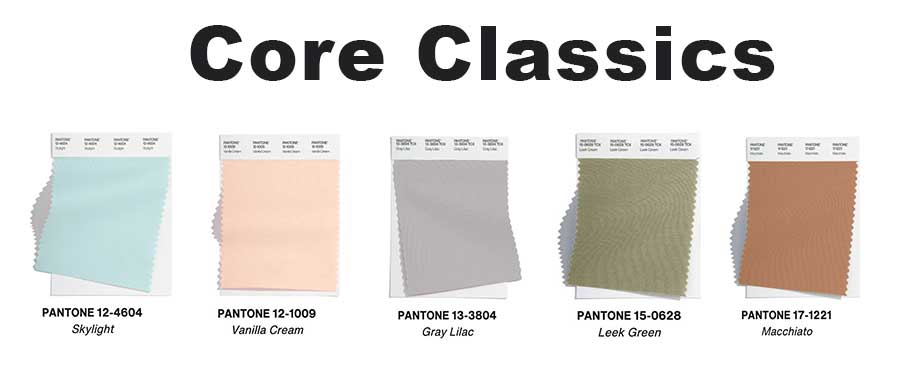 Color is a Good Influence
In the ever changing world of fashion design, home decor trends tend to follow clothing trends. After New York's Fashion Week, interior designers swiftly begin preparing their interpretation of runway styles for our homes.  Let's see what they came up with, and how the colors of the Pantone Palette 2023 changed the trajectory of interior design this year! The results are stunning.
The Kitchen
To begin, the heart of the home is a great place to introduce new colors. This traditional-style kitchen makes its debut with great attention to detail. We love the rich blue color choice and the way the center island and tile backsplash carry subtle color through the space. This ordinary white kitchen is transformed by simply adding a fresh color from the Pantone Palette 2023!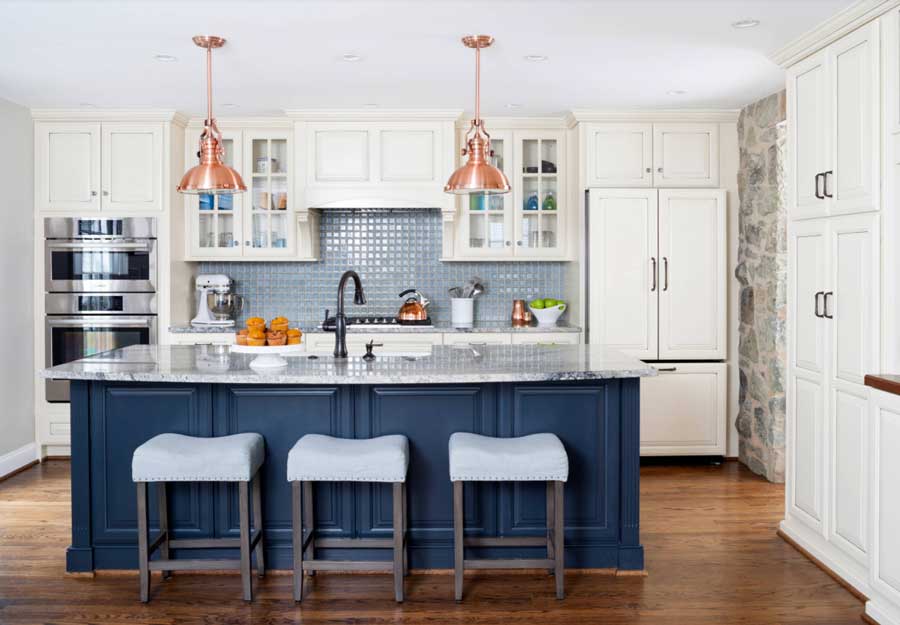 The Living Room
Furthermore, if it's a mood you'd like to set, Pantone Palette 2023 makes it easy. Although contemporary, guests can still imagine this room as the setting to a mystery novel. The valiant dark color is both sophisticated and thought-provoking. Perfect for Sherlock Holmes!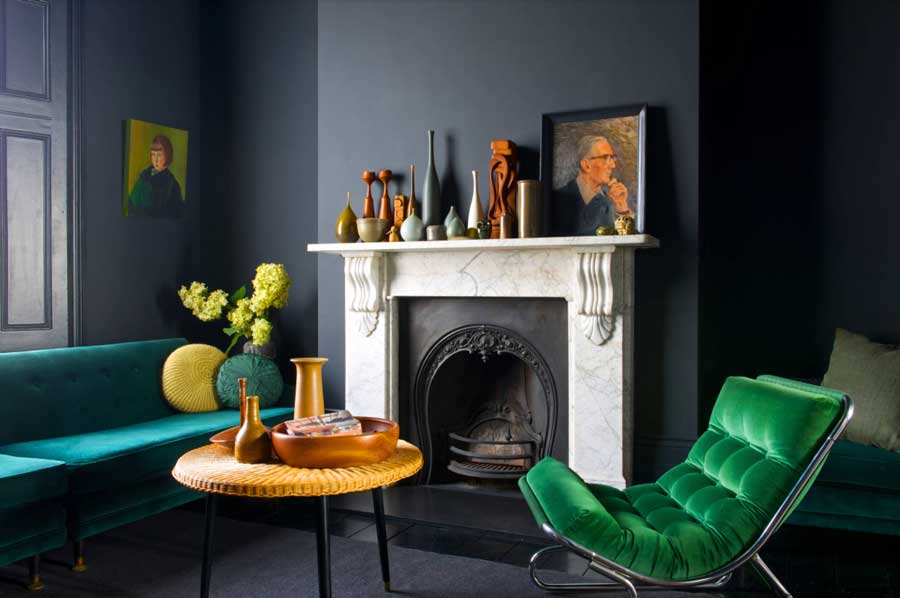 Home Office
At the end of the day, working from home is no longer a luxury. So let's create a workspace we can truly enjoy. Choose a color that brings you happiness and comfort and notice how your mood improves. As a small swatch, it's difficult to envision a  built-in bookcase drenched in coral, but look at the stunning results. Take a chance with the Color Institute's choice of Pantone Palette 2023 colors. After all, they are the experts!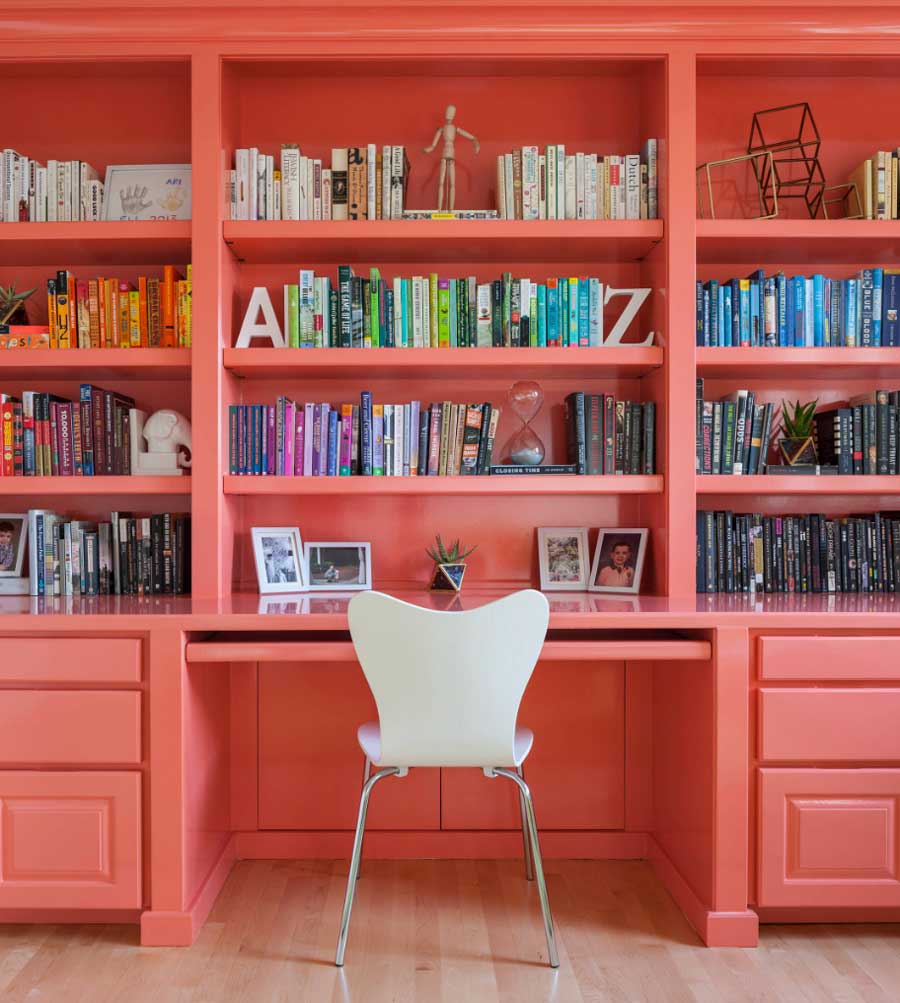 The Dining Room
Finally, for all you trend-setters out there, this dining room look is for you! Tell your story by choosing color that brings elegance and intrigue to the dining space. Add unique personal items that allow guests to get to know you better. Your own humble museum of sorts.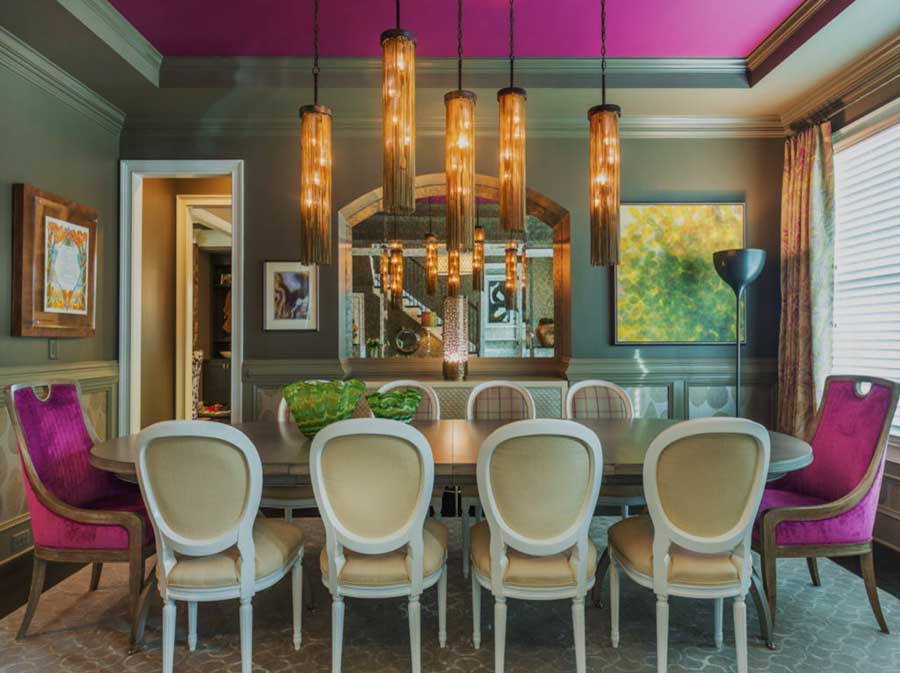 The Bathroom
Undoubtedly, next to a designer kitchen, a luxurious bathroom is what clients desire. Create a bathroom fit for royalty by choosing bold color from the Pantone Palette 2023. This magnificent bathroom uses high-profile tile and black marble flooring to place you in the lap of luxury.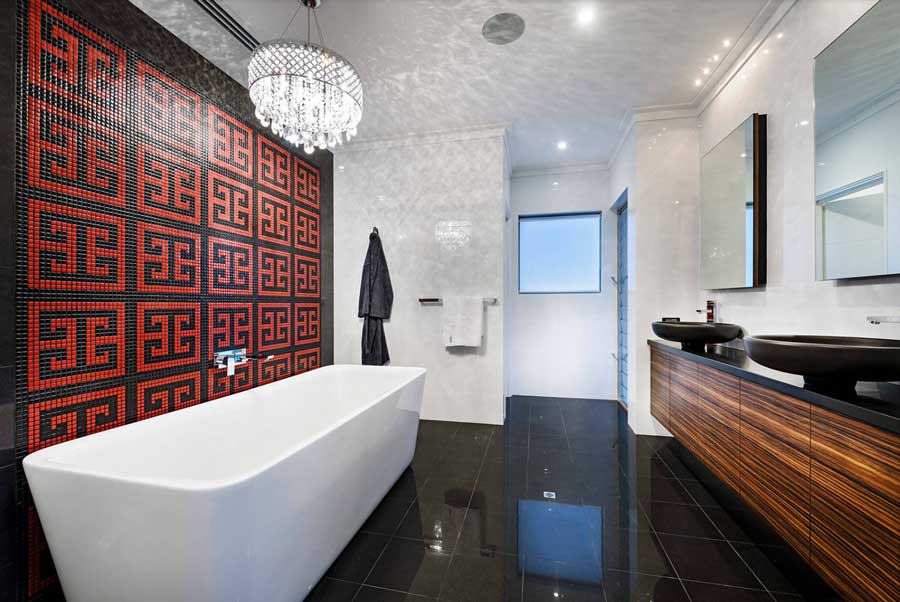 Make an Impact with Color.
The Pantone Palette 2023 has given us permission to use BIG color again! Be brave and set your home apart from the rest with fashion forward designer window treatment choices. Our window fashion experts know how to incorporate color into homes while preserving client's style. Let us visit your home and view your space, we can troubleshoot any common window issues like lighting, UV protection or privacy. Or, stop by our showrooms in Minneapolis-St. Paul swatches and products for yourself. We love what we do and want to bring life back into your home. Free Consultations, contact us today!