With kitchens today taking on a "hybrid" role, it's more important than ever to make yours function seamlessly. Whether your family spends their time meal prepping, baking or doing homework–they need a kitchen atmosphere that is comfortable. Let's get a head start by selecting the right kitchen window coverings.
Everything
and
the
Kitchen Sink Window 
The placement of a window behind the kitchen sink has been a long standing feature in homes for years. With the invention of the dishwasher, homeowners aren't spending hours a day gazing out the window while he washes & she dries. Amen to that! And, don't worry, you won't lose the view of the outdoors: We have view-through shades that filter the glare into useful light.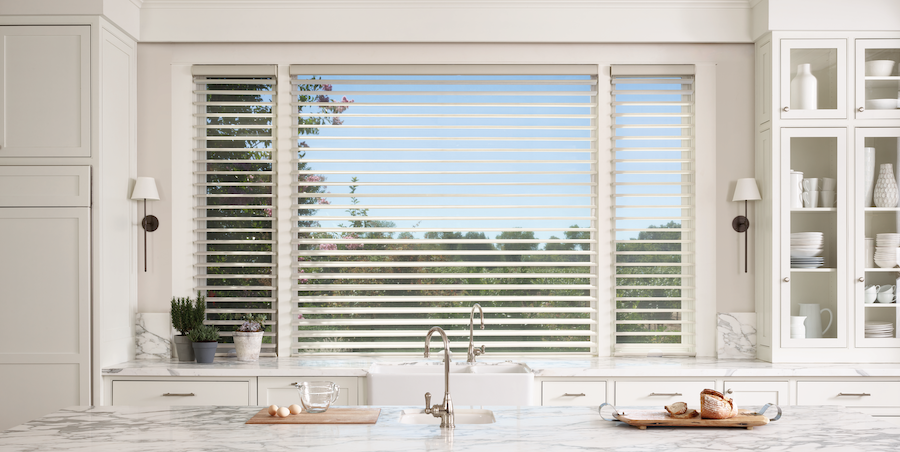 But, the kitchen layout remains and so does the window. Currently, we have many clients covering the kitchen window for comfort, privacy, energy efficiency and more…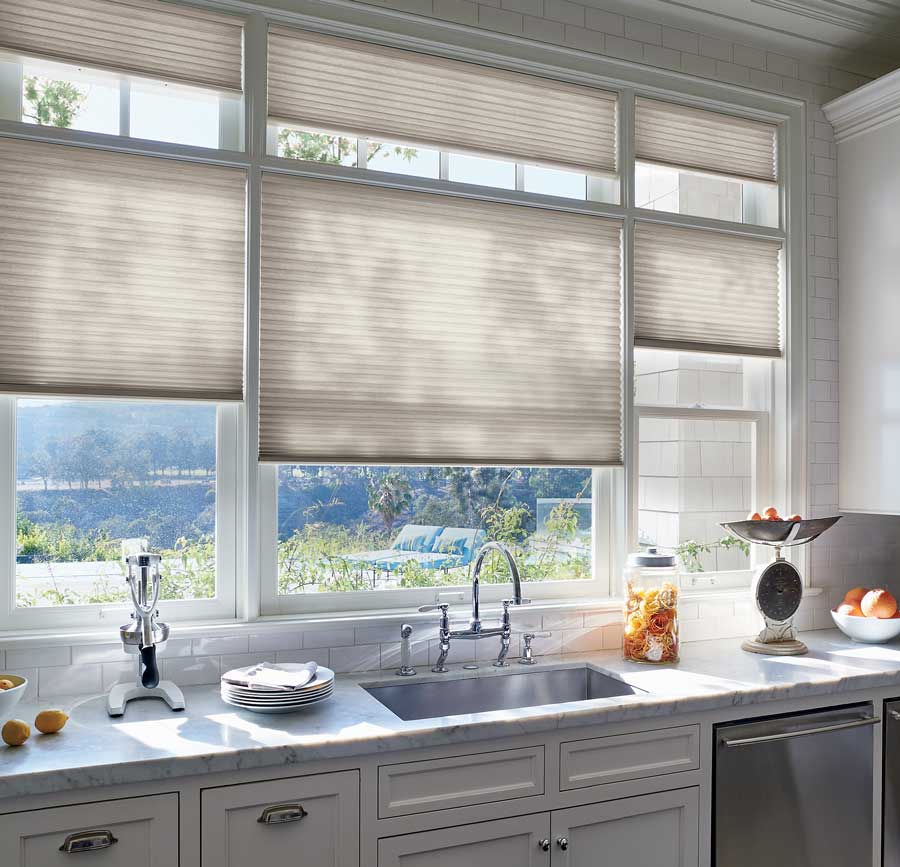 Windows + Doors Working Together
In most kitchens, windows and doors share the same space. This can cause a roadblock if you prefer your kitchen window coverings to match. Whether you have sliding glass doors, french doors or patio doors, we can help you find coverings that will complement one another and function as needed.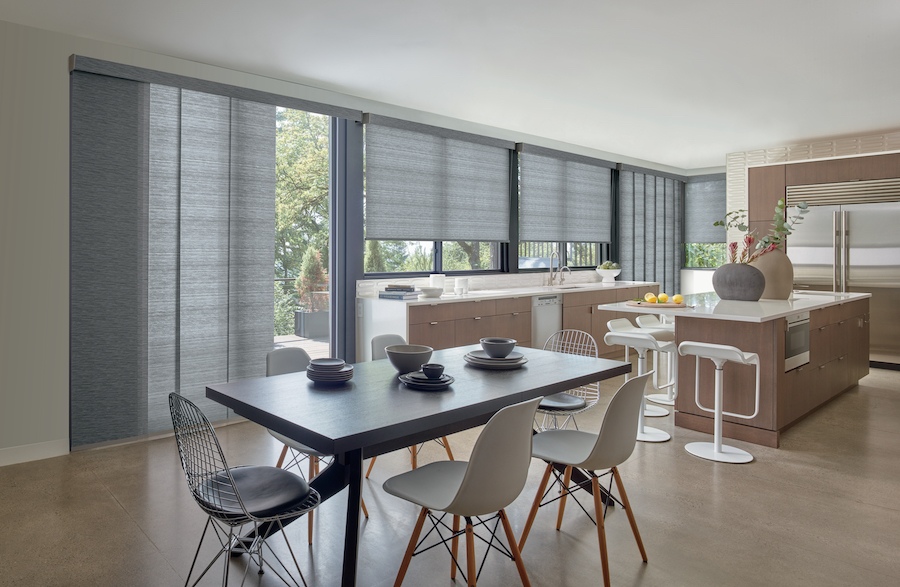 In terms of function, doors and windows may operate differently. Many homeowners prefer the treatment to simulate the movement of the window. We have treatments that move horizontally and vertically for this reason. Coordinating treatments can look great in the same space and offer ease of function too.
Dining In
A happy, bright kitchen is what we all desire, but sometimes it can get too bright, making things uncomfortable. The direction your windows face has a big impact in this. The penetrating sun can cause glare that is unbearable and chase your family out of the kitchen. Kitchen window coverings will protect your space from blinding sunlight and more. Our experts can evaluate your kitchen and suggest treatment options that are right for you.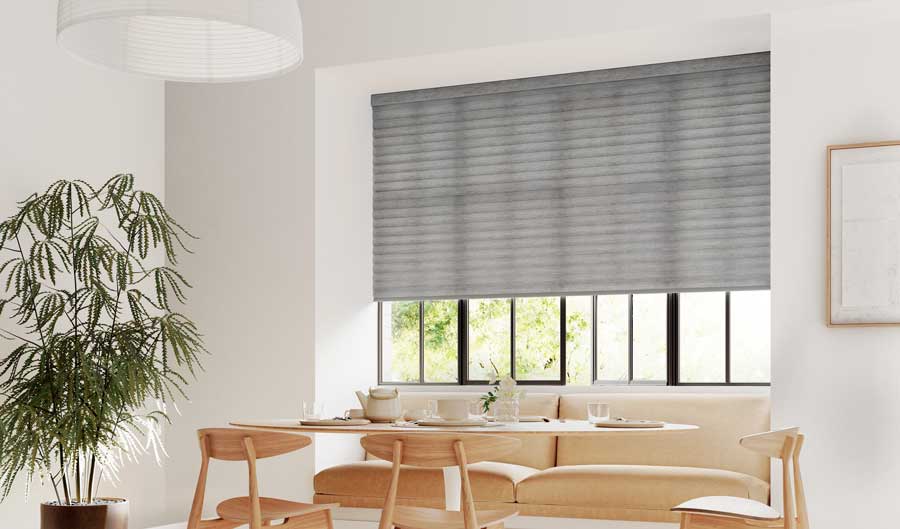 Kitchen Window Coverings: Keep It Clean
It's a fact, kitchens are the most popular room in the house, the foot traffic alone makes it a challenge to keep clean. Kitchen window coverings can suffer the consequences. Make sure you consider the placement of your treatments and what products would be best. Our experts can offer assistance and make suggestions about what shades, shutters or blinds are up for the challenge of your busy kitchen.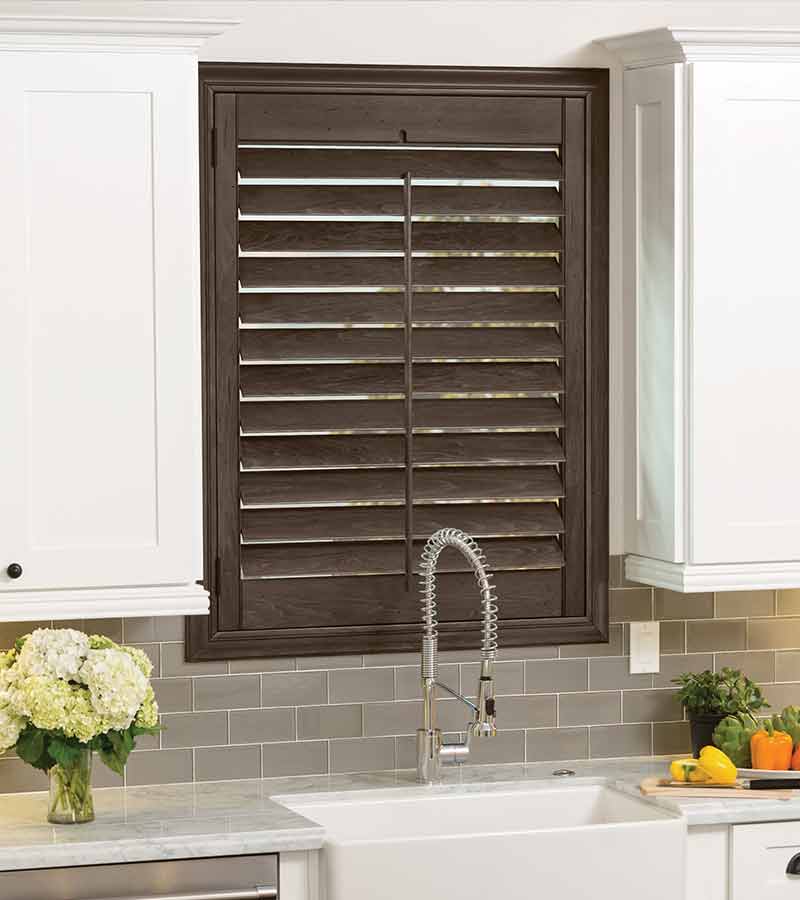 The experts at Aero Drapery & Blind want to improve the look and function of your home, beginning with kitchen window coverings. Invite us to evaluate your home and devise a plan to solve common window issues like glare, energy efficiency and privacy. Contact us today for a FREE consultation in our Minneapolis-St Paul showroom or we'll come to you! Make the investments in kitchen window coverings, you won't be sorry.