Have you noticed that you have more energy when the sun is shining bright? It's hard to feel rejuvenated when it's dark and dreary. Luckily, springtime is here and summer is on its way! Thanks to the recent "spring forward," we're already seeing more sunlight. It takes time to adjust to the changes. If you're having a difficult time finding the right balance for lighting in your home, we know how to fix it: blackout solutions. It might sound a bit counterintuitive, but you've got to see what these window coverings can do! Take a look at these stylish options for controlling the light in your home.
Good Morning!
The key to starting your stay off right is with a good night's sleep. How are you and your family sleeping? Do you have blackout solutions that keep your rooms dark and cozy all night long? What about the mornings? You don't want the sun to wake you when you're still trying to get some shut eye! Block the sunlight for as long as you need.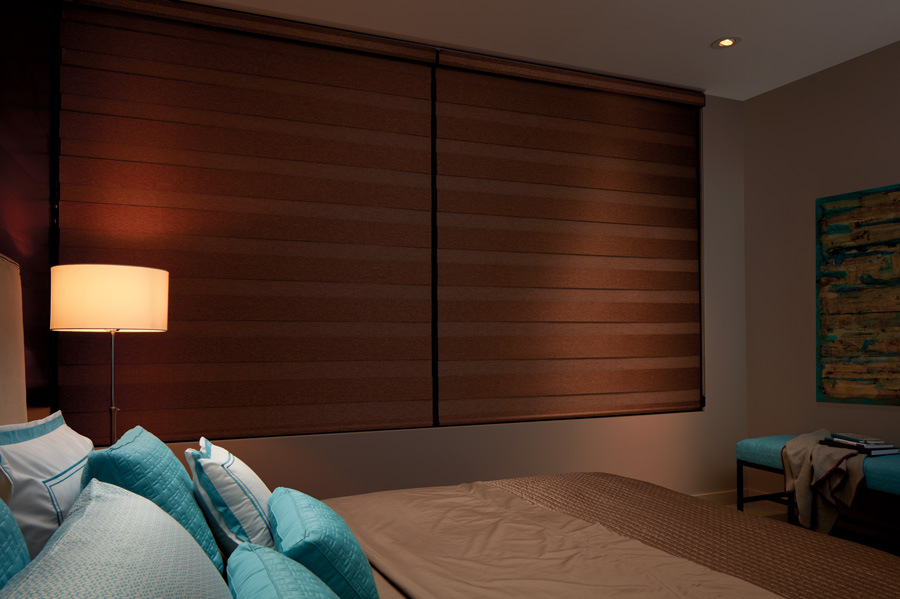 Take a look at these Designer Banded Shades. They're a new design from Hunter Douglas, and have quickly become one of our top options for blackout solutions. They completely block out the light, but offer view through with one quick rotation. Transform your space, from cave-like sleep zone to mood-enhancing, natural light filled sanctuary in an instant.
The Perfect Environment, All Day
We know that blackout solutions are vital in bedrooms, but what about the rest of your home? The sunlight can easily destroy a comfortable environment–and your furnishings. You need solutions that will control the direct sunlight, especially with east or west facing windows. Blackout shades aren't just for bedrooms; they transition throughout the day to bring in your desired amount of light.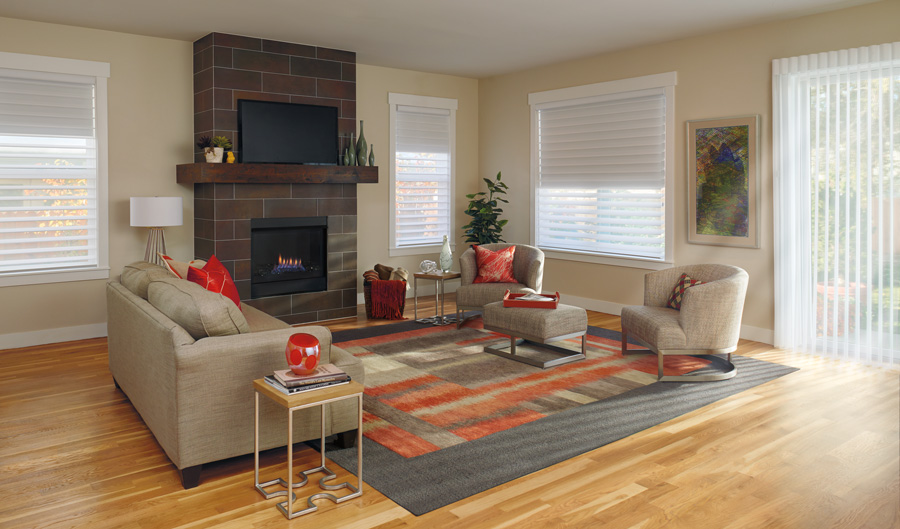 What your home needs are blackout solutions with a dual system, like the Silhouette shades featured here. Let light filter through to illuminate your space, then block off the sun with the second blackout roller shade wherever and whenever you need. The blackout shade operates independently, so you can customize your lighting at any time of the day. Want even more convenience? Smart shades allow you to create a set schedule, so you don't have to touch your window treatments; they'll adjust on their own. Create your custom settings, then sit back & relax.

Do you have a beautiful view that you don't want to compromise, but sometimes, the incoming light is just too much? We have blackout solutions that are great for blocking out the light and letting you enjoy your view. Plantation shutters, like the ones pictured here, have adjustable louvers, which make it easy to direct the light in your preferred direction, or open up to enjoy your landscape. Vanes and slats also make it easy to use directional light control. Get the privacy, view, and light you deserve.
Sit Back & Relax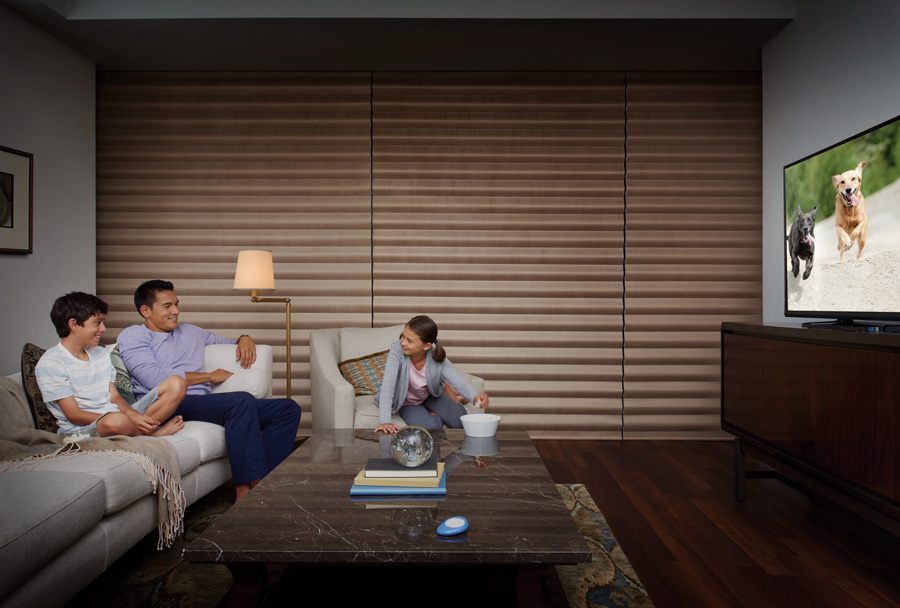 After a long day, you deserve to come home to a calm, inviting environment. You want to catch up on your favorite series and indulge in a bowl of ice cream, but it's impossible with the setting sun shining into your space. Blackout solutions can turn your home into a getaway. They're a must for bedrooms, but they also work great in living areas. You can enjoy movie night in a dark, serene environment. Simply adjust the vanes on your blackout shades, like the Pirouettes here. They'll take away the glare and make your space movie theater dark.
Blackout Solutions: Here to Save the Day
Do your window treatments give you full control over light and privacy? Are they blocking out enough light? Blackout solutions give the power to you; create an atmosphere specific to your lifestyle and needs. Want to see your options? Visit one of our three showrooms or contact our team at Aero Drapery & Blind for a free, in-home consultation. Let's get started today!