No one wants to experience frustration and hassle…especially in the bathroom. But so often bathroom design poses a whole host of challenges. That's why we sat down with the design experts here at Aero Drapery & Blind to shed some light on the common problems people face and how to solve them. Take a look…
What is the most common bathroom design challenge?
Most people come to us seeking solutions for privacy. But, the real challenge is much broader than that. It's really about achieving a balance of privacy and light. Simply covering the windows provides privacy, but it can also take away natural light and make a smaller bathroom feel like a cave. Finding the right window coverings is essential for a beautiful and functional bathroom design.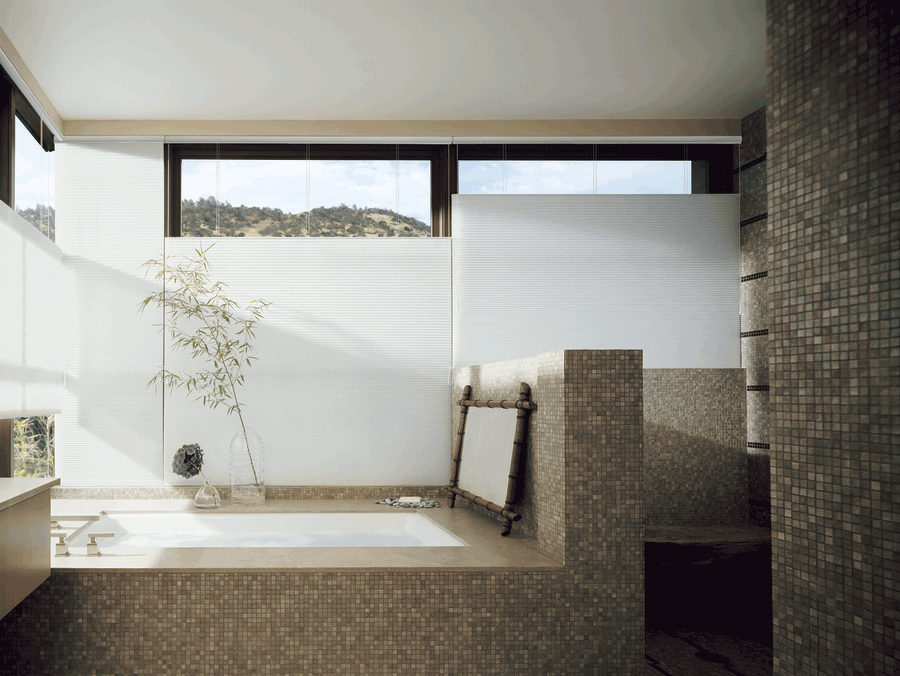 What are the right window coverings for the bathroom?
It really depends on a client's specific bathroom design and style preferences. Top down bottom up shades are very popular because they easily maintain privacy while also allowing natural light to flow into the space. And, our plantation shutters with split tilt work in much the same way. They allow you to open just the top slats while the bottom ones stay closed.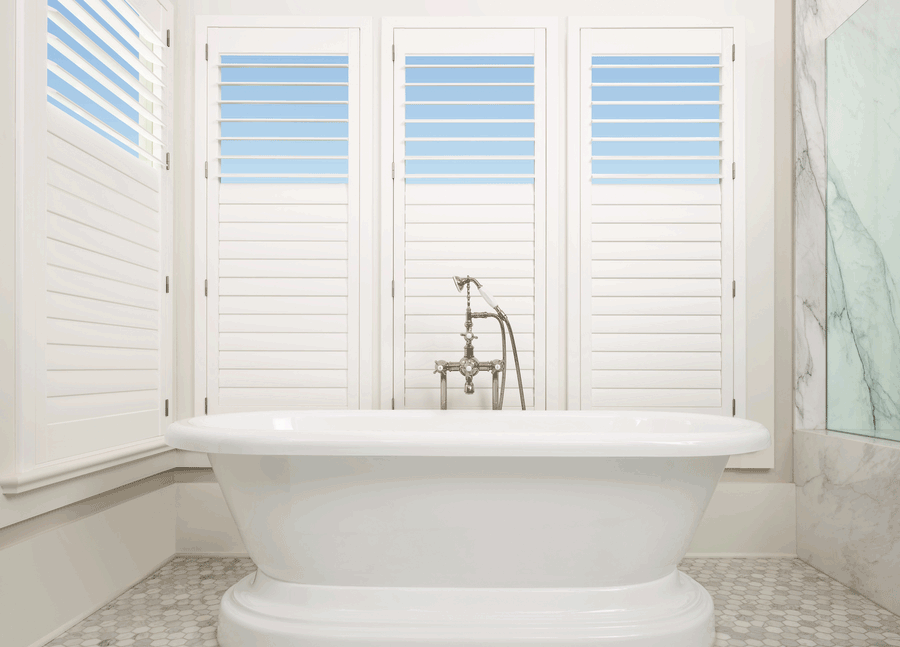 What about issues with space in the bathroom?
That's a great question. It's no secret that bathroom layouts and window placements can really affect the functionality of the room. Windows over the tub are extremely common, and that can make adjusting window coverings on a daily basis a real hassle. Top down shades and split tilt shutters give you the option of keeping them in the same position while still offering light and privacy. Plus, they provide sky views–which can make a smaller space feel much, much bigger. And, by customizing the fit and operating features of your blinds, shutters, or shades, you can gain the solutions you need and the beauty you want without anything getting in the way.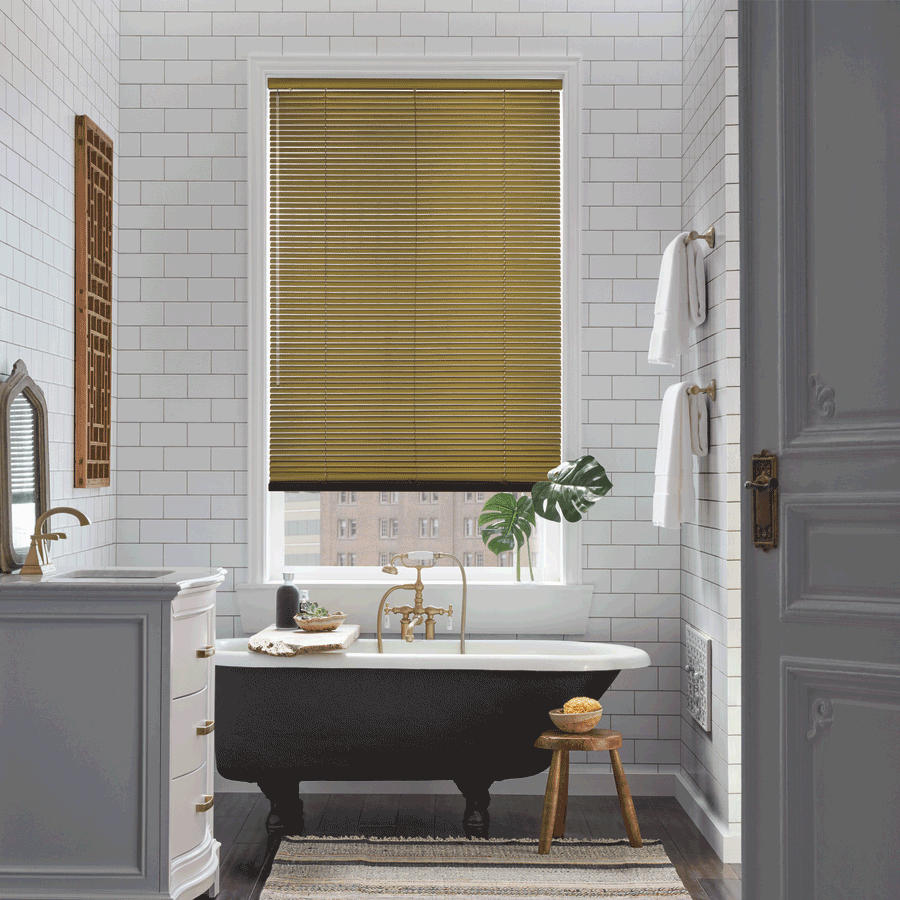 Do you have any advice for choosing the best operating features?
First and foremost, consider safety. If you have children or pets in your home, it's best to go with cordless and cord-safe features. We're proud of the fact that all of our blinds, shades, and shutters are available with child-safe operating systems. For shades, our LiteRise cordless system enables you to adjust your shades with a simple push or pull of the bottom rail. For blinds, our SimpleLift cordless system allows you to raise and lower your blinds with a pushbutton on the bottom rail and to tilt the slats with a wand. And shutters are simply cordless by design. Aside from those, motorization is quickly becoming the preferred operating system for the bathroom.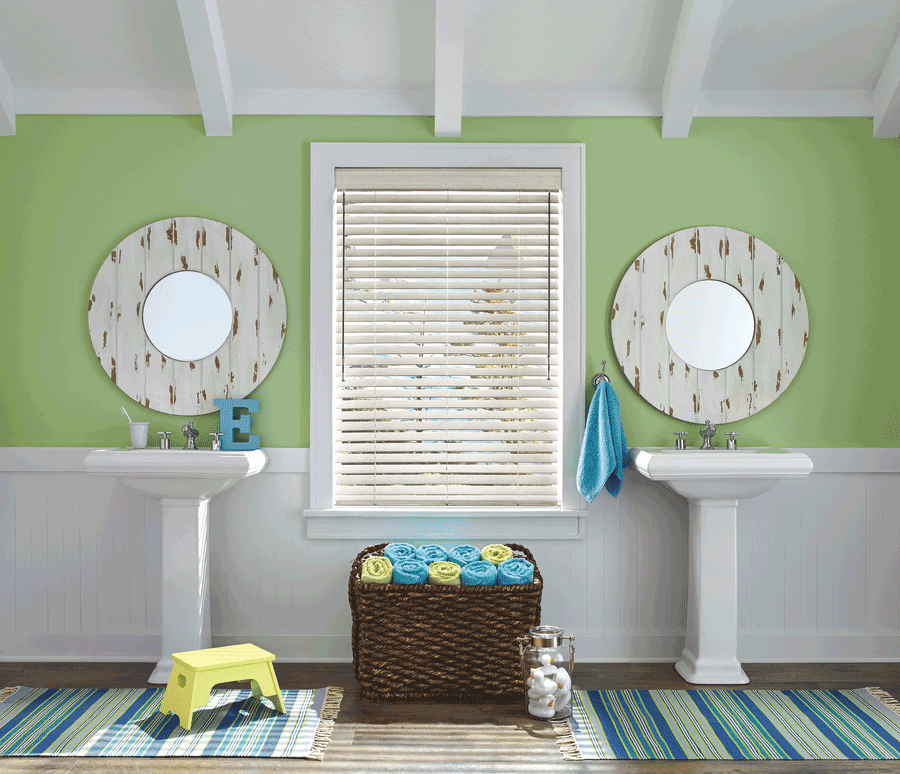 Motorization…in the bathroom?
Yes, and it's easy to see why. Motorized window coverings are extremely convenient. Who doesn't want convenience in the bathroom?! Touch-of-a-button control eliminates issues with adjusting shades on hard-to-access windows. Plus, by integrating your motorized window coverings into your smart home system, you can enjoy voice control, scheduled adjustments, favorite settings, and so much more!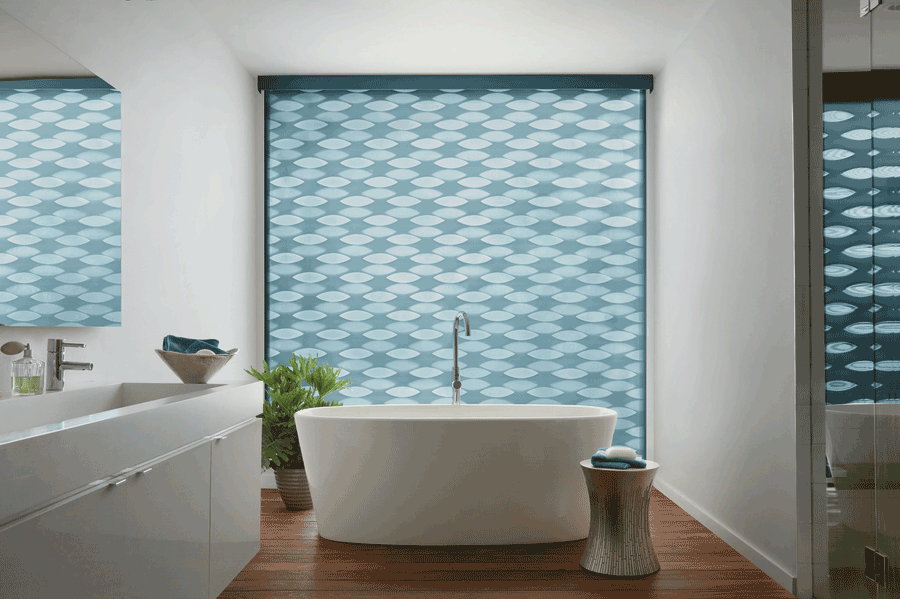 Bathroom Design Challenges: Solve Yours With Us!
Are you ready to solve your bathroom design challenges? We're ready to help! The experts here at Aero Drapery & Blind would love to come alongside you to create the gorgeous and functional bathroom you deserve. Strike the perfect balance of privacy and light, upgrade to the latest operating features, fashion a designer look…the possibilities are endless! Stop into one of our showroom locations, or invite us in. We'll come right to your Minneapolis area home for a free consultation. Get in touch with our team today!