"Spring is nature's way of saying–LET'S PARTY!" -Robin Williams. And, in Minneapolis we are ready to PARTY! Say Goodbye to the Minnesota winter and Hello to the possibility of biking trails, farmer's markets and less layers! Let's roll with that positive vibe inside our homes as well. Try a spring refresh! With the latest in colors, textures and fabrics you can make the most of your home this spring. Let's party–by adding some fun patterns to personalize your design! 
For a Spring Refresh Choose Spring Colors.
Spring is a great time to freshen up your home. As nature begins to awaken, so can your home décor. By bringing the colors of the season indoors you will create a soft and comforting palette. Use the beauty of nature's soft colors to rejuvenate your space. Try adding patterned fabrics to make your home stand out from the rest.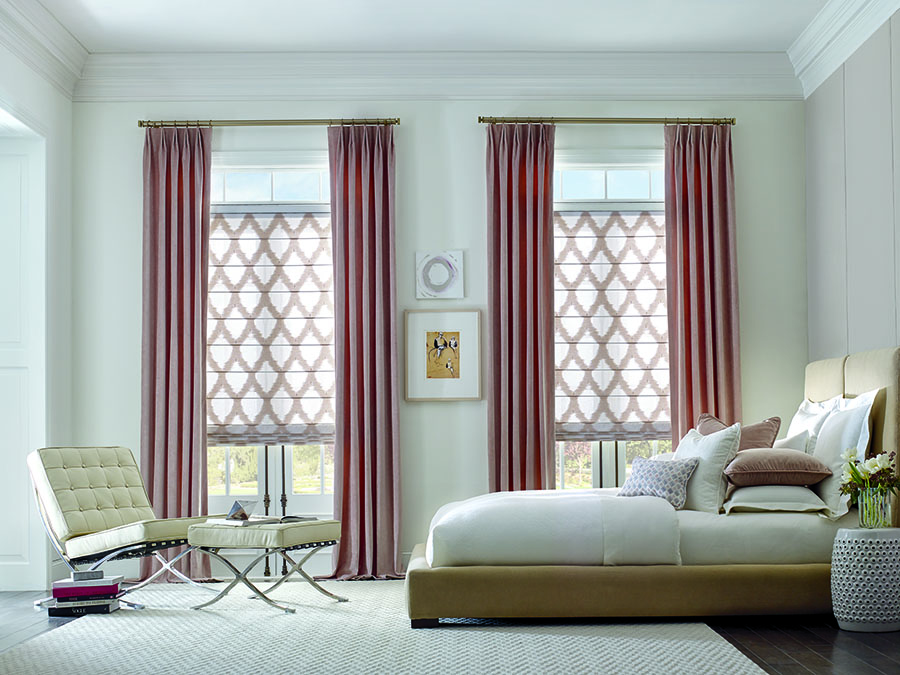 Use your spring refresh as an opportunity to try something new in your home. It can be as simple as refreshing hardware–look at how the gold hardware accents take this bedroom to the next level. The subtle change of the drapery rods paired with patterned roller shades in a springtime color makes all the difference! 
Make it Personal with Your Favorite Patterns.
The possibilities are endless with layering fabrics. It gives a room that finished look. Of course patterned fabrics pair well with solids but have you ever thought to mix patterns? Don't be afraid. We can show you how to include your favorites!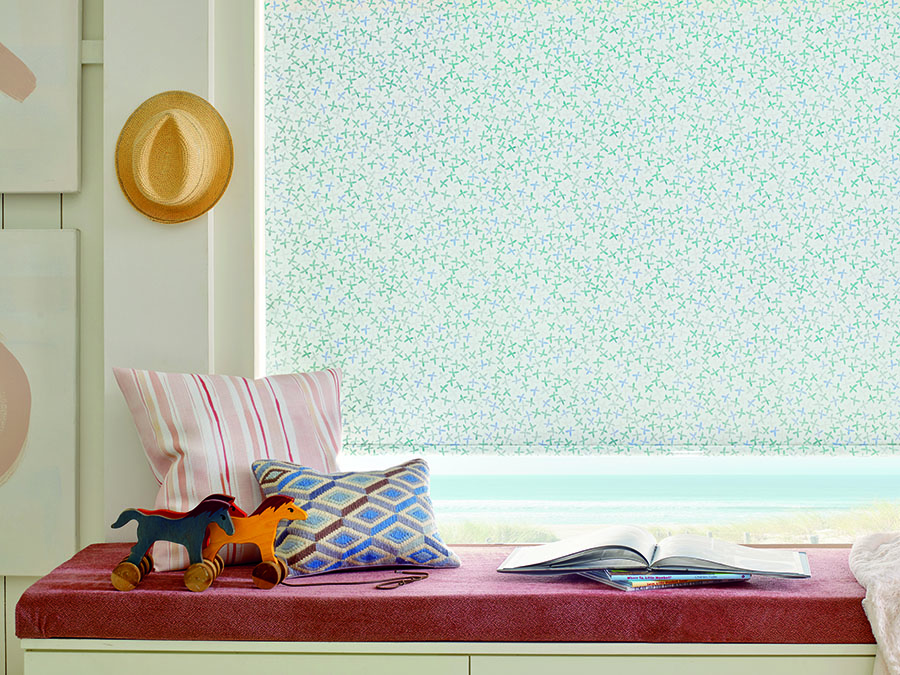 Your Color Story

. No more than three colors is best. Above, you can see how blue, peach and white are used together. Notice each pattern is made up of only those three colors. Keep it simple.

Change the Hue

. Decided on colors? Use them to your advantage. Now you can stay within the theme simply by changing from light to dark shades of the same colors. This method allows for depth in design while remaining within the style framework. 

Change the scale

. You can also mix patterns by using smaller and larger versions of the same design. This roller shade features a small design while a similar design is repeated on a larger scale with the pillow fabric. 

Shape Mixer.

  If you stay within the same color scheme you have the liberty to choose multiple patterns. Group plaid, stripes and florals together if you'd like!
Add Style with Textures.
It's always wonderful to bring the beauty of nature into our homes. Natural textures are the perfect design element to add when designing a peaceful space. Your spring refresh will benefit greatly by choosing colors and textures that remind us of the outdoors. Discover how window treatments can add to the natural look of your home.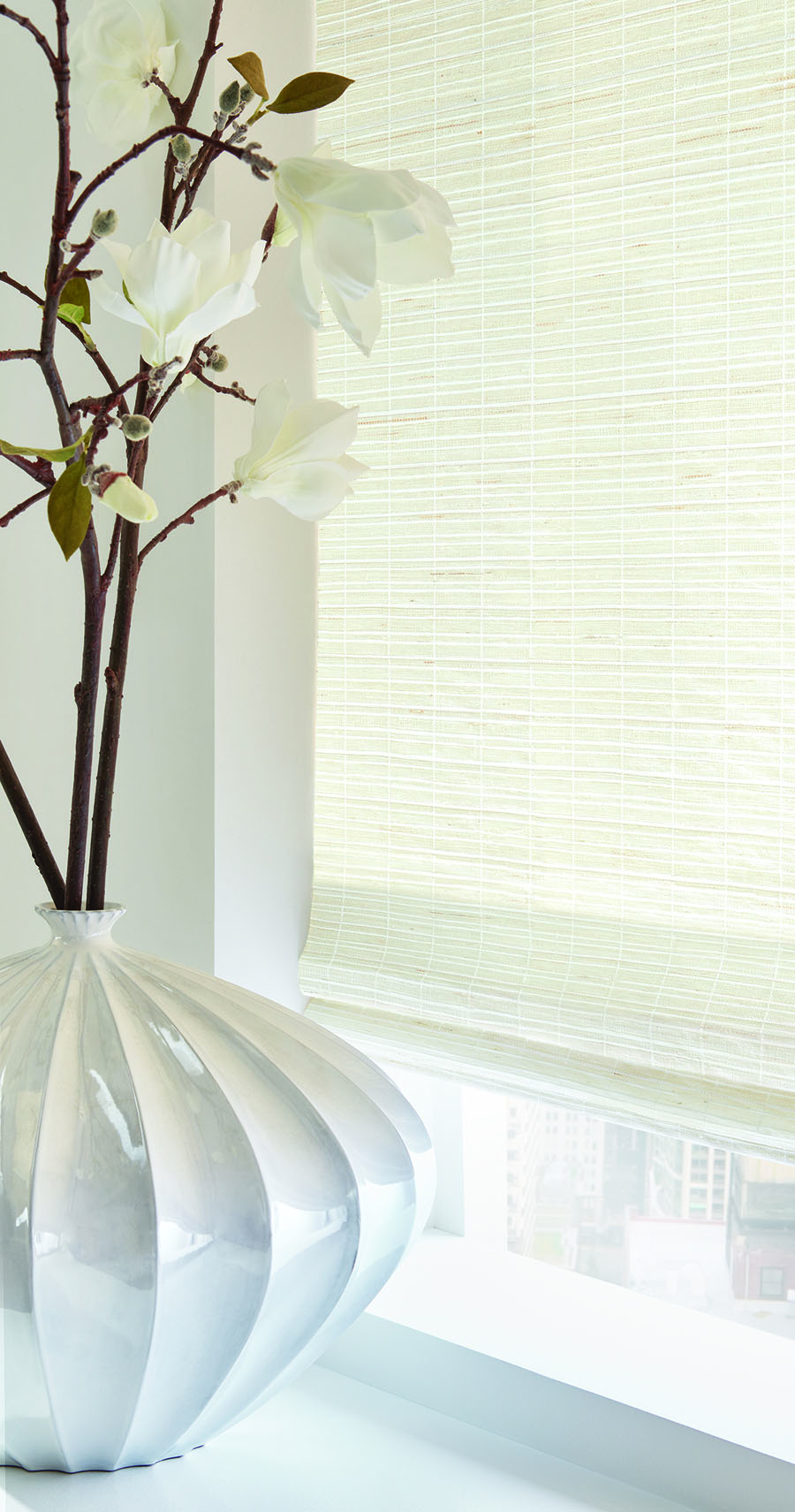 There is nothing more beautiful than our woven woods collection. Designed with nature in mind this assortment of reeds, grasses, bamboo and wood will filter light and provide the perfect style element for your home. 
Are you ready to Get Started?
Your spring refresh is just the beginning!  Our team can help with all your window treatment needs for your Minneapolis home. Our experts at Aero Drapery & Blind are available and can offer a FREE Design Consultation.  Contact us today!