Having trouble covering doors? You're in the right place! Blinds, shades and shutters aren't just for windows anymore!  The same solutions we use to cover windows can be used for covering doors as well. Discover new ways to cover patio doors, entryways and sliding glass doors. The options are endless but we are here to guide you through it all. Let's face the challenge together –while adding style & function to your home.
The Entryway Door
By adding window treatments to the entryway door, you maintain a level of privacy and security for your family. A simple opaque fabric can be used to keep people from seeing inside, and window shades will work well in this space too. Also, it's common to find narrow windows, called sidelights, on either side of the entryway door. Sidelights can be covered easily–just customize the size of the shades to fit the window–it's that simple!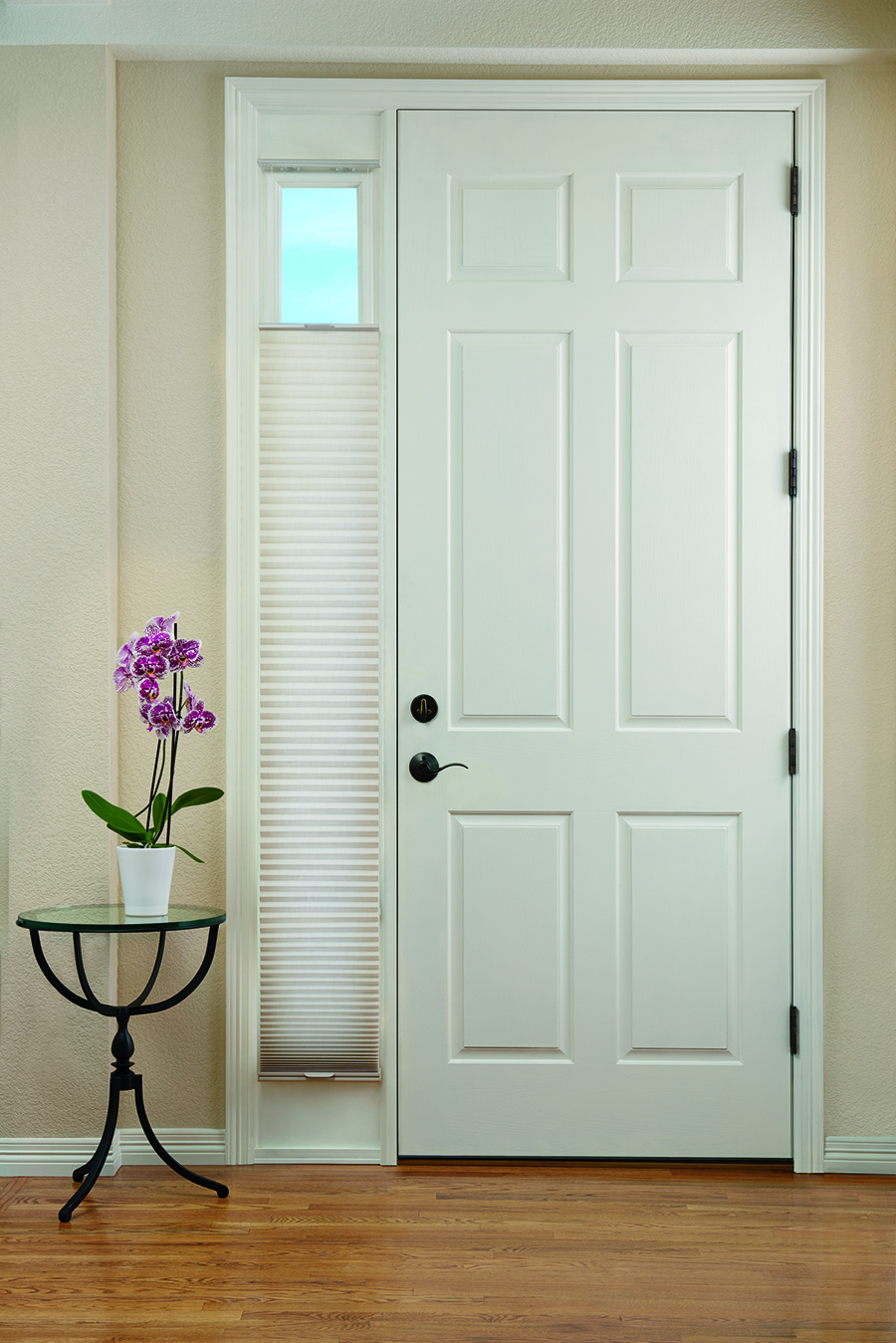 As you can see, honeycomb shades can be fit to your windows perfectly. They will also block the light and add to the energy efficiency of your home. If you desire, the top down feature will illuminate your entryway while maintaining privacy for your loved ones. And, honeycomb shades make this entryway very appealing to your guests.
Patio Door Ideas
Patio doors that lead to your deck or outdoor space can offer unique challenges. In the spring and summer months–people are in and out all day– you'll need coverings that stand up to family traffic. Consider treatments that fit snug to the glass and can take lots of opening and closing. Keep in mind, patio areas can feature multiple windows and provide beautiful natural light, try to coordinate door and window treatments for a custom look!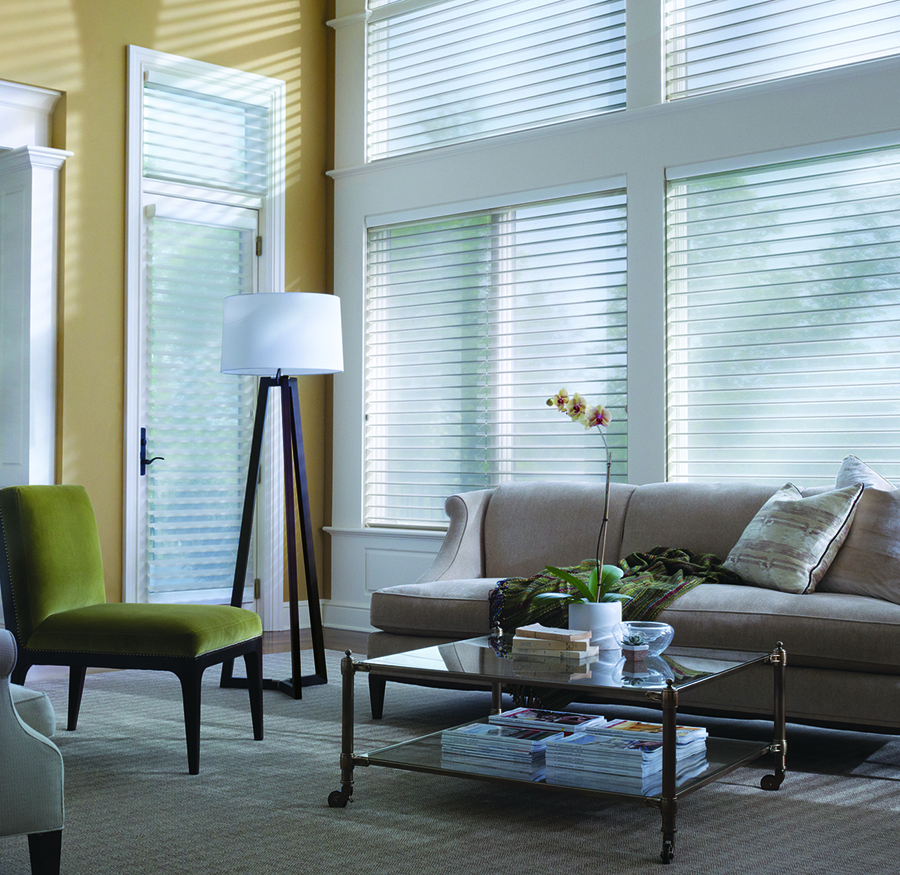 Sheer shades and roller shades are perfect for patio doors. Both provide a low profile design structure that allow doors to open and close effortlessly. You'll also enjoy privacy and a pleasant atmosphere all day with their light filtering capabilities. 
Sliding Window Treatments
Sliding glass doors are a popular way to bring natural light into your home and also provide a convenient exit to your outdoor space. Unfortunately, these large glass doors allow harmful UV rays to damage furnishings and can effect energy efficiency negatively. If not appointed with the proper window coverings your privacy may be compromised as well. Not to worry, sliding doors can be easily fit with custom treatments that provide protection and security.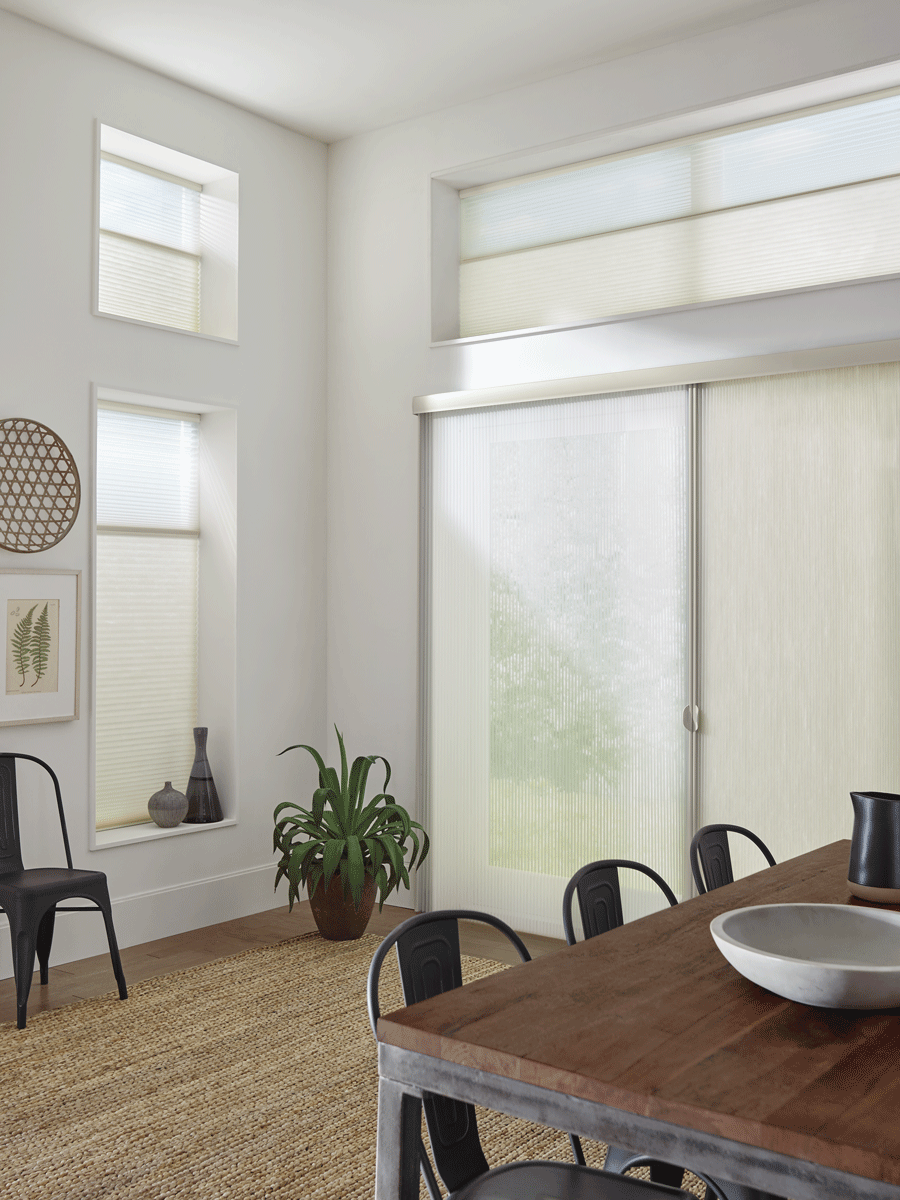 But what about everyday issues? Parents, pets and playdates can create family traffic jams! Here, convenience is a top priority when choosing window treatments for sliding doors. Let's make door coverings family friendly and easy to adjust! Here's how..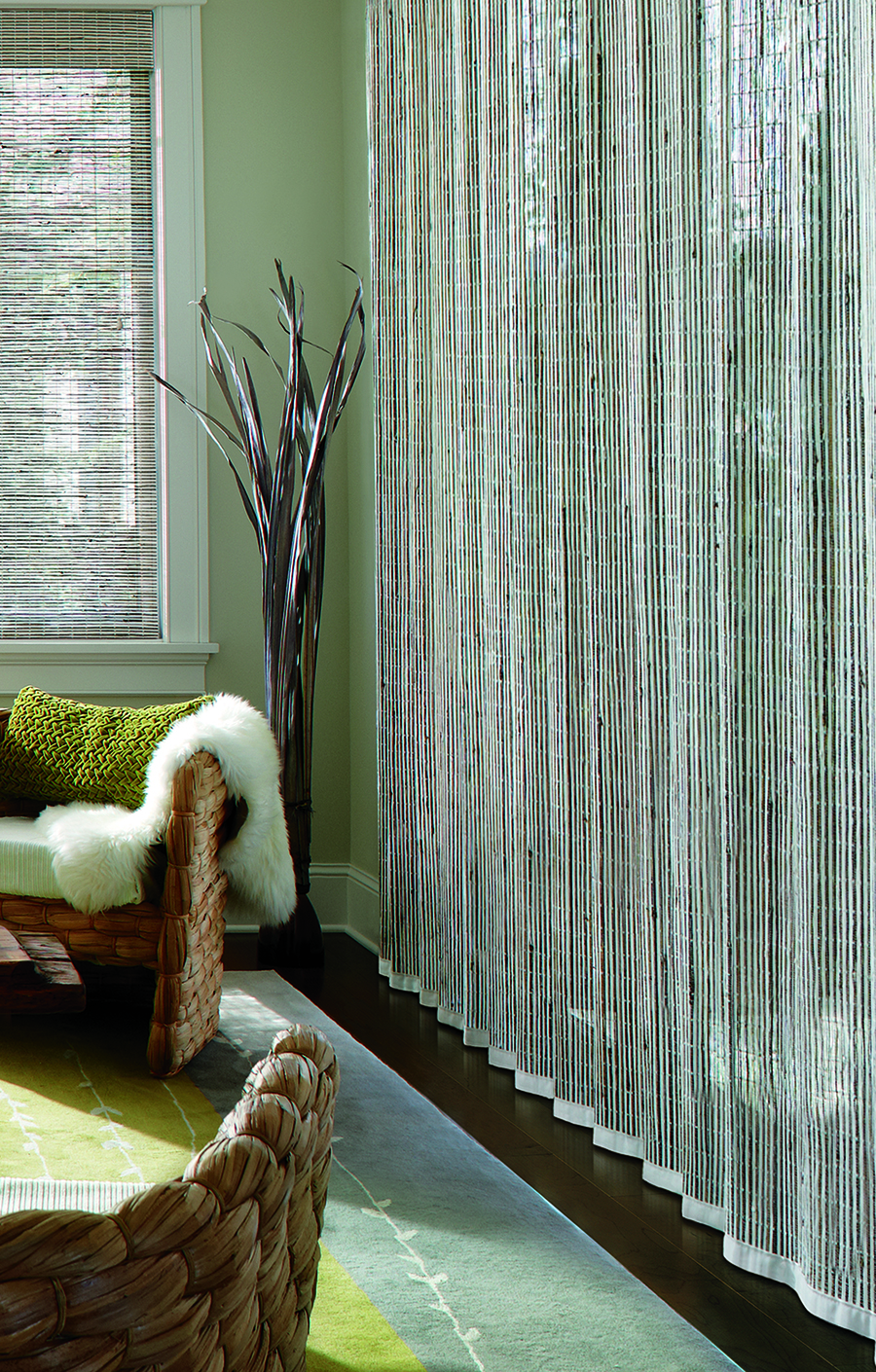 Why not cover doors that slide with tech savvy window solutions–it's simple! By integrating voice automation to your smart home device, you create a new meaning for "hands-free"! Set your shades to open and close at the sound of your voice.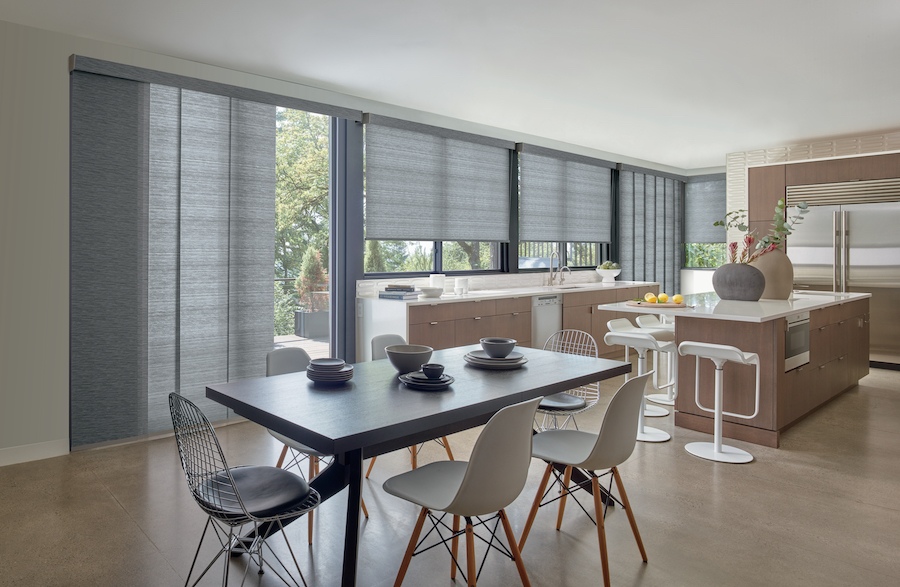 The Elegance of French Doors
Elegant french doors are a beautiful choice in any home. But, multiple glass panels allow for sunlight to disrupt a pleasant afternoon and can leave you longing for privacy. Door and window coverage makes a world of difference. Fabric and woven shades can be a beautiful addition to these doors while maintaining comfort inside your home.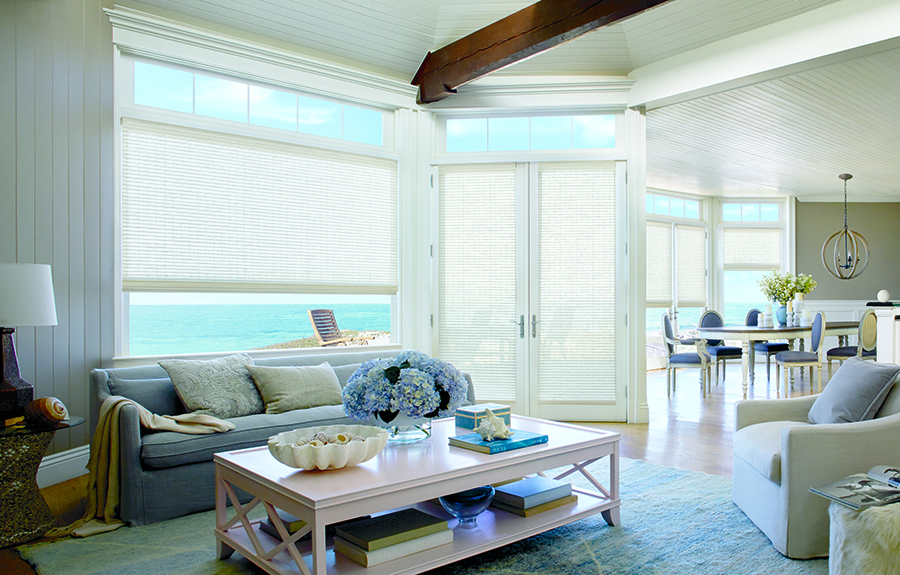 Another way that brings incredible style is with custom shutters. Add to the elegance of french doors and achieve a polished look. Choose from wood stain or white and coordinate shutters throughout the home for a more designer look. Door handle cutouts add convenience and function.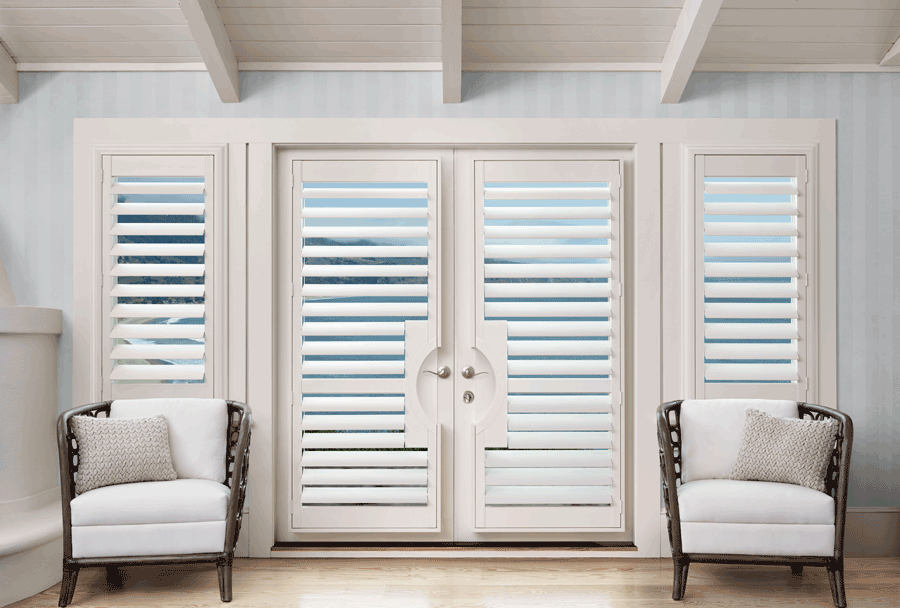 Draperies can also provide a simple solution for covering doors. Custom drapes that frame french doors bring style to any space and can easily be adjusted for light control and privacy. Coordinating the rest of your home is simple with a variety of fabric options available in patterns, textures and colors-add a beautiful backdrop to your home.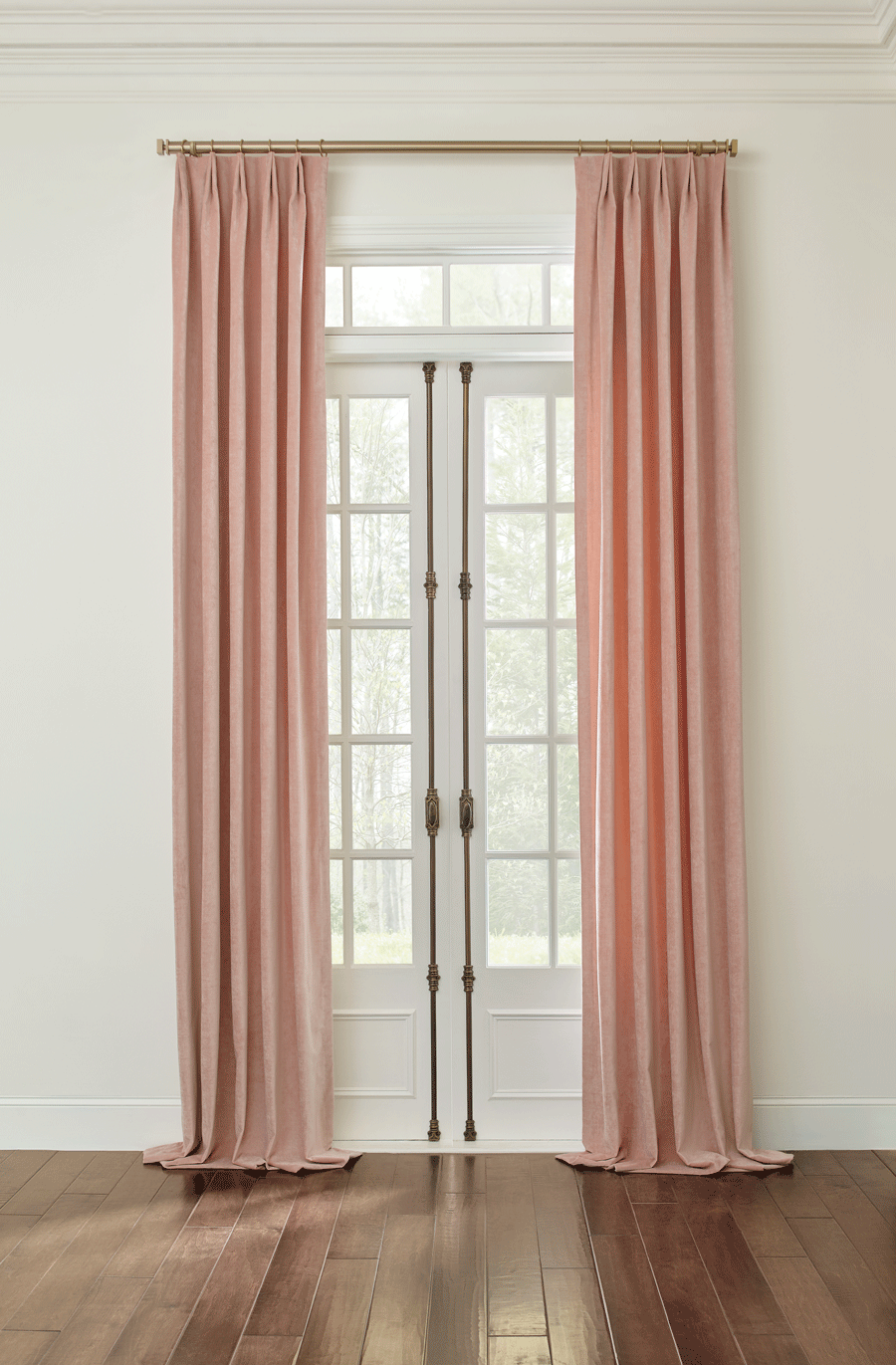 Thinking of Covering Doors?
Privacy, security, light control and energy efficiency are all important reasons for covering doors. But think about the incredible style that awaits your home…with such a wide variety of options for door coverings, we can help determine what is best for your Minneapolis home and create a style of your own. Get in touch with our design team today for a FREE consultation!!