They say the kitchen is the heart of the home. It's the place you begin your mornings with a hot cup of coffee and the central hub for your family throughout the day. It's also most-likely the last place you touch–trying to put everything back together–before you go to bed for the night. Why not add alluring design to this all-important room? This year, we are loving the way golden metallics are gracing kitchens everywhere. Are you considering bringing gold accents in? Take a look at these beautiful spaces…
Golden Metallics: The Kitchen Sink
All we can say, is "Wow!" This trend adds a gorgeous element of style to a space–that certainly needs it! The kitchen sink is a major player in your kitchen design. Upgrading it is one way to create a gorgeous look.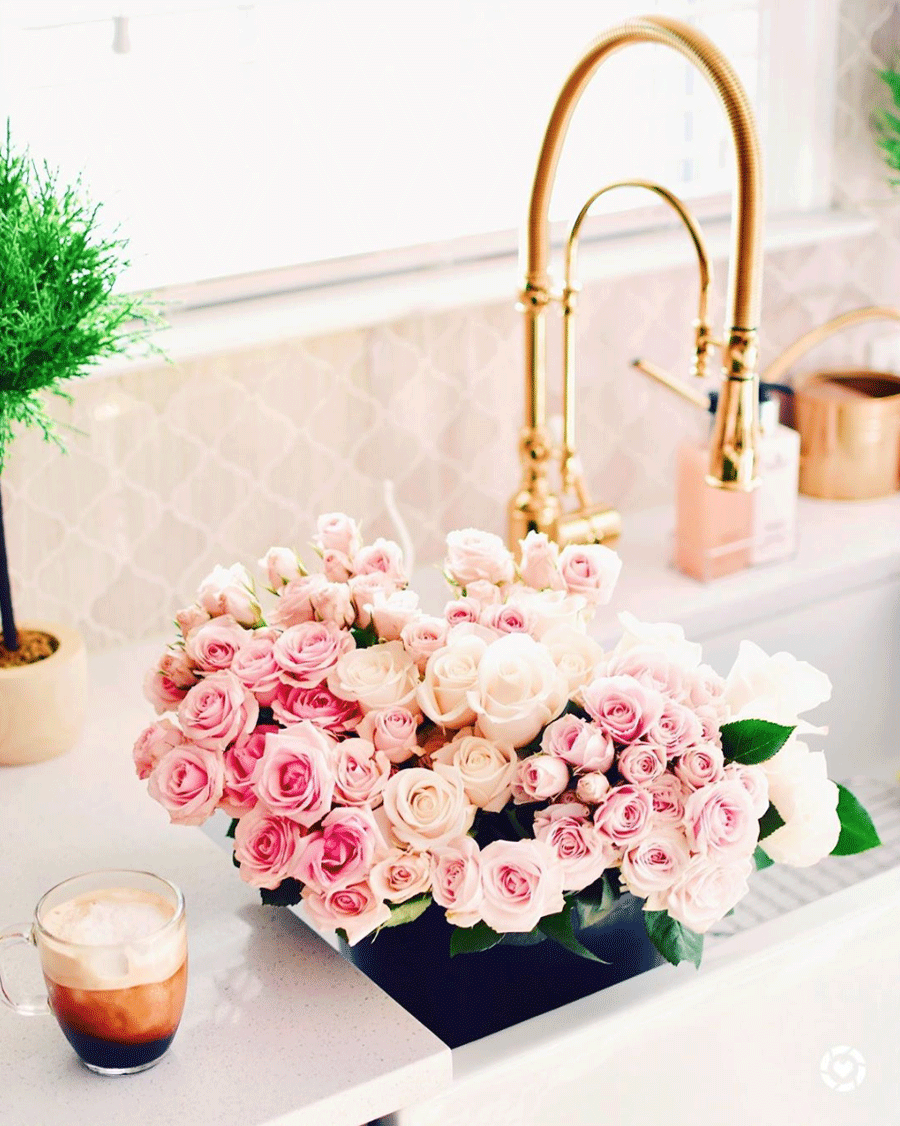 This chic photo was styled by Vinca, of @theviewfromtobaccoroad, of her own kitchen. The pink roses stage the scene, but we're here to say–this kitchen sink would look beautiful no matter how many dirty dishes were added! This is just the tip of the iceberg. Visit Vinca's instagram page for an incredible amount of inspiration with golden metallics!
Warm Metals: Kitchen Lighting
Kitchen lighting, especially hanging pendants, have increased in popularity, featuring golden metallics. It's a subtle statement with a big impact. This kitchen, designed by Cat of @modernbohocottage, showcases antique brass pendants over the island. Hanging pendants have long offered an additional layer of lighting.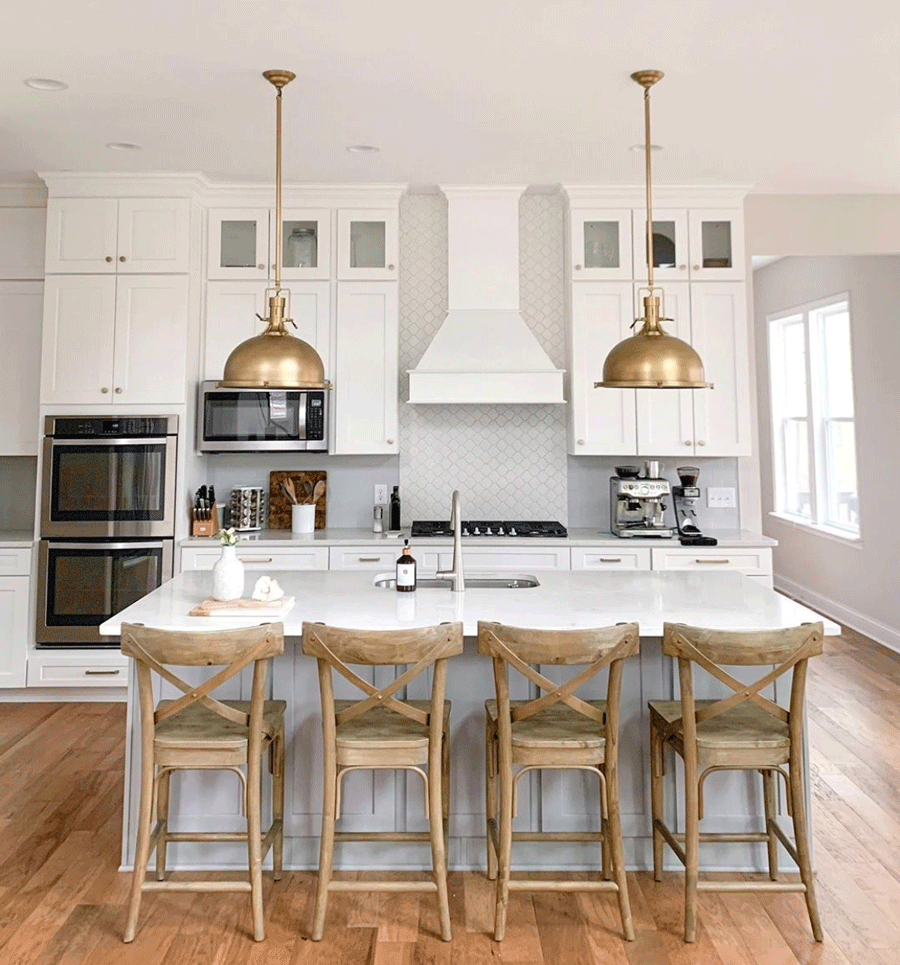 Now, more than ever, you can add incredible style to this focal point of your space. We love how the white cabinetry provides a soft backdrop. Looking closely, you'll notice how the cabinets also feature gold hardware, nicely coordinating the entire design.
Coordinated Design: Open Shelving
One of the top trends in kitchen design is open shelving and glass-encased kitchen cabinets. This is a great way to define your design, layering accents that provide both style and function. Golden metallics play beautifully into these open-concept shelves, accenting style choices and adding an upscale look.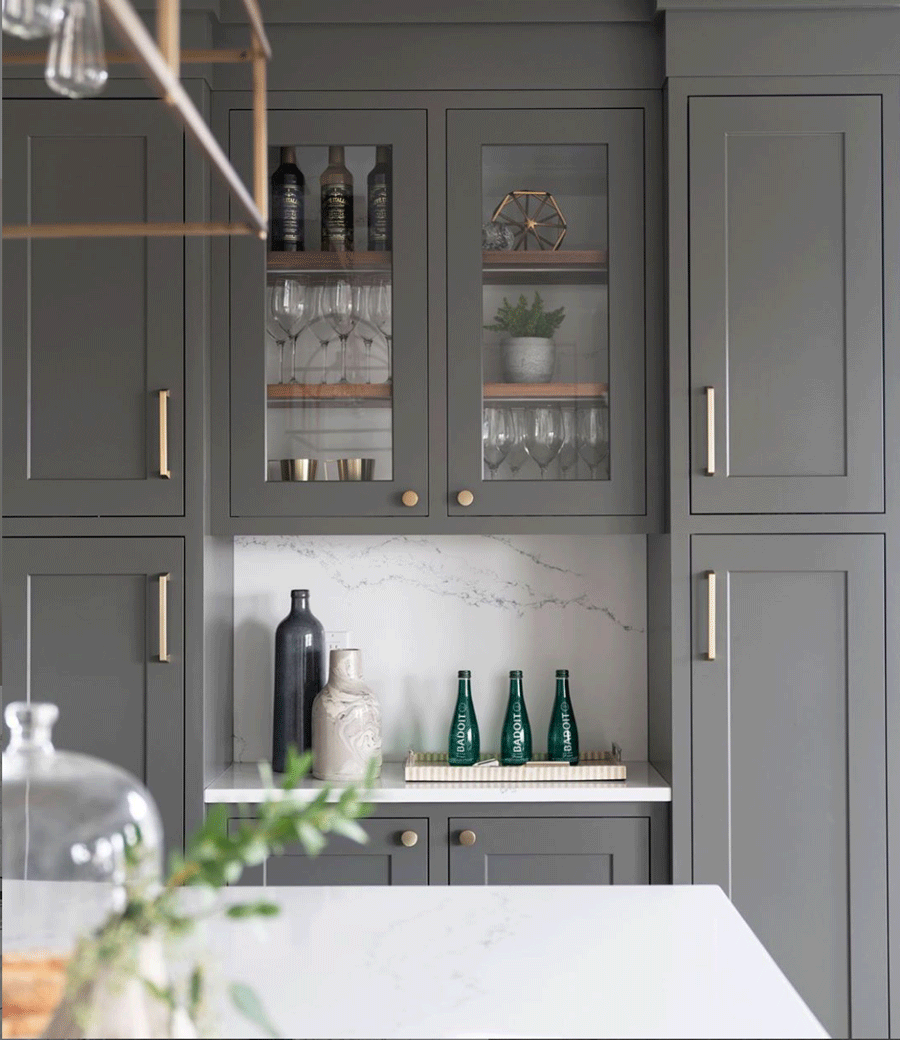 This is no more evident than in this kitchen, designed by Stephanie & Jenelle of SmithErickson Designs. These talented ladies coordinated this gorgeous kitchen by infusing warm metals throughout the space, with hardware, lighting–and, of course, the glass cabinetry elements. See more kitchen designs on their Instagram page.
The Atmosphere of Your Kitchen: Refreshing Control
Of course you want your kitchen to boast a light and bright atmosphere. It's mood-enhancing, energizing and all around refreshing. But, what happens when the light gets in the way? One way to create the ideal atmosphere is with window treatments. That's right! If you want a light, bright, comfortable atmosphere in your kitchen, more often than not, you have to control the light–keeping it from flooding your beautiful space.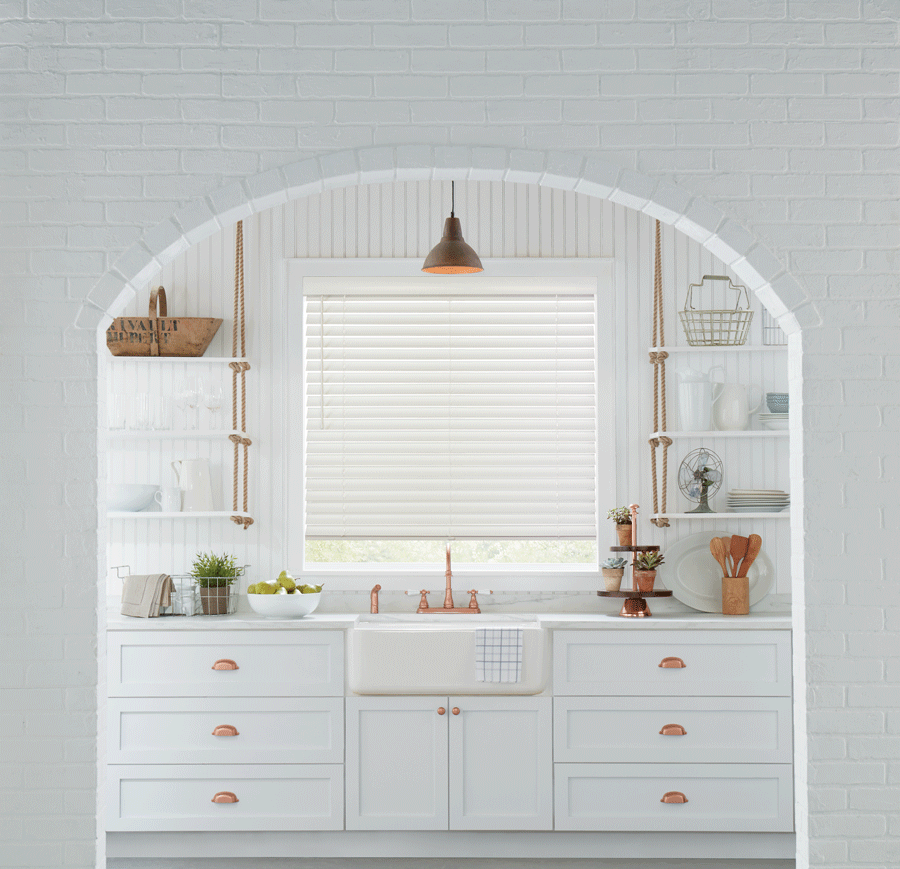 At Aero Drapery & Blind, our team can help you transform your kitchen! Whether you need the convenience of voice-controlled shades, the privacy of top down shades, or the simplicity of window blinds that blend into your design, we can help! Contact our team for your FREE in-home design consultation today.