Knowing the top design picks from the pros can set your home apart. Do you love to follow the latest colors, fabrics and trends? Let's go behind the scenes and look at what the experts at Aero Drapery & Blind are loving these days! And, when it's time to update your home with window treatments it's important to know just what you like…
What's new in color?
After years of gray, people are ready for a change. But not so fast, our love for gray remains true in the design world. The design world is now leaning more toward "greige." A blend of gray, with beige tones, you'll get the chic look you're trying for, with warmth. Neutral colors allow for a beautiful palette, and then you can dress it up with accent colors, as you please. We've seen a great deal of blue in the past year, from Navy to teal, it's a color family that has something for everyone.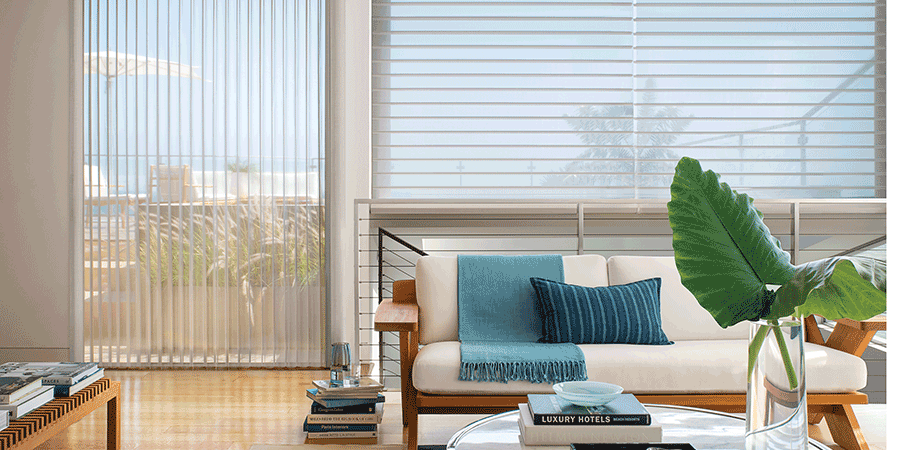 What's your "go to" window treatment?
This is a tough question! As Aero Drapery & Blind designers we love all of our products because we know the impact they can have on your home. Each home has its own individual personality, whether it's a traditional style home that begs for some gorgeous plantation shutters or a city apartment that would look stunning with automated roller shades to complement its clean lines and sleek décor. We'd have to say our 'go-to' window treatment is a project-by-project decision, but we do love showing off Pirouettes. They offer a dynamic look, and there's a good chance clients haven't seen them before.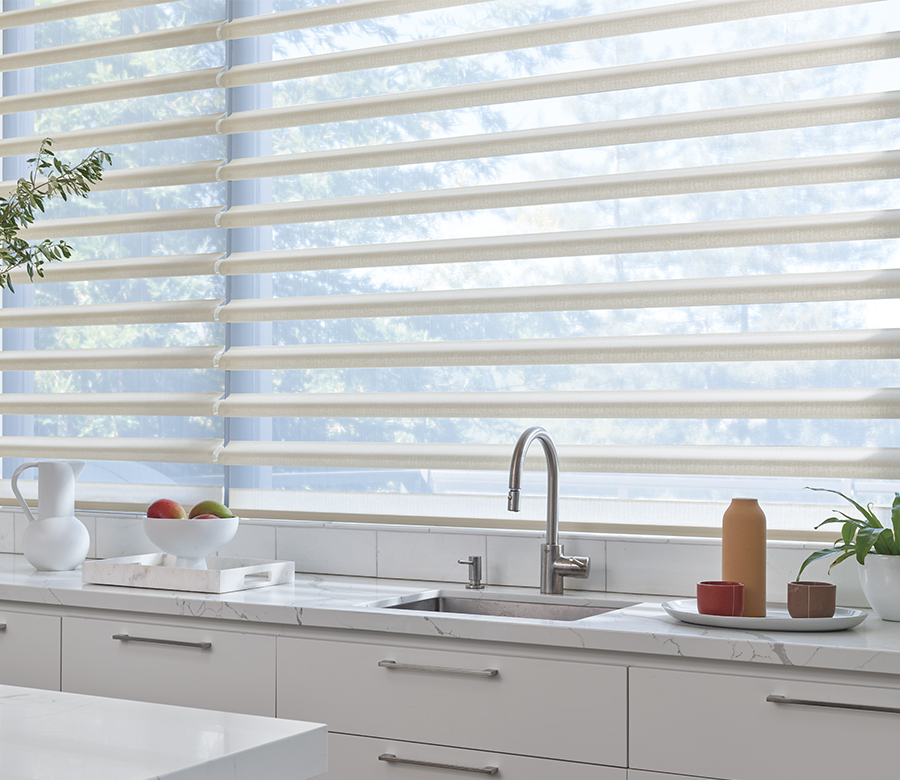 Has there been a shift in home styling lately? 
Yes, definitely. In the Twin Cities where many people have embraced working from home, we have seen a shift in home style. Now more than ever, people are looking to window treatments not only for lighting solutions, but for defining spaces, too. We continue to help clients reimagine their space by adding different types of shades that improve the room's function. For example, transforming your kitchen into a multi-functional space, that allows for school work by day and dinner at night, can be accomplished with the right window solutions. Soft filtered light for studying and adjustable privacy at dinner time.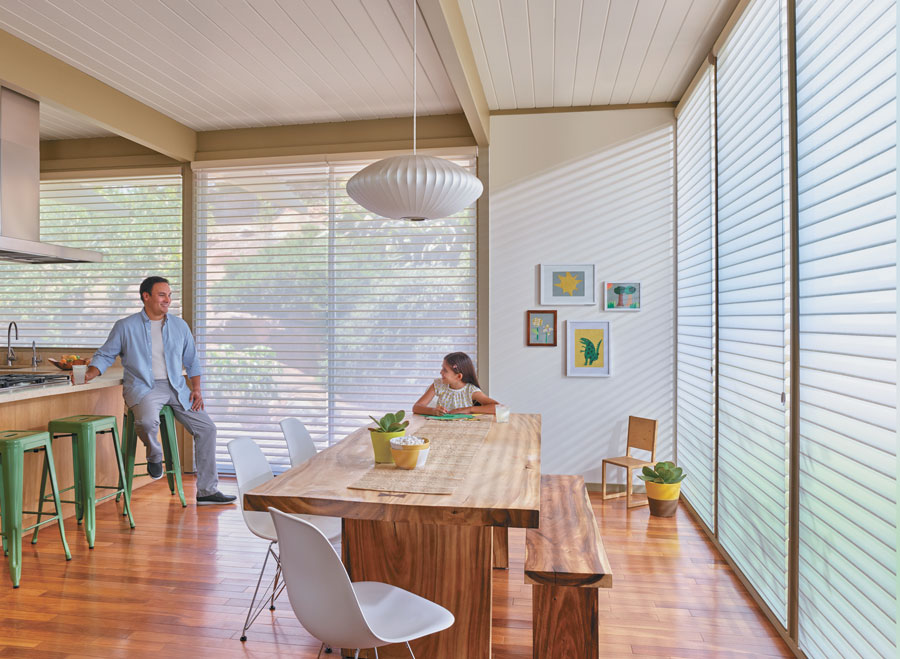 Is it difficult to make things work? 
Sometimes it takes a bit of "out of the box" thinking. Recently, we had a family with young children at home and a parent trying to work amongst the chaos. We decided together that by adding room darkening shades to the great room, we could transform the space into a quiet movie theatre in the afternoons. It became a win, win. Parents were happy with the added quiet time late in the day to finish up at work and kids looked forward to a daily featured film. We also added automation! At 3pm the shades closed to signal it was movie time!!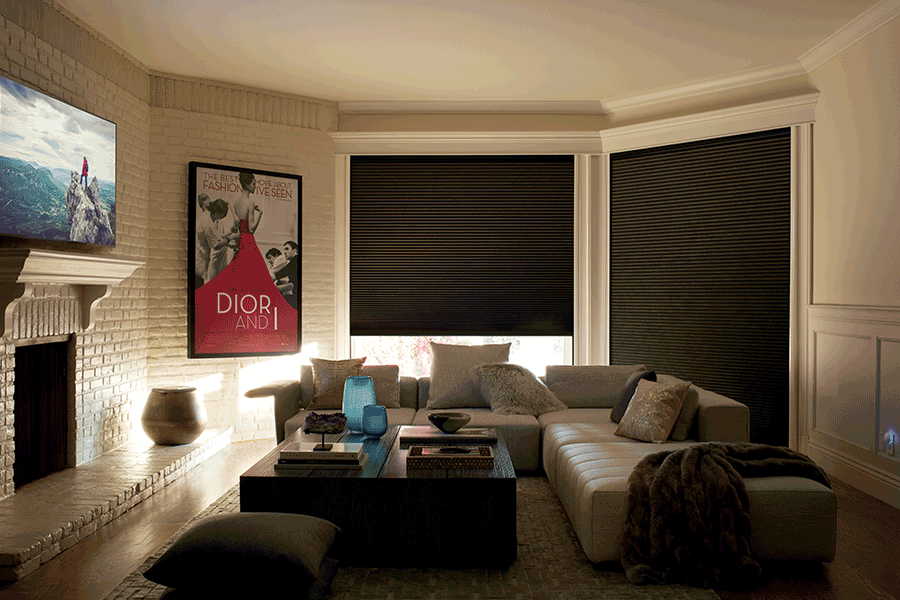 Which comes first, design picks or function?
That's the beauty of working in this industry today. Either! There are so many choices. As Aero designers, we work closely with our clients to get to know the way they live in their homes and what solutions would benefit them most. We can add function and the latest design picks that really complement the personal style of the family. That's the fun part, seeing the vision become a reality! With our knowledge and client's ideas–the sky is the limit! It's all about collaboration.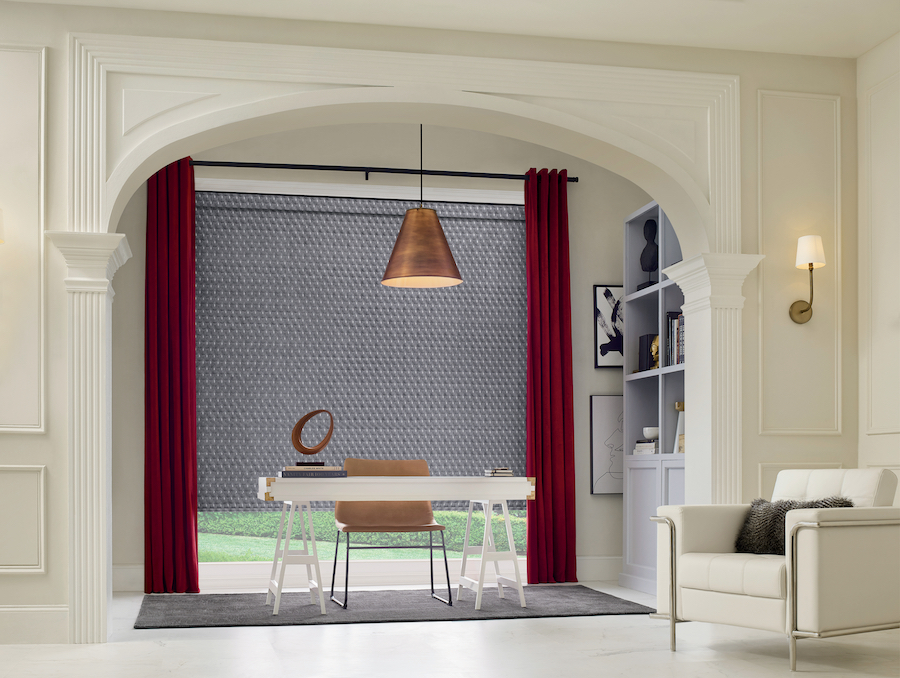 What's your favorite room to style? 
We all have our favorites here at Aero Drapery & Blinds, but the kitchen holds a special place in my heart. It's command central of the family home, and with the right window treatments, the kitchen can function intuitively. I love to automate the kitchen shades to open in the morning for my clients. They can be greeted with warm sunshine and their morning coffee. 
What's a question you get all the time?
"Is home automation expensive?" 
We get this question all the time, and our answer is–smart features are much more affordable than you think. It's basically another way to customize your shades, and you get to choose the customization you'll love. Smart features have become more attainable in the last few years, and smart shades are no different. The difference is, the PowerView® system is compatible with the smart devices you're already using, which a financial win.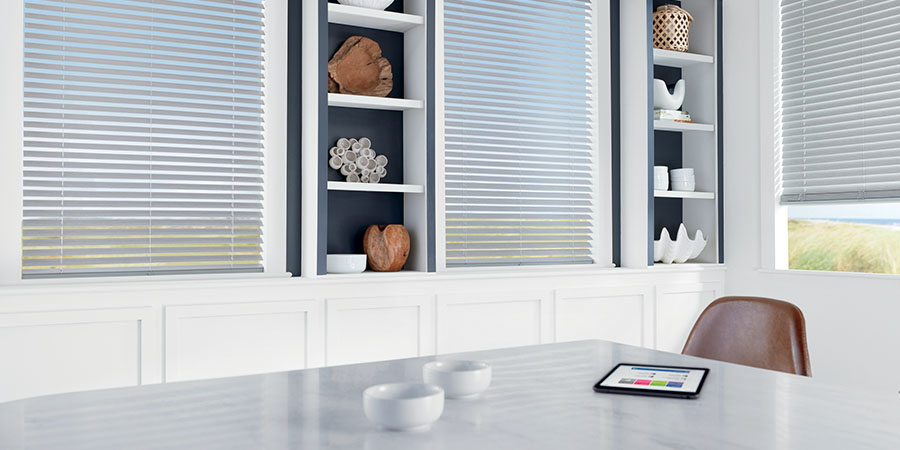 Anything new happening on the horizon?
Things are constantly changing in the window treatment realm. We keep current with designer styles and industry innovation. Smart shades are taking our industry by storm and our clients are embracing the simplicity of automation. It's a fun time to be a designer for Aero! We'd love for you to connect with us for a Free Consultation and we can share the latest trends and ideas we are seeing. You will love the process and the results.