The art of home design is in the details. And, creating cozy spaces is an important part of making it feel like home. No matter the layout, the right decor choices make an incredible difference in the feel of your home. Begin by uncovering cozy spaces throughout; find the special nooks, carve out the unique spaces and separate large rooms into smaller areas. We've got ideas to share to increase cozy vibes in your home…
Pro Tip #1: The Ceilings
When styling an open concept home, or one with high ceilings, one technique is to add dark elements. There are several options to choose from: paint, wood accents, exposed beams or wallpaper. All of these elements will create a more intimate space. In the end, you'll be left with a cozier feeling overall.
Window Treatments: Darkness and intimacy go hand-in-hand, so close the shades when you want that comfortable, snug feeling. When day breaks, open the shades again to allow the sunshine in! The dual shades feature provides the best of both worlds, giving you access to light or darkness when necessary.
Pro Tip #2: Private Moments
Large rooms can be redesigned to offer cozy spaces. By defining smaller areas within the space, you can create a variety of intimate settings. Here, a small table with comfortable seating quickly becomes a private dining spot. Shut out the world by closing the shades and allow the warm light of the chandelier to set the tone.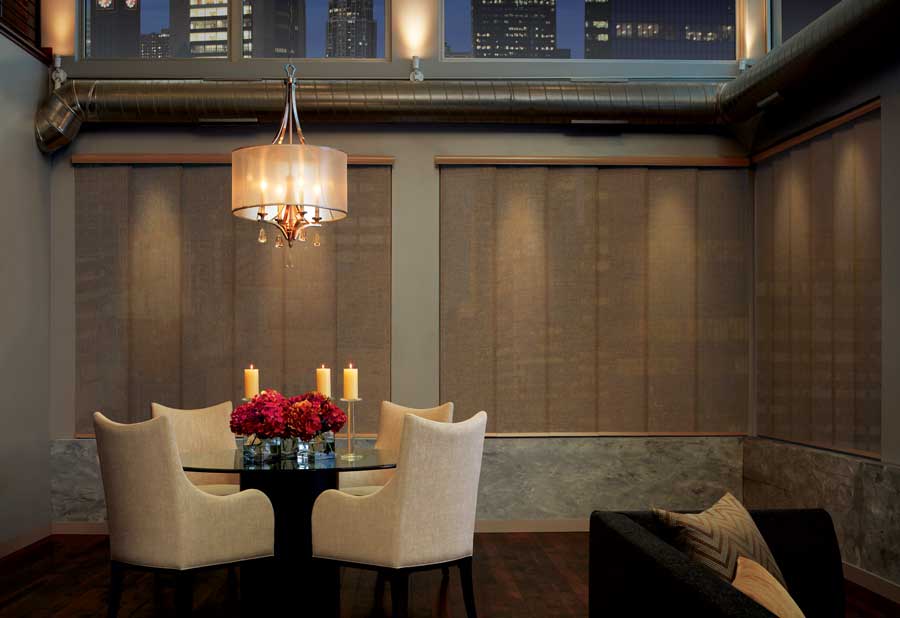 Window Treatments: It's best to have options. Enjoy your city view or close it off for privacy. Automated window shades allow us access to cozy spaces (or the skyline) in an instant.
Pro Tip #3: Designated Areas
Now's the time to transform the nooks and corners of your home into cozy spaces. Find the ideal spot to enjoy a cup of tea, read a book or just let the sunshine down on your face. Elevate the feel of this newly found hide-a-way with soft pillows, plush blankets and fluffy cushions. Designated areas are for quiet moments and relaxation.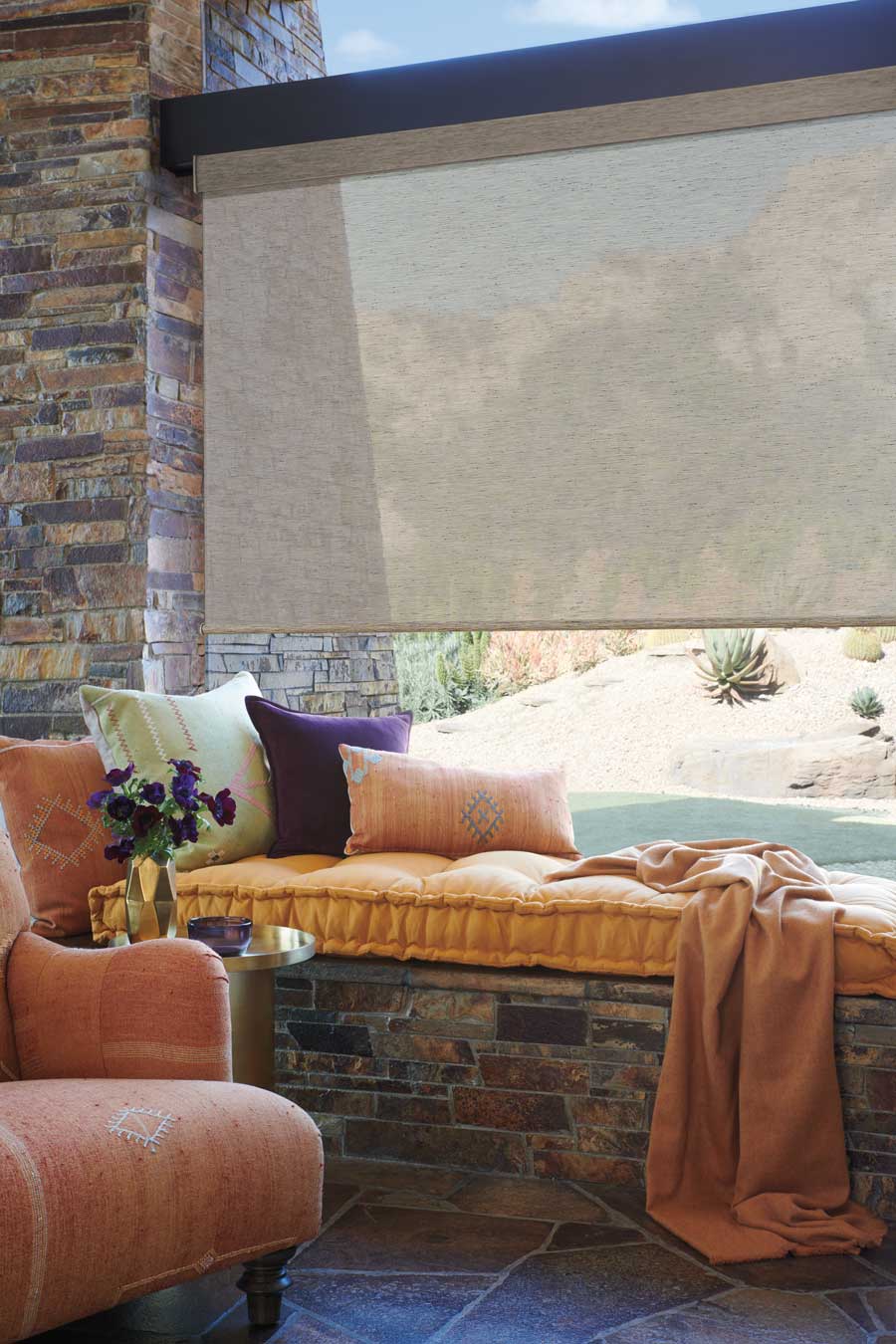 Window Treatments: Light control is necessary in small spaces. Don't allow the bright sun to chase you out of your cozy spot! Instead, remove the glare by choosing window coverings that invite glowing light into the space. This controlled environment will help you relax and recharge.
Pro Tip #4: Design Elements
All in all, there are many important elements to consider when creating cozy spaces. The right combination of materials and fabrics are important to complete the design. To begin, choose an area rug that warms up the room. Next, add fluffy pillows, plush blankets and comfy seating to give it an inviting feel. Finish the small space with layered lighting that is functional in all situations. Table lamps, lanterns and sconces provide the soft, quiet lighting you'll want.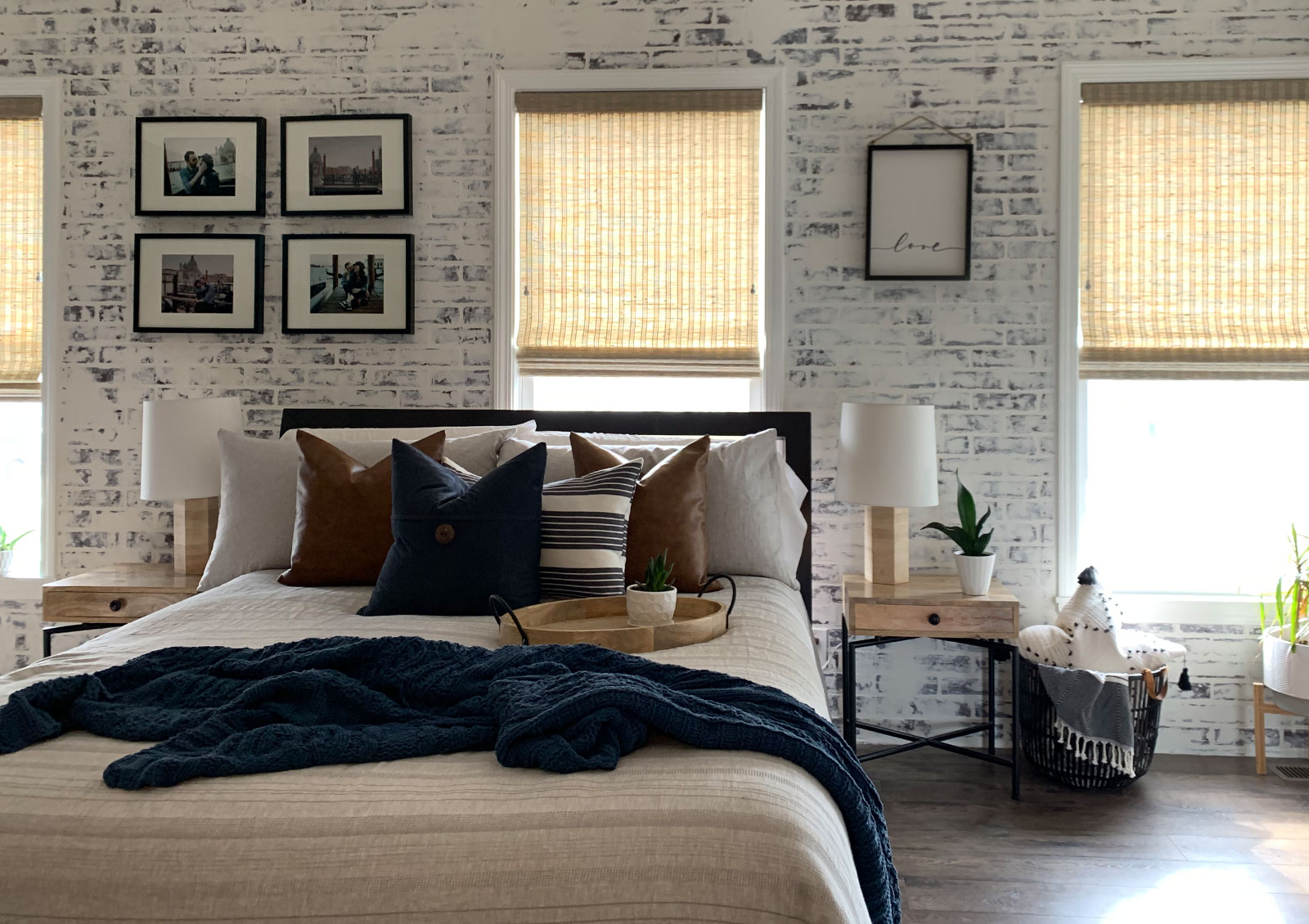 Window Treatments: Coverings made of woven wood materials add texture and filtered light into your home–an added design layer that elevates your cozy space.
In the end, cozy spaces throughout your home will improve the style, function and atmosphere of your space. Choose a spot and create a place for you to relax and put your feet up. Take advantage of all your home's potential with these pro design tips. Get in touch with our team at Aero Drapery & Blind for a FREE in-home consultation. Add cozy spaces to your to-do list today!