Summer has arrived in Minnesota and if you haven't upgraded to the best energy efficient window coverings already, now's the time! It's not only the winter months that can cause loss of energy through windows, summer comes with its own issues to consider. Together, let's explore the many ways window coverings can keep the blazing heat at bay and create the perfect atmosphere for your home. 
The Benefits of Adding Window Shades, Blinds, Draperies & Shutters
On the path to obtaining the best energy efficient home, replacement windows is one solution you'll encounter-albeit an expensive one. If you're not ready to embark on such a huge project and blocking the sun is necessary, adding window treatments may be the way to go. Once you've explored the benefits of adding window shades, blinds, shutters or drapes you'll be satisfied you made the right choice. View the list below.
Better sleep with room darkening

Adjustable privacy

Reduced glare 

Coordinated style with the design of your home

Compatible with smart home technology

Invite natural light without heat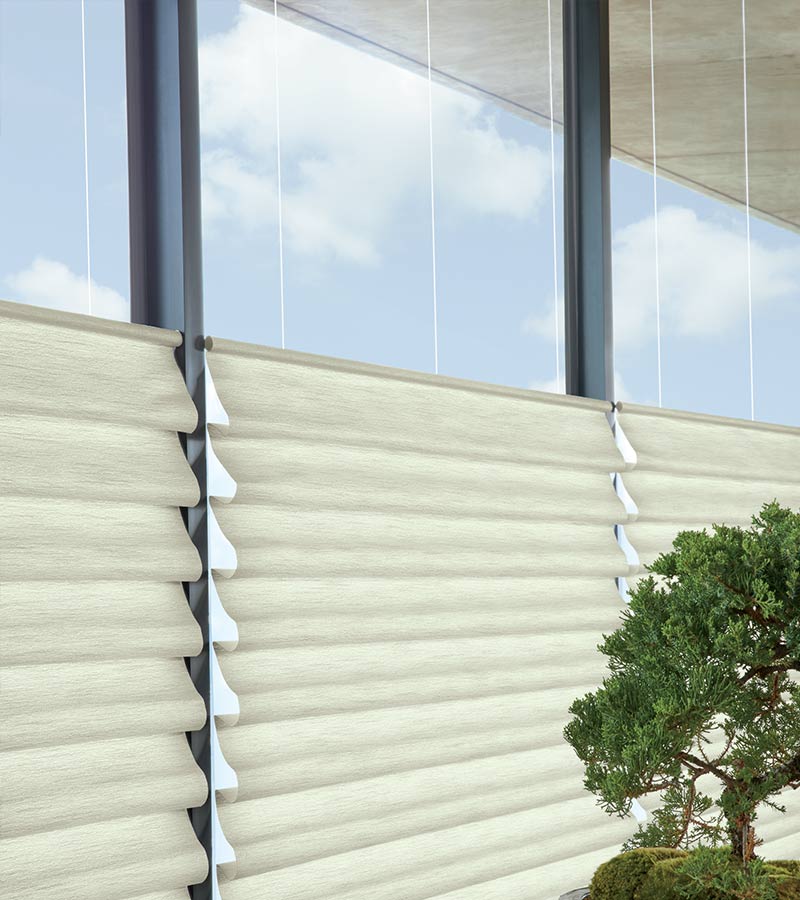 The Features of Energy Efficient Window Coverings
With technology and innovation, the window covering industry has upped its game. Today's options offer amazing features that can greatly increase the comfort, safety, convenience and efficiency of your home. Take a look at these popular features our clients enjoy each day.
Top Down: The top of the shade lowers enough to let in light, while the majority of the window is blocked.

Automation: Smart shades integrate with your smart home technology, for scheduled adjustments or voice command movement in an instant.

Dual Shades: Two shades on the same window for soft lighting & light blocking options.

Tricky Windows: Tilt & Turn windows, specialty shaped windows or glass doors can feature custom coverings to insulate your home
The Function of Energy Efficient Window Coverings
Understanding the factors that go into ensuring the best energy efficient window coverings is important and will help you in the process of choosing the right product for your home.
Insulating Design
First, the insulating design of cellular shades was developed years ago to stop air flow, which can lead to significant energy loss at the window. These shades have been known for years to stop the heat at the window and are still widely used in homes. 
Innovative Techniques
Another option to consider is interior window channels. This design technique guides the shades, tightly up and down a track-reducing light gaps and air flow for greater efficiency.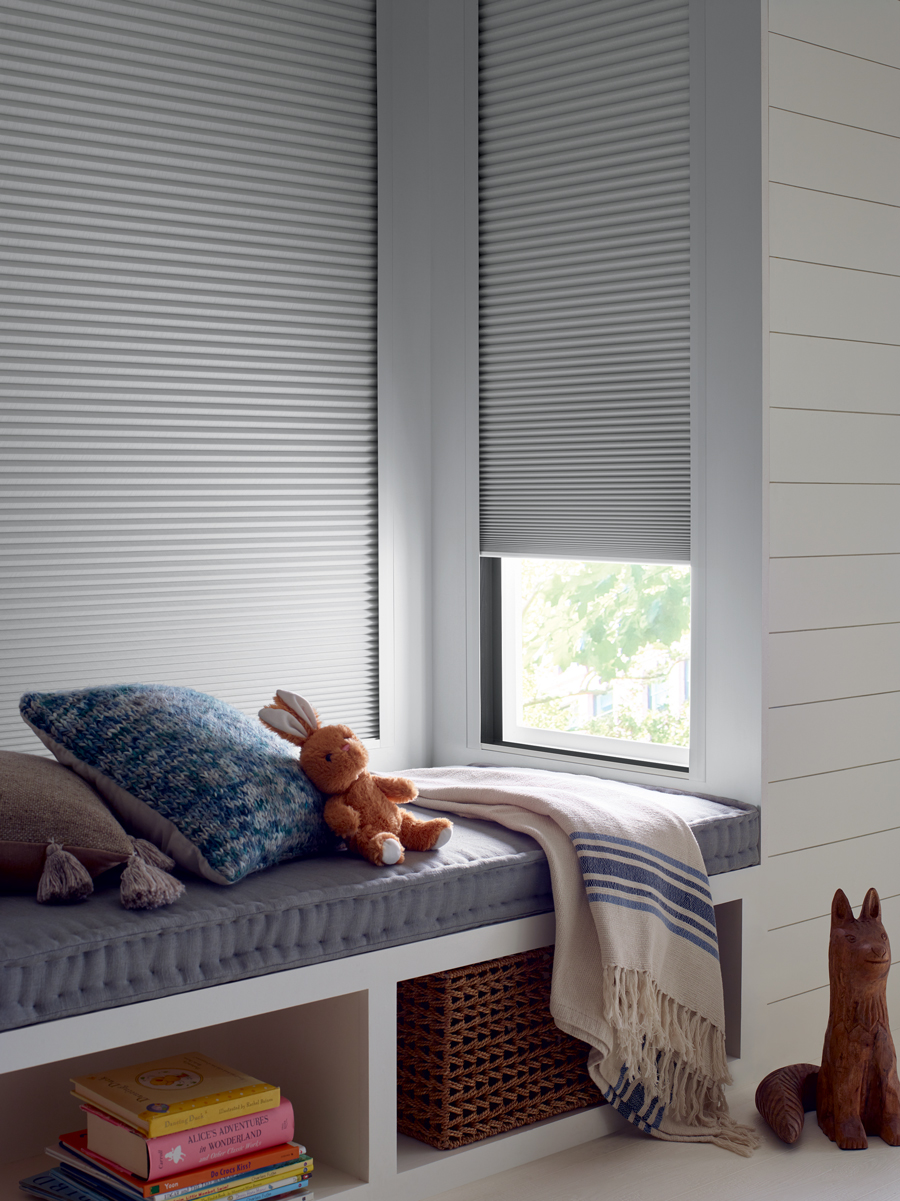 Crafted for Excellence
Finally, the craftsmanship of our products and quality of materials used prevent breakdown of your window coverings long term. Modern materials are created with UV protection in mind–even shades you can see through are capable of blocking a majority of damaging rays. Like sunscreen for your home. We should also mention that the opacity of the fabrics you choose is important. This right fabric can have a great effect on energy efficiency, especially on the windows that directly face the sun. Allow an Aero Drapery & Blinds expert to help you choose what's best.
Smart Home Technology
Lastly, if you're not adjusting your blinds on a daily basis you are missing out on the beauty your home has to offer! Expose those beautiful views and let your shades do the work on their own. Window coverings can be set to adjust automatically to block the heat of summer for the best energy efficient results. With smart home integration, your windows can let in the right amount of light for daylighting, but close off the rest of the window to the elements. The options are endless with smart home technology.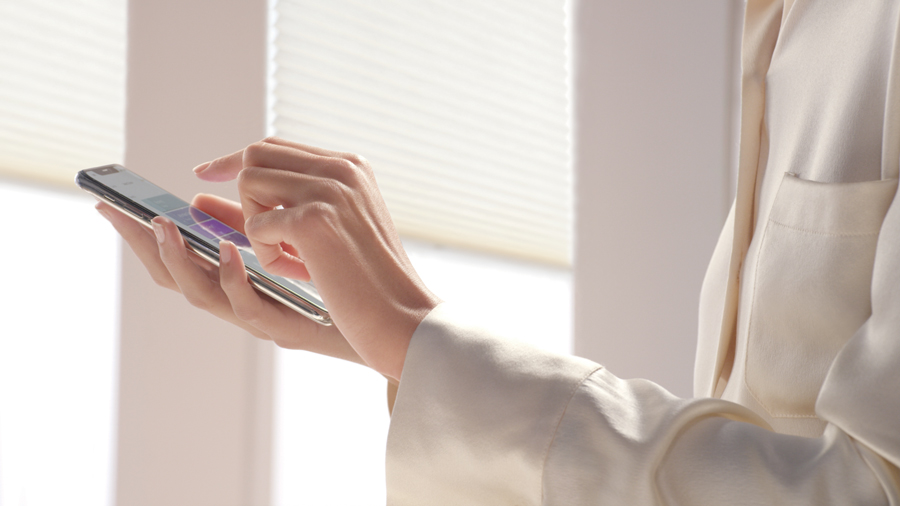 What Are the Best Energy Efficient Window Coverings?
At Aero, we have compiled a list of window treatments that block the sun and prevent energy loss.  Here's a sneak peak at what you'll find on our energy efficient solutions page. 
The cell-within-a-cell technology of our honeycomb shades will trap air, preventing energy loss. Hunter Douglas offers a range of cellular options to protect your home, based on your home's specific climate and the placement of the window in relation to the sun. Keep your home comfortable all year.
The unique design of roman shades naturally prevents the movement of air, with layers of fabric at the window. By choosing certain fabrics and their opacities, you can experience incredible light control at the window.
Innovation has led to light-blocking design technology. Roller shades are capable of blocking heat that enters the home to damage your furnishings and raise the temperature. Recently, Hunter Douglas has combined the sought-after efficiency of cellular shades with the simple operation of roller shades with the Sonnette™ collection.
High quality fabrics with light-blocking capabilities will insulate your home. Draperies can frame the window for beautiful design, closing when necessary. Today's treatments can be motorized to harness incredible control over your home's interiors.
Interior shutters have long been known to stop energy from moving-available in solid wood, to advanced materials. Sealing the window frame, light and heat are prevented from entering. They are an effective way to prevent energy loss. By adjusting the louvers in an upward position, light is directed at the ceiling to illuminate the space without harsh sunshine and heat entering.
Ready for the Best Energy Efficient Window Solutions
If your home feels like an oven from the intense heat of summer, you should take action. At Aero, our team has years of experience helping homeowners in the Minneapolis-St. Paul area.  We can defend your home against the extreme temperatures of every season. Contact us for a FREE consultation, visit our showrooms or better yet, we can come to you! We love helping our clients put a plan of action in place to benefit the comfort and energy efficiency of their homes.