The latest style reports are in! The 2023 window treatment trends are combining incredible function and beautifully designed windows for a "wow" result. The best part about these "trends" is that–while they might be trending, they aren't flash-in-the-pan trends. Quite the opposite–these window treatments & features are here to stay!
Organic Details
In 2023, you'll see the continued use of organic materials. It's a stunning look at the window when you incorporate color, texture and woven techniques made with organic materials & natural fibers. By using these detailed elements, you'll achieve a gorgeous home with high-end design. Woven woods, bamboo and grasses bring dimension with an organic feel to your home. Take a look at what Alustra Woven Textures & Woven Wood Shades have to offer. Simply beautiful.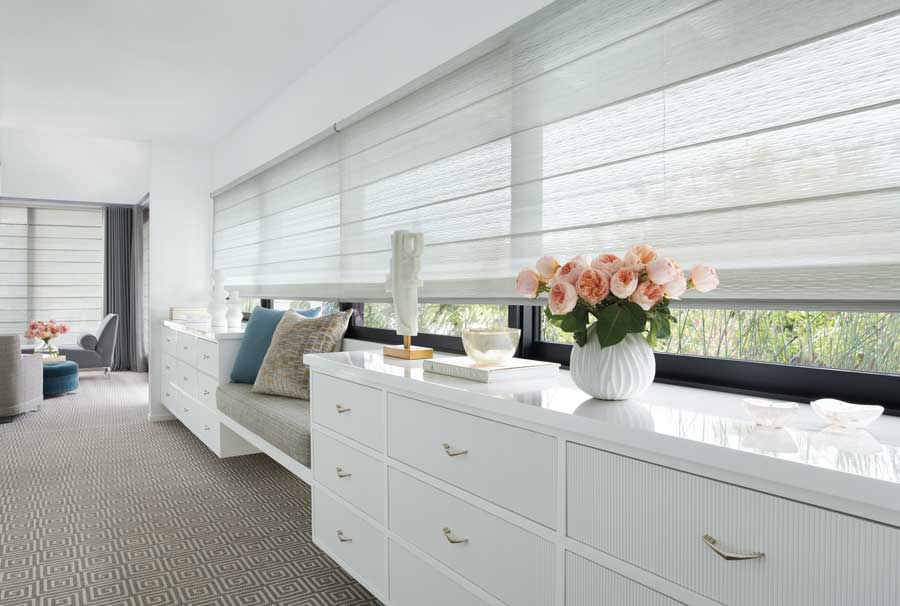 Smart Everything
Our world is full of smart features. Which ones have you embraced? No matter where you're at when it comes to the "smart" life, it certainly has its charms. With motorized blinds, shades, shutters or drapery, you can–not only–experience convenience, but life-changing efficiency as well. The automated adjustments can help make your home more energy efficient with added security features. When it comes to the 2023 window treatment trends, it's just smart to be smart. Find out more about PowerView Automation.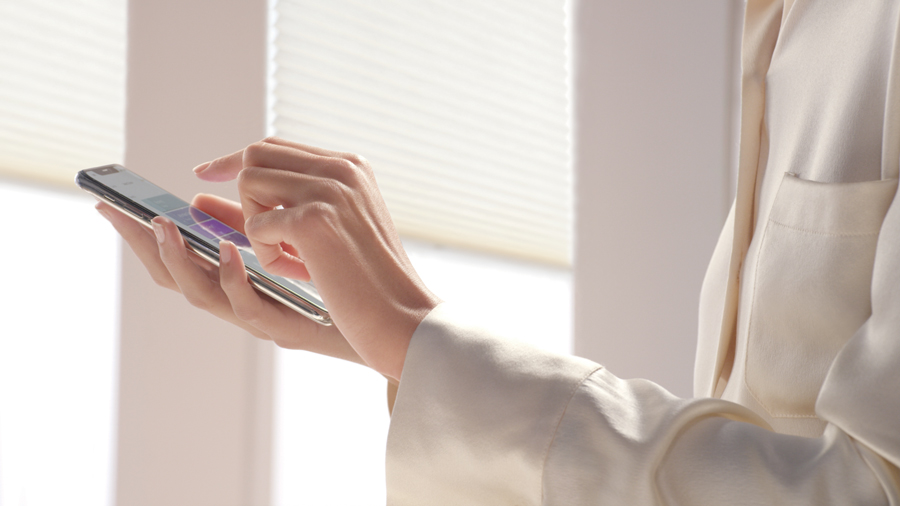 Quiet Luxury
Roller shades can easily conjour an image in your mind, but it might not be the best one. Guess what? They've come a long way. If you haven't seen today's modern roller shades, you haven't SEEN roller shades. Gone are the "get the job done" white, flapping rollers from Grandma's home so many years ago. Today's shades are S-T-U-N-N-I-N-G. Fabrics in sought-after colors, opacities to allow you view-through, and hardware that coordinates with other design elements in your home. All of those elements are enough to make them extremely popular, but then, there's the features, like dual roller shades and sleek design. Check out the quiet luxury of Designer Roller Shades.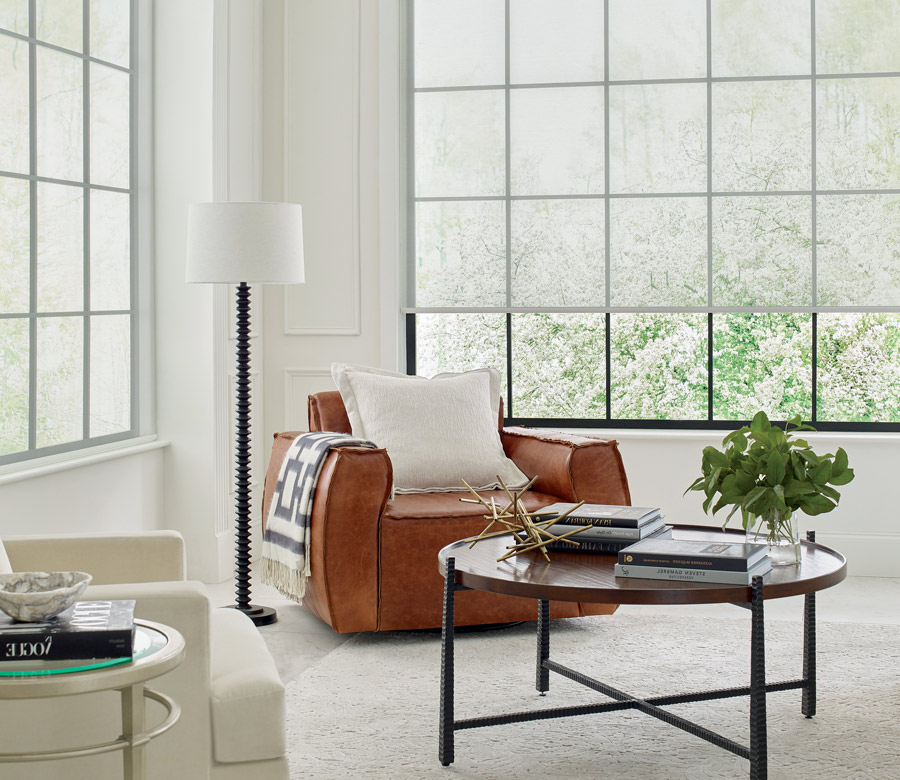 Layered Fabrics
Create a beautiful scene at your window with layered fabrics. A timeless, on-trend look that provides incredible function–such as energy efficiency, privacy and light control for your home. Create art at the window with Layered Fabrics to discover what makes a house a home.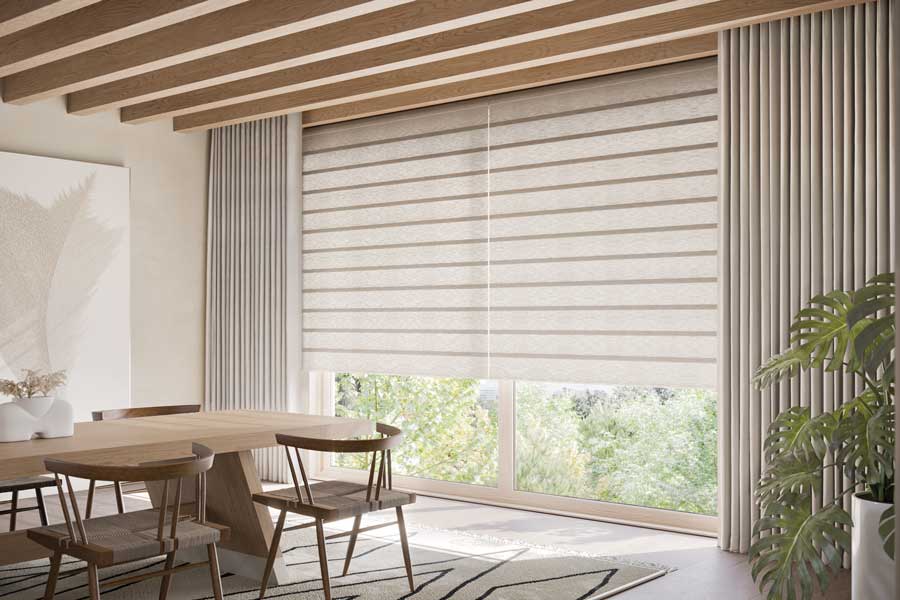 Sustainability
More than a trend, sustainability is a conviction. Informed consumers want products that will address issues like energy efficiency and protection from nature's elements, but still demand longeveity and responsible manufacturing. Customers are driving the market by making thoughtful decisions surrounding recycled products and manufacturing philosophy. Hunter Douglas is a company that aligns itself with these top priorities.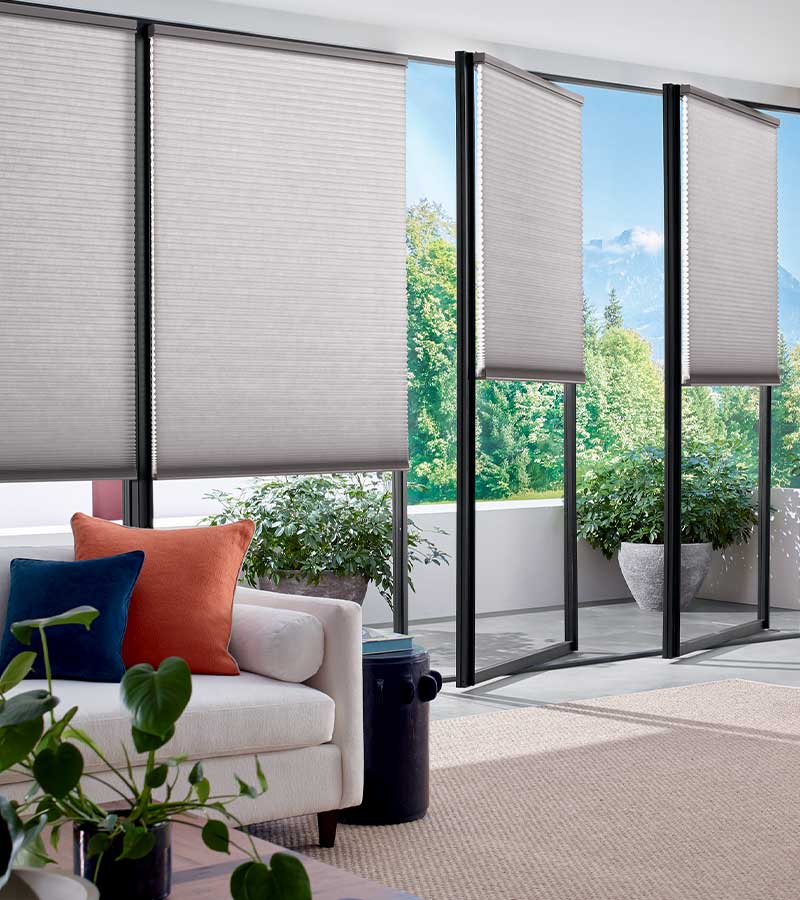 2023 Window Treatment Trends: Where will you begin?
Addressing window issues is a great place to begin. The 2023 Window Treatment Trends can offer solutions for controlling the light, addressing privacy concerns and adding comfort to your home. Make sure your family home is the perfect balance between fashion + function, & we can help you in the process. Get in touch with a member of our team, in the showroom, or schedule a FREE consultation.